SALT LAKE CITY — In Monday night's win over Texas Southern, Alex Barcello dished out a career-high 10 assists, many of them to Brandon Averette for his career-high 30 points.
Two nights later, it was BA's time to return the favor to AB.
They both got plenty of help, too, from Averette's helpers.
Barcello scored 12 points with five assists and Averette added 13 points, five rebounds and career-high seven assists to help the Cougars hold off a hot-shooting night from Weber State 87-79 at Vivint Arena to beat their fourth and final in-state opponent Wednesday night.
Matt Haarms added 15 points and five rebounds; Caleb Lohner supplied 11 points and a team-high eight rebounds; and Richard Harward had 11 points off the bench to help the Cougars (9-2), who shrugged off a slow start to lead 41-32 at halftime but watched as the Wildcats shot 10-of-24 from 3-point range and shrunk the lead as low as 4 points with 7:47 left to play.
But everything started with the guards — the two seniors dubbed the "ABBA backcourt" by fans and BYUtv.
"It all started with our guards," Haarms said. "They were handling the pressure so well; AB and BA both had over five assists and just made it easy for me. They got me the ball, and I only had one man to beat — it's what we work on every day."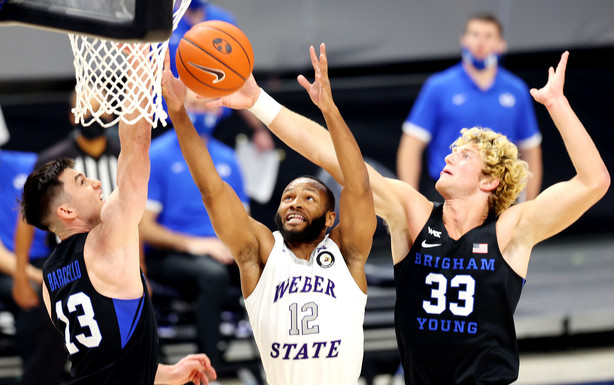 The upstarts from the Big Sky could get no closer, with Harward knocking down back-to-back shots inside to set up a 7-2 run courtesy of Averette and Barcello to keep the lead intact.
Zahir Porter scored 16 points for the Wildcats and Seikou Sisoho Jawara added a career-high 16 points, four rebounds and five assists. Dontay Bassett supplied 13 points and three rebounds for Weber State.
While the Wildcats couldn't miss from three, making five of their first 11 3-point attempts in the second half, the Cougars were ice cold. BYU made just one of its first eight 3-point attempts after halftime and finished just 6-of-22 from deep.
Weber State (3-3) was 10-of-29 from 3-point range.
"In-state games are always tough like that," said Haarms, the 7-foot-3 Purdue graduate transfer who also had two blocks. "We're one of the more prominent teams in the state, and they really wanted to beat us. We knew they weren't going to quit and, eventually, we just had to hold them off and get the win.
"They keep coming at you, and don't quit."
With the win over the Wildcats, the Cougars improved to 4-0 against in-state competition on the year. Before Wednesday, BYU downed Utah County rival UVU by 22 points, handled archrival Utah 82-64, and held off Utah State in Logan 67-64. The Cougars also opened the season with a win over Division II Westminster, a game that usually stands as an exhibition but became part of the regular season due to limits caused by COVID-19.
And even with wins against the likes of San Diego State and St. John's, and losses to Boise State and USC, there was just something different about playing a routinely common opponent like the ones featured in the same state.
To paraphrase BYU head coach Mark Pope, there's a different "juice in the gym" when playing a team within five or 50 miles, as opposed to one from one to two states (or more) away.
"These in-state games are tough, and these teams are just going to keep fighting back," Lohner said. "It got scary for a second, but I'm glad we could fight through that frustration and pull it out."
Maybe more importantly, the Cougars wrapped up a full 11-game nonconference season without a single postponement or cancellation — though one game at the Legends Classic in "Bubbleville" in Uncasville, Connecticut, was switched to St. John's due to a late scratch from the tournament by UConn.
Still, in a college basketball season sure to have plenty of rescheduling and schedule frustrations — DePaul tipped off for the first time Wednesday night following a slog of shutdowns and cancellations, for example — simply playing basketball amid the COVID-19 pandemic is a feat to celebrate.
Coming out of it 9-2? A little bit sweeter.
"I think the few games we've had come down to the wire test what we're about, to pull out a win with that pressure, to knock down free throws or get a couple of stops," Barcello said. "I'm just super proud of these guys; we're 9-2 right now, the best start we've had at BYU, and I'm so happy for these guys and the ceiling that we have.
"We have a lot more to learn."
Next up
BYU returns to open West Coast Conference play after a holiday break, traveling to Pepperdine on Thursday, Dec. 31. The game will be broadcast on ESPN or ESPN2.
Weber State returns to Big Sky play on New Year's Eve against Idaho State.
×
Photos
Related Links
Related Stories