Estimated read time: 5-6 minutes
This archived news story is available only for your personal, non-commercial use. Information in the story may be outdated or superseded by additional information. Reading or replaying the story in its archived form does not constitute a republication of the story.
PROVO — The common thought around BYU's campus this week is what the football team is losing.
Fresh off its 11-1 season, top-20 national ranking, and best record since at least 2006, the Cougars have lost offensive coordinator Jeff Grimes to Baylor, and quarterback Zach Wilson, wide receiver Dax Milne and offensive tackle Brady Christensen — arguably three of the biggest role players on a top-10 offense — to the 2021 NFL Draft.
That's just a few of the key losses to the 2021 team, which will take a massive step up in scheduling by facing seven Power Five teams, including the aforementioned Bears on Oct. 16, and five Pac-12 teams beginning with a game against rebuilding Arizona in Las Vegas on Sept. 2.
Still, it will suffice because the Cougars will also enter 2021 — both the regular season and spring practices in March — with one major question: Who's going to line up under center?
After Wilson's stellar junior season, where the 6-foot-3, 210-pound Corner Canyon product finished with 3,692 passing yards and 33 touchdowns with just three interceptions, the page now turns to a lengthy list of candidates to succeed him as the next starting quarterback at BYU: backup Baylor Romney, two-sport standout Jaren Hall, rising freshmen Jacob Conover, and Sol-Jay Maiava-Peters.
Fortunately, the man tasked with making that decision was also the one who played a pivotal role in selecting Wilson as the starter nearly three years ago: Aaron Roderick, promoted to offensive coordinator from his previous role of passing game coordinator and quarterbacks coach.
Roderick has worked extensively with a number of high-end quarterbacks in the Beehive State, both at BYU and in his time at Utah and other schools. So he's prepared to put the four trialists (and possibly more) to the test as soon as spring camp opens in March.
"It's going to be a hard decision, for sure," Roderick said. "I think you always have to start with who we've seen play in a game before. I think it would be fair to start with Jaren and Baylor because we've seen them play, and they both played well.
"We've seen Baylor more than Jaren, but obviously both played really well and got some big wins. Baylor got in quite a bit this year; and when he played, he was very efficient."
Romney, the older brother of the team's top returning receiver, Gunner Romney, was the primary backup to Wilson in 2020, completing 69% of his passes for 261 yards and one touchdown with one interception, mostly in mop-up time.
Prior to this season, Romney threw for 747 yards and seven touchdowns with two interceptions in 2019, when he was pressed into action due to injuries to Wilson and Hall and led one of the more memorable home wins in recent years over Boise State, 28-25.
Hall, who moonlights as an outfielder on Mike Littlewood's baseball team, threw for 420 yards and a touchdown in 2019 before missing 2020 due to injury.
But don't dismiss the youngsters, either — starting with Conover, the four-star freshman who threw for more than 10,000 yards and 102 touchdowns en route to three consecutive state titles at Chandler High School in Arizona.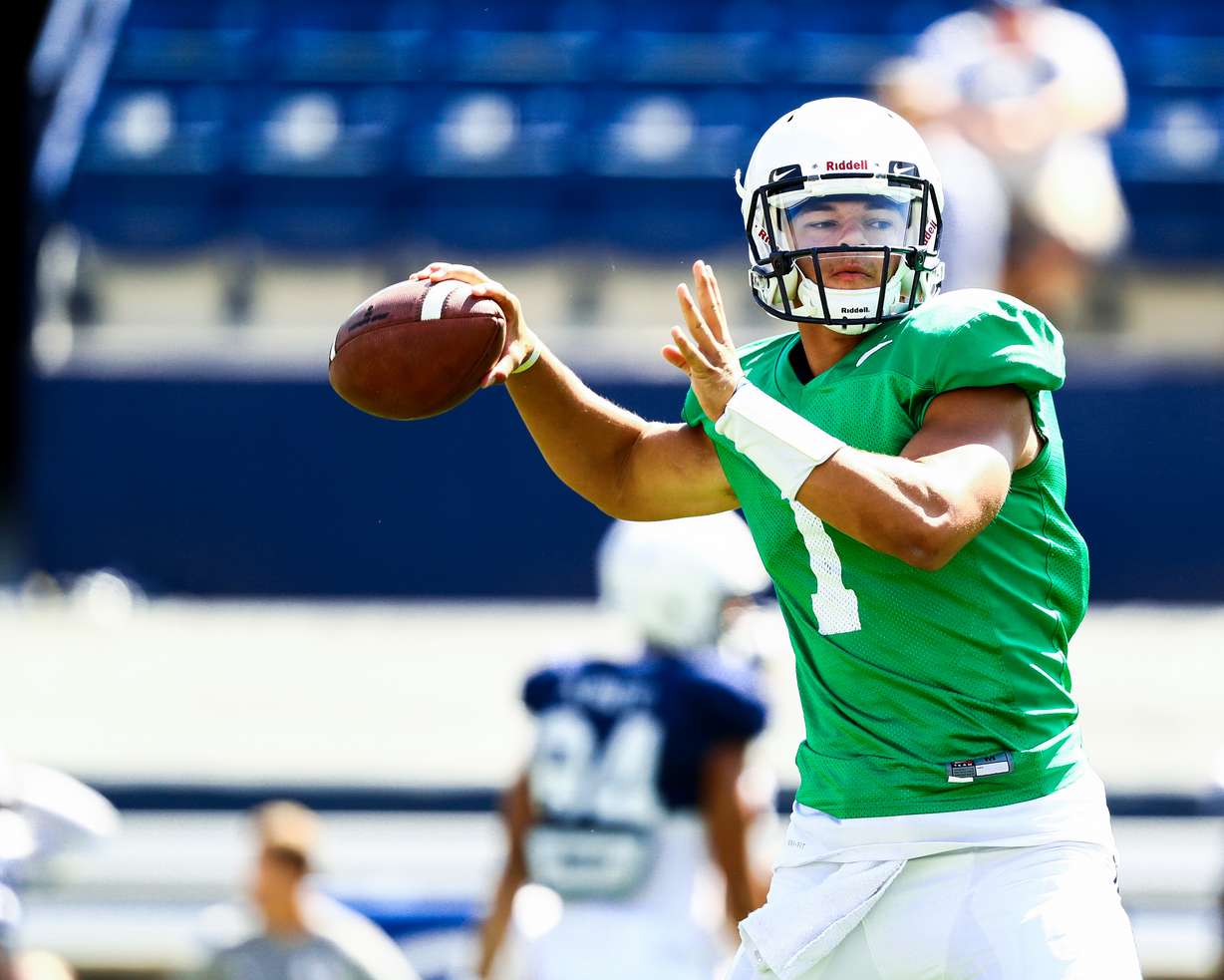 Conover returned from a two-year church mission to Paraguay at the end of the summer and immediately jumped into leading BYU's scout team through the season. He paired with Maiava-Peters, the 6-foot-1, 195-pound signal-caller who prepped at St. John's College High School in Washington, D.C. and was the No. 23-rated dual-threat quarterback in the nation by 247 Sports.
"It's going to be tough, and I can't make predictions right now," Roderick said. "But we will make sure each one of those guys gets an opportunity to show what they can do."
While Romney has a clear edge in his time in the Cougars' system (and Hall, though to a lesser extent), that system may be changing — albeit slightly — in the transition from Grimes to Roderick.
The former Utah co-offensive coordinator admitted he won't "reinvent" the "RVO" offense of Grimes — a self-made term that stands for "reliable violent offense" of multiple formations that produce similar objectives. But Roderick admitted there will likely be some "tweaks" made to what the Cougars have run for the past three years.
Any modifications will fall in line with the overall philosophy, however.
"We have a system in place now," Roderick said. "Many of our players are 2-3 year starters, and the idea is to keep rolling, to keep improving, and not have to reinvent everything."
Like Grimes before him, Roderick won't be alone in making the decision — even if the starter will be his final call.
Newly-promoted passing game coordinator Fesi Sitake, who has been BYU's wide receivers coach for three years, will also have plenty of advice. Roderick will no doubt seek input from tight ends coach (and former Weber State offensive coordinator) Steve Clark, and fellow assistants Eric Mateos and Harvey Unga.
Of course, head coach Kalani Sitake will be able to say his piece, too.
But the final call? That will be Roderick's to bear, ultimately.
"It'll be A-Rod's call," Fesi Sitake said. "He's always been good at making those decisions, but I wouldn't be surprised if he leans on others' opinion."
If history is to be believed, the decision will be fairly unanimous — even if it isn't officially put to a vote. Because the offensive coaching staff has worked largely in tandem lately — like the way the Cougars didn't miss a beat in putting up more than 600 yards of offense in the Boca Raton Bowl win over UCF, a game Grimes and Mateos couldn't attend after being sidelined.
The preparation was all there, though; Roderick (and the other assistants) just had to connect the dots. Expect more of the same in 2021.
"We pretty much think with the same brains in the passing game," Roderick said.
Editor's note: This story was published before Eric Mateos was reportedly on track to join Jeff Grimes at Baylor. Read more about that decision here.
×
Related stories
Most recent BYU Cougars stories