Estimated read time: 5-6 minutes
This archived news story is available only for your personal, non-commercial use. Information in the story may be outdated or superseded by additional information. Reading or replaying the story in its archived form does not constitute a republication of the story.
PROVO — In the wake of former BYU offensive coordinator Jeff Grimes' departure for Baylor, BYU coach Kalani Sitake wasted little time in promoting from within.
The fifth-year head coach named passing game coordinator Aaron Roderick as the next full-time offensive coordinator and quarterbacks coach Monday night, and passed the responsibilities of passing game coordinator to wide receivers coach Fesi Sitake, as well.
Assistant coaches Steve Clark (tight ends), Harvey Unga (running backs) and Eric Mateos (offensive line) will remain on staff in their current roles, the university added.
"Aaron is the right person to take over as our offensive coordinator with the departure of Jeff (Grimes)," Kalani Sitake said in a statement from the school. "Jeff did a tremendous job as offensive coordinator and Aaron is the perfect choice to help us build on the success Jeff, Aaron, Fesi and our offensive staff have achieved together. I know firsthand the exceptional coach Aaron is from working on the same staff for 15 years during our careers. He is an experienced play-caller and coordinator and a great mentor and teacher. I'm thrilled to have Aaron as our new offensive coordinator.
"Fesi came to BYU three years ago as one of the game's up-and-coming young coordinators and he's played a big role in our success. He has improved his team wherever he has been and that is certainly the case here at BYU. We are better because of Fesi's contributions in our staff room, on the practice field and on the sidelines. I'm excited to have him working closely with Aaron and the other coaches in this new role."
Grimes to Baylor
Grimes came to Provo following the 2017 season to rebuild an offense that ranked in the bottom 10 in the Football Bowl Subdivision in most statistical categories, and he did that with a three-year plan that included hiring Roderick, Sitake and former assistants Ryan Pugh (offensive line, now Troy's offensive coordinator) and AJ Steward (most recently Arizona's running backs coach).
After three seasons, the Cougars ranked among the top teams in the country on offense, including No. 3 in scoring offense and No. 7 in total offense following an 11-1 season led by NFL Draft prospect quarterback Zach Wilson, and fellow early draft entries Brady Christensen and Dax Milne.
Roderick's ascension to offensive coordinator is his second such stint at the FBS level in the state of Utah. The former BYU wide receiver spent six years at Utah, including two separate stints as co-offensive coordinator in 2010 and 2015-16, coaching both quarterbacks and wide receivers.
A native of Bountiful, Roderick also ran the offense at Southern Utah in 2003-04, his first full-time coordinator role following a run as running backs coach at Snow College and his first job as a graduate assistant with his alma mater.
"I am incredibly honored to be the offensive coordinator at BYU because I understand this program's legacy and truly appreciate the great coaches that have been in this position in the past to build that legacy," Roderick said in a statement. "I'm grateful to Kalani for this opportunity. He and I have worked together for 15 years at three different schools, and he is the kind of coach I want to work for and someone in whom I have so much trust and respect.
"I also really appreciate Coach Grimes for not only wanting me to be a part of his staff when I came back to BYU but also putting a lot of trust in me with the passing game. He is a great coach and a great man who I really respect and enjoyed working with the past three years. I can't wait to work with the players and take on this challenge with Fesi and our talented coaching staff."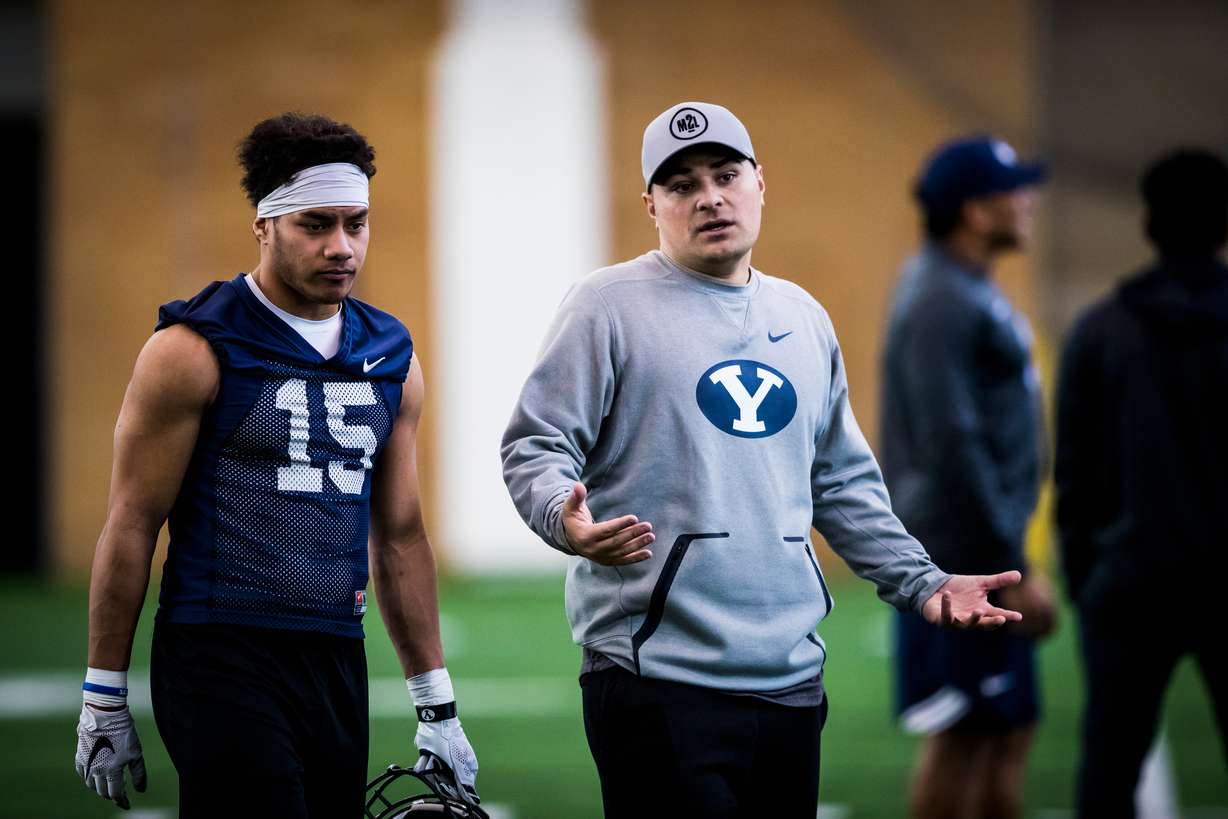 Fesi Sitake has coached since the 2011 season as a student assistant at his alma mater, Southern Utah, following a standout playing career at the FCS program in Cedar City. A native of Sandy and Hillcrest High alumnus, Sitake rose to become the Thunderbirds' passing game coordinator in 2013 before spending four years on Jay Hill's staff at Weber State, including the final two as offensive coordinator prior to joining his close cousin in Provo in 2018.
"I am thrilled at the opportunity to continue my experience here at BYU as the passing game coordinator," Fesi Sitake said. "I'm grateful for Kalani and his willingness to provide this opportunity for me. Working with Aaron Roderick has been an incredible learning experience and I appreciate his continued trust in me. I look forward to continuing my journey here at BYU with the rest of this incredible staff and these amazing players."
In a unique turn of coincidence, BYU is scheduled to face Baylor midway through the 2021 season. The Bears will host the Cougars on Oct. 16 in Waco, Texas, with the return game scheduled in Provo for the first week of 2022.
The new Baylor offensive coordinator will have plenty of prep knowledge on their opponent, after two separate stints in Provo and cultivating the offense alongside the new coordinator. He'll also take plenty of respect to his new digs in is home state of Texas, though.
"To the entire Cougar Family, I can't thank BYU enough for the memories created and relationships formed during my time in Utah," Grimes said Monday evening on Twitter. "This is a special place, and I know great things are ahead under Kalani's leadership. BYU and Utah will always have a special place in my heart."
×
Related stories
Most recent BYU Cougars stories