Estimated read time: 5-6 minutes
This archived news story is available only for your personal, non-commercial use. Information in the story may be outdated or superseded by additional information. Reading or replaying the story in its archived form does not constitute a republication of the story.
PROVO — Sione Finau has dreamt of this moment for as long as he can remember.
"BYU has been my dream school since I was a little kid," Finau told KSL.com back when he signed a National Letter of Intent in 2016, eschewing at least one Power 5 offense to join the Cougars following a two-year church mission.
And he made the most of his first home game as a consistent contributor, on offense, defense and special teams.
The 5-foot-11, 185-pound redshirt freshman took a pitch from backup quarterback Baylor Romney, drove a seam 47 yards into the end zone, and finished with 89 yards and a touchdown as the Cougars held on to a 28-25 win Saturday night over No. 14 Boise State.
Finau's 47-yard touchdown on the opening drive of the third quarter started a 21-0 run that helped BYU turn a 10-7 halftime deficit into a 28-10 advantage one quarter later. It was also the longest run of the season for BYU's running backs, who were playing their third-straight game without leading rusher Ty'Son Williams.
Lopini Katoa added 37 yards on 12 carries, including a 4-yard run to open the scoring for BYU (3-4).
"I was just trying to run the ball the best I could, and the linemen gave me open gaps," Finau said. "It was phenomenal blocking, from my wide receivers all the way down to my linemen. It was very easy; I got the easy way."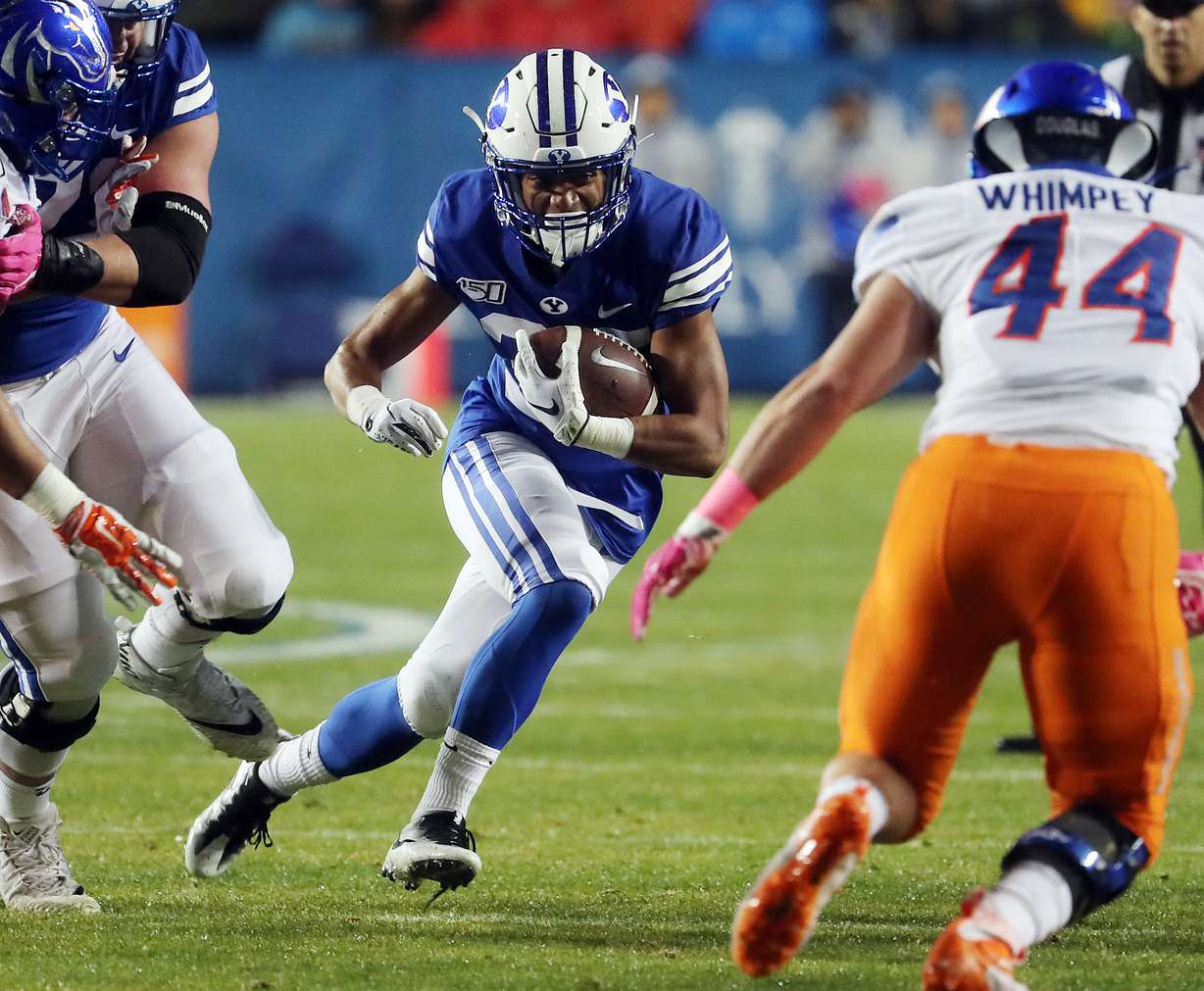 Romney also broke out in his first career start at BYU. The redshirt freshman who grew up in El Paso, Texas threw for 221 for two touchdowns in his first game under center for BYU. He also ran eight times for 11 yards, and connected with younger brother Gunner Romney on a 10-yard pass.
For a guy who learned he would be starting as late as Wednesday night, when passing game coordinator Aaron Roderick gave him a call that starter Jaren Hall wouldn't be able to pass concussion protocol, Romney looked like a seasoned veteran.
"It was good to get some reps with the ones in practice, and get some chemistry down. I needed it," said Romney, who finished out BYU's 28-21 loss to South Florida a week prior. "This is what I've been preparing for since I graduated from high school — for my opportunity to come at the college level. It showed tonight."
Boise State running back George Holani ran for 97 yards on 20 carries, and CT Thomas added a 12-yard touchdown run. Chase Cord threw for 185 yards, two touchdowns and two interceptions for the Broncos (6-1).
Matt Bushman caught five passes for 101 yards and two scores for the Cougars, who snapped a three-game losing skid that included back-to-back road defeats to Toledo and South Florida.
It was the first win since BYU's shocking 30-27 overtime victory over then-No. 24 USC, and the first win of the season to come in regulation. It also snapped a three-game losing skid to the Broncos, who lead the all-time series with BYU, 7-3.
Romney became the first BYU quarterback to beat Boise State since Tanner Mangum hit Mitchell Juergens with a Hail Mary touchdown in 2015 — a game that also served as then-freshman Mangum's first start in a BYU uniform.
"I thought he was great," BYU coach Kalani Sitake said of Romney. "You saw the composure he had in the pocket, and making guys miss while having his eyes downfield. I give a lot of credit to coach Grimes and coach Roderick for getting him in a situation where he can be comfortable and use his strengths.
"You also have to give a lot of credit to him. He's come to work every day with the same mentality. He watched a lot of film and prepared well. That's the culture that we have with our guys right now."
After trailing 10-7 at halftime, Finau lit up the cold, rainy stadium with a scintillating 47-yard touchdown run off a pitch from Romney — and BYU found its offense.
The Cougars totaled 342 yards of offense, 196 of them in the third quarter, and tacked on two touchdowns from Romney to Bushman to take a 28-10 lead into the final frame.
Defensively, BYU was just as stout, forcing five tackles for loss, two sacks, and a pair of interceptions — said interceptions by former Brighton High standouts Isaiah and Jackson Kaufusi, believed to be the first two brothers to both snare interceptions in a single game in BYU history.
"I was like a little kid, running out on the field when my brother got that pick. I was just ecstatic for him," Isaiah Kaufusi said of his younger brother's pick. "I think the greatest feeling on the football field is to get an interception. We'll talk about this forever, tell our kids and our grandkids. It was a lot of fun."
But Boise State didn't make it easy. Cord, a backup quarterback starting in the place of Hank Bachmeier, connected on a pair of fourth-quarter touchdown passes to pull the Broncos within three late, 28-25.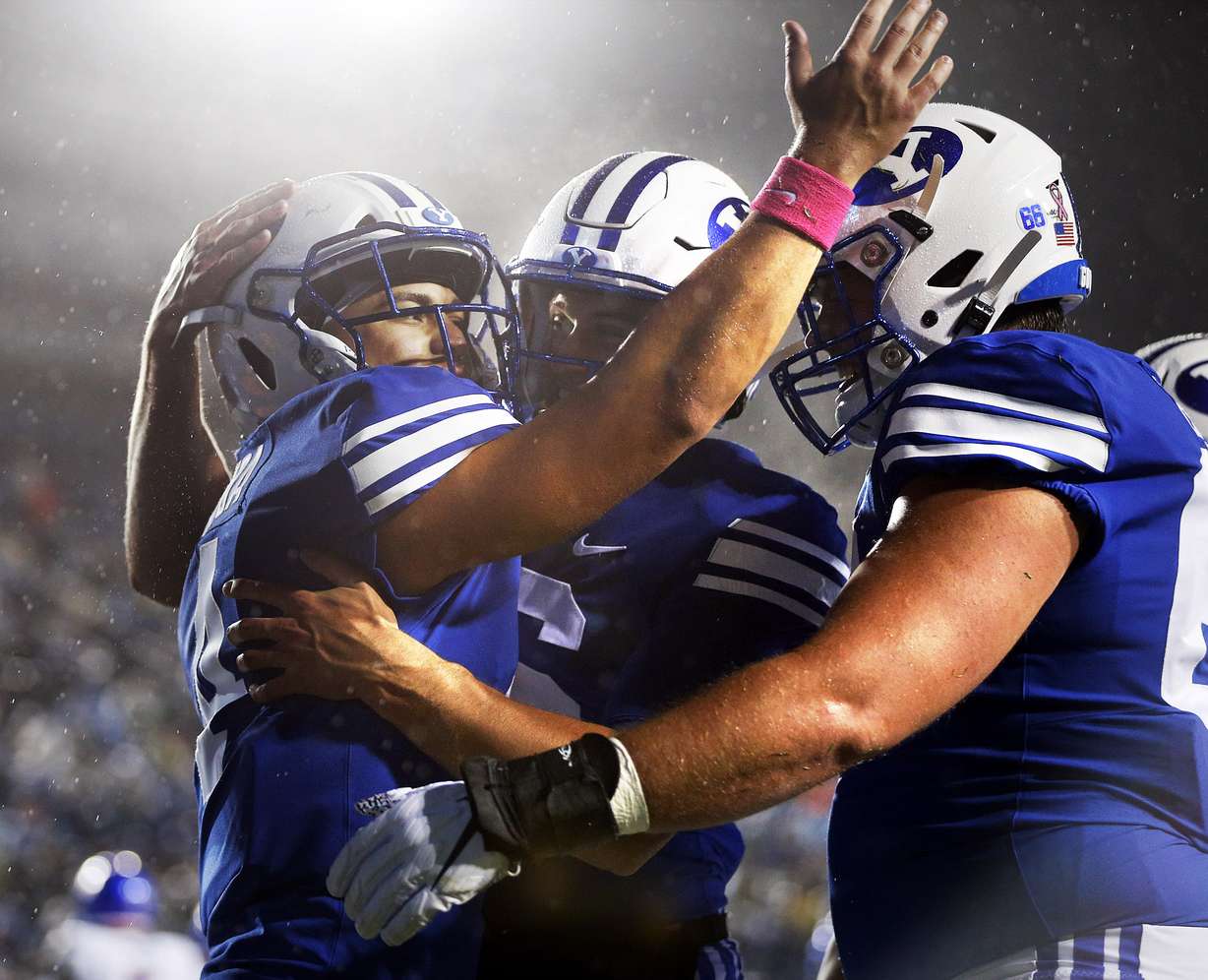 With one final possession, the Cougars needed a first down on their own 34-yard line. Romney tried to sneak it over the line on third-and-one — and got it.
Or did he? The spot was conflicting. Boise State coach Bryan Harsin challenged and won. BYU faced a fourth-and-one with 2:17 left to try to win the game. After a timeout, Sitake put in his "scrum" package, led by safety and wildcat quarterback Austin Kafentzis. The scrum was a mess of arms, legs and everything in between.
Kafentzis only need half a yard. He got two.
Ball game.
"I thought, 'let's go win the game,'" Sitake said. "We were a couple of inches away, and I trust Austin Kafentzis and that O-line. They really wanted this."
×
Related links
Related stories
Most recent BYU Cougars stories