PROVO — BYU's offense is prepared to get an overhaul.
The Cougars won't just be breaking in a new quarterback, top wide receiver and most of their offensive line in 2021. They'll also be finding a new offensive coordinator.
Jeff Grimes will take the same position in the Big 12 at Baylor, as first reported by Yahoo's Pete Thamel. The deal, which was confirmed by multiple sources including ESPN, The Athletic and Sports Illustrated, was finalized late Monday morning.
"First of all, Jeff is a high-quality person," said Baylor coach Dave Aranda, a former Utah State assistant who worked with Grimes at LSU. "He is a family man. He is a true ball coach and a fundamental teacher of the game. He coaches a physical offense built on explosive plays in both the pass and run game. There is a strong identity in what he does.
"We will be building to that vision, and I know he will hold our staff and players accountable to that standard. I am excited to welcome Jeff, Sheri and their family to Baylor."
Grimes will also coach tight ends for the Bears, a deviation for the long-time offensive line coach who also worked at BYU from 2004-06 and is not a member of the school's sponsoring faith, The Church of Jesus Christ of Latter-day Saints.
"I am absolutely fired up about joining Coach Aranda's staff and leading the Baylor offense," Grimes said in a statement from the university. "I've known Dave for years and have always admired him as both a coach and person. There's tremendous alignment between what Baylor University stands for and who I am at my core.
"I can't wait to get back home to the great state of Texas and begin working with the tremendous student-athletes and coaches in the Baylor program."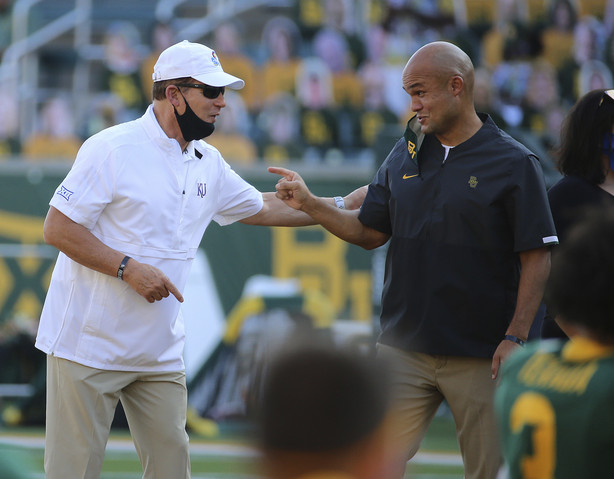 Under three seasons under Grimes, the Cougars went from a bottom-10 team nationally in most offensive statistical categories to being among the best in the Football Bowl Subdivision in 2020.
BYU finished No. 7 nationally in total offense with 522.2 yards per game — just behind national title contender Alabama's 535.0 — while also averaging a top-three scoring mark at 43.5 points per game, and top-50 marks in rushing (190.1 ypg) and passing (332.1 ypg).
Part of that was due to having a projected first-round pick at quarterback in Zach Wilson, who chose to forgo his senior season and declared for the NFL draft on New Year's Day, as well as the influence of passing game coordinator Aaron Roderick and a schedule that featured cancellations of five Power Five opponents that was replaced by a litany of teams from the Sun Belt, Conference USA and American Athletic Conference.
An offensive line anchored by NFL draft projection Brady Christensen, who opted for the NFL last week, and 1,000-yard receiver and fellow early enrollee in next April's draft Dax Milne also powered BYU's offensive re-emergence.
But Grimes' influence was felt heavy in an offense that struggled to move the ball against the likes of Portland State and UMass in 2017 to one that posted more than 400 yards of offense through most of their 11-1 season, including multiple games of 500 yards or better. In BYU's final game with Grimes as the offensive coordinator, the Cougars put up 655 yards of offense in a 49-23 win over UCF in the Boca Raton Bowl, led by Wilson's 425 passing yards and five total touchdowns.
Grimes, along with offensive line coach Eric Mateos, were unavailable on game day in South Florida for reasons that were unrelated to either one's potential for another job, a source confirmed to KSL.com. Mateos later confirmed on Twitter that he had contact with a suspected case of COVID-19 and was in self-isolation, though both coaches were active for BYU's bowl game prep.
Grimes was also the Cougars' go-to recruiting coach in one of the most talent-reach regions of Arizona, where he helped bring in four-star quarterback Jacob Conover, wide receiver Gunner Romney and others from the Grand Canyon State to Provo.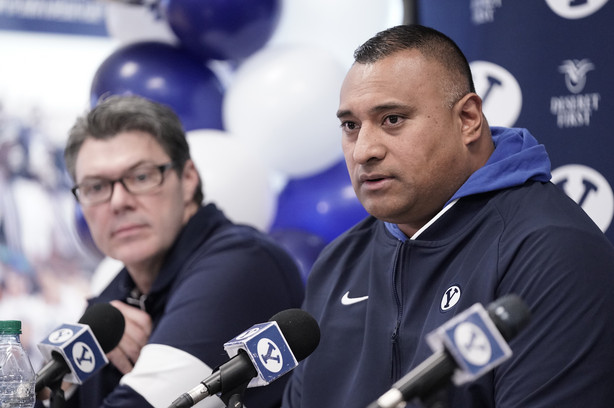 But the 52-year-old Grimes also has extensive experience in Texas and the south. He played offensive tackle at UTEP and began his coaching career in his home state, before stops at LSU, Virginia Tech, Colorado, Arizona State and Boise State, in addition to helping Auburn win a national championship.
All but two of the Bears' 18-player additions from the early signing period hailed from Texas, with the others coming from Missouri and Louisiana.
Grimes was a finalist for the 2020 Broyles Award, which is given to college football's top assistant coach. Former BYU quarterback Steve Sarkisian, the offensive coordinator at Alabama and recently named head coach at Texas, won the award.
Led by first-year head coach Dave Aranda, Baylor is coming off a 2-7 season that included one of the worst offensive finishes in the Big 12 in offense. The Bears averaged just 23.3 points per game, and were ninth in the league with 4.44 yards per play and 310.2 yards per game before parting ways with offensive coordinator Larry Fedora in December.
Aranda, who previously served as Utah State's defensive coordinator (among other stops), previously worked with then-offensive line coach Jeff Grimes at LSU.
To replace Grimes, BYU head coach Kalani Sitake could promote Roderick, Mateos or wide receivers coach Fesi Sitake to a variety of positions running the offense, or the Cougars could bring in an outside candidate.
×
Related Stories