Estimated read time: 3-4 minutes
This archived news story is available only for your personal, non-commercial use. Information in the story may be outdated or superseded by additional information. Reading or replaying the story in its archived form does not constitute a republication of the story.
SALT LAKE CITY — The mystery continues for Utah's favorite (unlikely) sign of alien contact.
The monolith, a 12-foot tall vertical, metal prism, has disappeared from the red rocks of the southeastern desert late Friday evening, according to Bureau of Land Management spokesperson Kimberly Finch. In its place remains a pile of rocks and a smaller pyramid made from, what appears to be, the same material.
On Nov. 18 Utah Department of Public Safety officers were counting Big Horn Sheep in the area on a helicopter when they were distracted by the large, shiny object. After taking video of officials investigating the structure, and risking being transported into another dimension, a social media frenzy began. Even Stephen Colbert made a lovely Utah tourism video under the monolith's command.
Officials never publicly disclosed the monolith's location out of concern that inexperienced hikers and alien enthusiasts would travel to the remote area of the desert and get lost or injured. This is why many initially pointed fingers at the BLM for removing the monolith.
Finch said because the structure is on public lands it is considered private property, meaning the BLM does not have the authorization to remove it. She said it is unknown who removed it and the sheriff's office in San Juan County would handle any necessary investigation.
"We recognize the incredible interest the 'monolith' has generated world-wide. Many people have been enjoying the mystery and view it as a welcome distraction from the 2020 news cycle," said Monticello Field Manager Amber Denton Johnson. "Even so, it was installed without authorization on public lands and the site is in a remote area without services for the large number of people who now want to see it. Whenever you visit public lands please follow Leave No Trace principles and Federal and local laws and guidance."
The sheriff's office said they do not have the proper resources to devote much time to the missing reports but provided a lineup of suspects including E.T. and Baby Yoda.
Utah helicopter pilot Ryan Bacher was among the last to see the monolith Friday afternoon with about a dozen others "looking at this fun piece of art."
"Twenty-four hours later, my close friend, who is also a helicopter pilot, flew his family down to see as well and found it taken down," Bacher said, adding he would like to know who did it.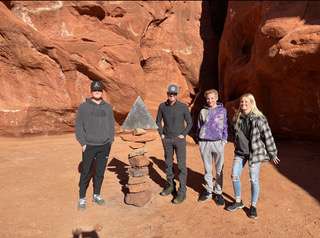 The monolith has likely been in that spot, ominously waiting for its time to shine for a while. Internet detectives found satellite images of the monolith that show it appeared in the area sometime between August 2015 and October 2016.
"Based on what it's made out of it could have looked like that, you know, 50 years ago or more," Utah Highway Patrol Lt. Nick Street told ABC News.
The monolith is made out of a stainless steel-like material and cut into the rock with visible saw marks, providing further evidence that it was likely made by an earth-residing artist. However, it has brought controversy about public art coexisting with natural art.
"While the monolith has better craftsmanship than graffiti, this is still vandalism," said the Utah Department of Heritage & Arts. "It irreversibly altered the natural environment on public lands. While the monolith is interesting, we cannot condone vandalism of any type."
Whether E.T. thinks we have seen too much and beamed the monolith back to the mothership, or the original artist has taken back what was intended to be a rare find, the mystery of the monolith continues.
Contributing: Wendy Leonard, KSL
×
Related stories
Most recent Utah stories