Estimated read time: 2-3 minutes
This archived news story is available only for your personal, non-commercial use. Information in the story may be outdated or superseded by additional information. Reading or replaying the story in its archived form does not constitute a republication of the story.
SALT LAKE CITY – Researchers at University of Utah Health's Huntsman Mental Health Institute have detected more than 20 genes that may play a role in suicide.
The research is the first of its kind, and a Utah mother who is still grieving doesn't find the results surprising.
Michelle Nelson stands in the bright kitchen of her 101-year-old house in Salt Lake City.
"Amethyst, opalite and crystal," she said, picking up the small stones from a dish on the counter.
She collects them to help her heal because picking up the pieces after loss is daunting.
"I take Roan everywhere I go," she said.
Nelson collects heart rocks — stones that naturally form into a heart shape which she finds outside.
"It's like a gift from nature that reminds me of him," Nelson said.
Two years ago, her 16-year-old son, Roan McClain, died by suicide.
"It was the biggest shock of my life," she said. "You think your kids are always going to be okay."
Her family has a history of suicide.
In a new study, researchers at the Huntsman Mental Health Institute discovered 22 genes that could have a role in suicide deaths. It establishes that suicide is partially heritable independent of a shared environment.
"We looked at over 3,400 samples from individuals who had lost their lives to suicide in Utah," said Dr. Anna Docherty with the Huntsman Mental Health Institute.
The study, among the first comprehensive genome-wide analyses of suicide death, also found significant genetic cross-connections to psychiatric diseases and behaviors associated with suicide, researchers said.
"Understanding that there is a strong genetic component will destigmatize the subject of suicide," Docherty said.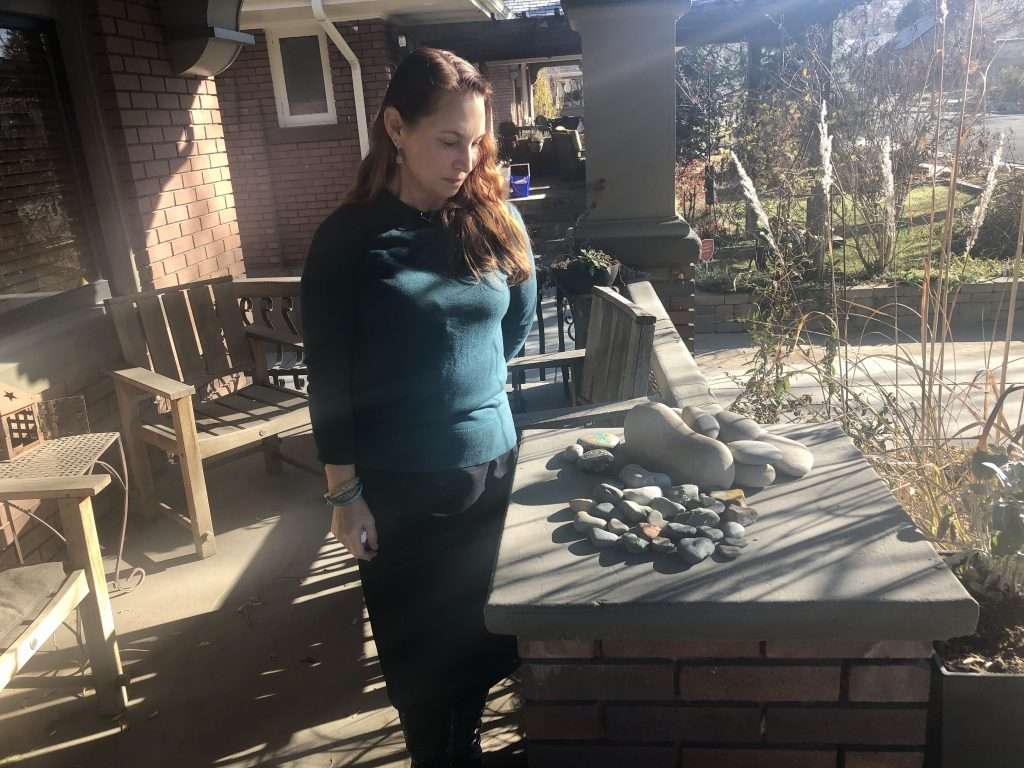 The goal of the research is to inspire discussions among families and with their healthcare providers to know when to get support, Docherty said.
"If you have a family history of suicide, it really pays to learn about all of the myriad risk factors and ways that you can really promote health in your family."
For Nelson, it inspires hope.
"Maybe, if we could look at our kids and say, 'Hey, you really are at risk. What can we do to get ahead of this?'" she said.
Scientists hope identifying these genes could lead to better predicting who's at risk and finding better ways to help them.
In the meantime, Nelson continues to find comfort in nature, and her collection of heart rocks.
"When you lose someone close to you, your whole life changes," she said. "You have to notice the little things. You have to go back to those small things, like the rocks."
Next, researchers plan to dig into the molecular genetics of suicides to understand the links, and to find drug therapies.
If you or someone you love needs help, call the Utah Crisis Line at 801-587-3000.
Suicide Prevention Resources
If you or someone you know is struggling with thoughts of suicide, call the suicide prevention hotline at 1-800-273-TALK.
Crisis Hotlines
Salt Lake County/UNI Crisis Line: 801-587-3000
National Suicide Prevention Crisis Text Line: Text "HOME" to 741-741
Trevor Project Hotline for LGBTQ teens: 1-866-488-7386
University Of Utah Crisis Interventional Crisis Line: 801-587-300
Online Resources
×
Photos
Related stories
Most recent Utah stories