PROVO — In a normal college basketball season, Kolby Lee would be gunning to open the regular season by this point of the offseason.
After weeks and months of two-a-day practices, scrimmages against his own team, and weight training and recovery, that much hasn't changed for the 6-foot-8, 240-pound forward from Meridian, Idaho.
To be frank, he's tired of going against the 7-foot-3 Matt Haarms and 6-foot-11 Richard Harward in practice.
"Put someone in front of us, and let's go. We're so pumped," Lee said. "We've been doing two-a-days for five weeks. Our legs feel great, but we've been battling against each other every day.
"We can't wait to play some ball against somebody else."
But this year is different. Yes, the BYU men's basketball team is chomping to play another opponent. But in an age of COVID-19, of quarantines and isolation and creating a "bubble" or a "controlled environment" through health and safety protocols, there's an added measure of relief or gratitude or anxiety — or quite likely, all three — to open the season.
Eight months after the 2019-20 season was unceremoniously ended by a once-a-century pandemic, right before the NCAA Tournament, college basketball season is tipping off once again.
For the Cougars, that means three games in the first four nights, starting Wednesday at home against Division II Westminster (6 p.m. MST, BYUtv) through the weekend clash with crosstown rival Utah Valley.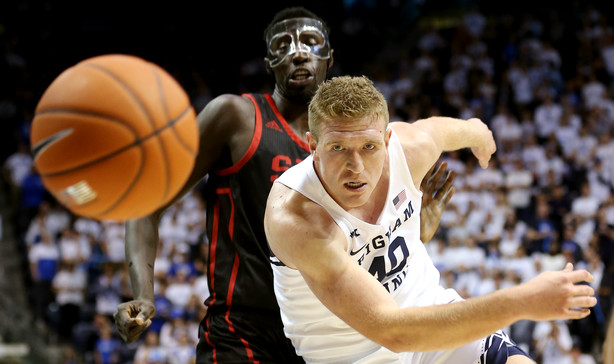 This is what it's all about, said BYU wing and fellow Idahoan Connor Harding.
"You get to be playing the same guys for weeks, months, through the summer," Harding added. "It's been a long time since we have played anyone else. Last year, we got a closed scrimmage against Cal, and it was great. Right now, we're so excited and grateful just to see someone new and see where we're at."
In the face of a global pandemic, basketball has become a welcome respite for BYU, which was experiencing its best season in a decade in Mark Pope's first year as head coach in Provo. Led by future Washington Wizards free-agent Yoeli Childs and Utah Jazz Exhibit-10 signee Jake Toolson, the Cougars rose as high as No. 14 in the country, aided by a 24-8 record with wins over top teams like Gonzaga and a final finish at No. 18 in the AP Top 25.
For Lee, the offseason involved a range of complications — not the least of which was the two-week postponement of his marriage to BYU women's basketballtransfer Kayla Belles after Lee contracted COVID-19 in August.
BYU never had to fully shoot down practices since opening two-a-days began Oct. 15 with a televised practiced on BYUtv. But individual players like Lee have had their own experiences with the virus, whether personally or through friends and family.
Lee eventually recovered from the illness with fairly mild symptoms, he said; he was even able to get married two weeks later. The worst trials were the chills he had "for about an hour" before he recovered and eventually returned to the gym.
"I even got my lungs back pretty fast," he added. "It was basically a runny nose for two weeks. I never had a cough, never lost my taste. I was very fortunate and blessed; you hear some people who are really sick or dying.
"Luckily we're in a better position, but it's still scary."
Still, his understanding of the virus was heightened by the experience. BYU's players, coaches and staff are tested multiple times per week, and the players wear masks in all common areas of the Marriott Center Annex and attached facilities — basically, everywhere but the court, where coaches and staff members are still wearing masks, face shields and gloves in directing practice.
Additionally, due to Utah's current state of COVID-19 protocols and precautions, only players' families will be allowed as spectators in the Marriott Center for the start of the season. A select number of media will also be permitted in the building, though courtside access will be limited, including for the broadcast crew at BYUtv. Print media will be located on the concourse.
"We're taking every precaution, and I expect we will be able to tip off at 6 o'clock on Wednesday night," said Pope, who finalized a contract extension through the 2026-27 season Tuesday evening. "We're doing everything we can to be able to play."
After playing three games in the first week, the Cougars will head to Uncasville, Connecticut, to face USC, and then either UConn or Vanderbilt at the Legends Classic at Mohegan Sun Arena — a mecca of college hoops early-season, multi-team events with more than 30 teams playing in the 10,000-seat arena that is home to the WNBA's Connecticut Sun.
BYU's schedule also includes games against Utah State, Boise State, San Diego State and Utah, among others, before opening West Coast Conference play Dec. 31 at Pepperdine.
All of the masks, the distancing, the sanitization and other precautions — not to mention the isolated "bubbles" like at Mohegan Sun — are meant to try to play a season under extreme circumstances. Already games have been canceled — the University of Utah postponed the start of its season Monday after head coach Larry Krystkowiak and other team and staff members tested positive for COVID-19 — and several programs have had to shut down workouts with similar results.
Which leaves the Cougars doing as much as they can to make the season work. No one wants a repeat of March, and if that means eschewing social scenes and limiting contact in a "controlled environment," so be it.
"Guys have been incredibly cautious, and we've been incredibly safe," Pope said. "Our guys have really tried to keep themselves safe."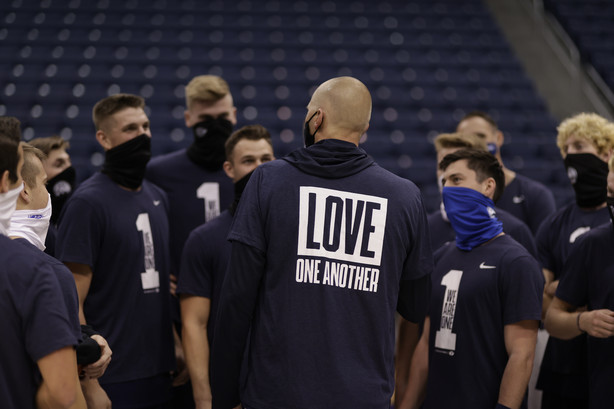 Wed., Nov. 25
BYU vs. D-II Westminster
Tipoff: 6 p.m. MST
TV: BYUtv
Streaming: BYUtv.org
Radio: BYU radio, KSL radio 1160 AM/102.7 FM
Series: N/A
Thurs., Nov. 26
BYU vs. New Orleans
Tipoff: 7 p.m. MST
TV: BYUtv
Streaming: BYUtv.org
Radio: BYU radio, KSL radio 1160 AM/102.7 FM
Series: BYU leads, 1-0 (last meeting: 1987)
Sat., Nov. 28
BYU vs. Utah Valley
Tipoff: 7 p.m. MST
TV: BYUtv
Streaming: BYUtv.org
Radio: BYU radio, KSL radio 1160 AM/102.7 FM
Series: BYU leads, 5-1 (last meeting: 2018)
×
Related Links
Related Stories