PROVO — Mark Pope wanted the people to get to know his newest BYU men's basketball team as soon as they could.
So when the Cougars opened two-a-day practices Wednesday, and with coronavirus restrictions limiting travel and accessibility, he called up BYUtv to have them televise and/or livestream practice.
"We start at 6 a.m.," he joked anecdotally, "See you there."
Not quite.
But with the 2020-21 college basketball season just a few weeks away from tipping off in a pandemic, the coach's squad hit overdrive to re-introduce the fan base to their team — and for good reason.
Gone are last year's stars Yoeli Childs, TJ Haws, Jake Toolson, Zac Seljaas and others, looking to move on to professional careers. In their place are a smattering of newcomers, many of them transfers from other Division I programs, and so anything that Pope can do to pass out the nametags and introduce his players to the public (not to mention their own teammates), the better.
Which brings us to Wednesday.
Purdue graduate transfer Matt Haarms, Utah Valley University transfers Brandon Averette, Richard Harward and Wyatt Lowell, and incoming junior college transfers Spencer Johnson and Gideon George joined their first full-length practice with Pope, his assistants, and the holdovers, including Arizona transfer Alex Barcello, rangey big man Gavin Baxter, sharpshooter Trevin Knell, and Idaho-born wing Connor Harding, to name a few.
"Even though this summer's been so weird, and the end of last year was so disappointing, we're trying to do everything we can to re-establish the normal greatness of college basketball," Pope told BYUtv. "I also like my guys to feel a little bit of pressure; everyone's going to be able to comment on them and how they practice."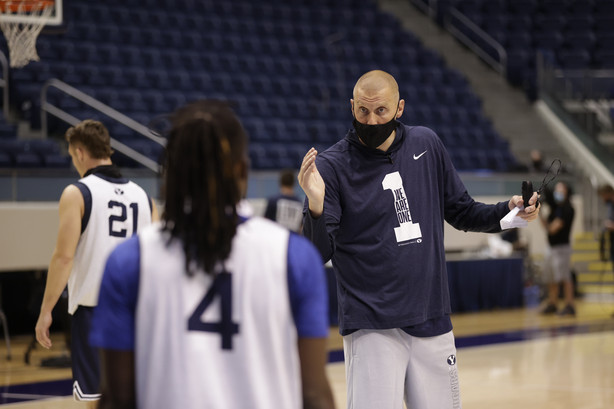 With all that in mind, Pope brought in his players at 6 a.m., then brought them back to the Marriott Center 12 hours later for a fully televised practice to introduce the team.
Cameras or not, it was good to get back to work.
"This is what I've been waiting to do, and I love it so far," said Averette, who stopped after Pope stopped him with sideyes. "I mean, I love it."
After a canceled NCAA Tournament and an offseason of will-they-or-won't-they, college basketball (practice) is back. Sure, the first day of the NCAA's allowed practice sessions looked different.
But it was good to be back.
In the absence of Midnight Madness — like the one last year, where Pope called his court-storming, senior-night victory over No. 1 Gonzaga — the Cougars brought their own "madness" to the first day of practice, complete with masks, no fans, and pop-in Zoom visits with Danny Ainge, Rick Pitino and Craig Cusick.
"I think it's awesome. I think it's an awesome way for the fans to connect with us," said Haarms, the Purdue graduate transfer who was born in The Netherlands. "You always get that Midnight Madness, and of course we aren't going to have that this year. So it's a really fun way to connect with the fans and our personalities.
"It's a little different than watching a game. I think it's a great way to let the fans get a feel for our personalities."
The made-for-television production brought a sign of normalcy in an abnormal year for the Cougars, and also brought some personality — including when TV producers had to use the "dump" button during a moment of intense emotions from Harward.
"We bring that intensity," said Barcello, the team's lone undergraduate senior and top returning scorer. "Not every day is going to be perfect. But if we have a bad day, we respond to it.
"We had a bad day during preseason, but the way we responded to it speaks a lot to what it's all about."
BYU is coming off a 24-8 season in Pope's first year, making the former national champion with Kentucky the winningest first-year coach in BYU basketball history. The Cougars finished the season ranked No. 18 in the Associated Press Top 25, but like the rest of the country were unable to go to the NCAA Tournament due to the novel coronavirus pandemic that canceled all NCAA winter and spring championships.
The Cougars will play Dec. 2-3 in the Legends Classic in Uncasville, Connecticut, earning a shot in a field that also includes Southern California, UConn and Vanderbilt. BYU will also open West Coast Conference play Dec. 31 at Pepperdine, but the dates in between are still being filled in.
That finished schedule — which could open as early as Nov. 25 — could be finalized in as little as 48 hours, or it could come in four weeks, Pope said.
And yes, it will include the rival Utes, who reached out to Pope and his staff about playing even the day the Pac-12 decided to cancel the season until Jan. 1 (a decision that has since been reversed).
It may not be the originally scheduled Dec. 12. But the Cougars and Utes will find a way to play — even if Pope is 0-2 against Utah's Larry Krystkowiak.
We're super grateful for that, and I think it's great for college basketball in the state," Pope said.
"Everything is still really in flux," he added. "There are so many moving pieces. We feel like we're one contract away from being signed, and that will start the dominoes. It's something that could be done in a matter of days, or if it goes wrong, it could take us several more weeks."
×
Photos
Related Links