LOGAN — Sam Merrill's Aggie career was the stuff of legend.
The two-time Mountain West Tournament MVP, Merrill led Utah State to back-to-back league titles as a junior and senior, received Player of the Year honors in 2019, survived a coaching change in the transition from Stew Morrill to Tim Duryea to Craig Smith, and rewrote the program's record book with 2,197 career points, 477 assists, 319 3-pointers, and 4,630 minutes player — all the second-most in Utah State history.
That superstar career isn't over for the former Bountiful High star, either.
Merrill was among the 60 players to hear his name called in Wednesday's NBA Draft, going No. 60 overall to the Milwaukee Bucks, a pick made by New Orleans but that will be traded to Milwaukee, pending league approval.
Yes, the very last pick.
Merrill is part of a three-play-and-picks proposed trade between the Bucks and Pelicans. The move would send Jrue Holiday from New Orleans in exchange for Eric Bledsoe, George Hill, three future first-round picks and two more pick swaps. A similar blockbuster deal would send Bogdan Bogdanovic and Justin James from Sacramento to Milwaukee, according to ESPN, in a sign-and-trade deal.
All trades can become official Sunday when the the NBA free agency period begins.
The Bucks also selected RJ Hampton, the American teenager who opted out of college basketball to play a season in New Zealand's National Basketball League, and Louisville power forward Jordan Nwora. Merrill is the second Aggie in three years to sign with Milwaukee, joining former Utah State star Jalen Moore, who signed as a free agent (and later two-way player) following the 2017 season.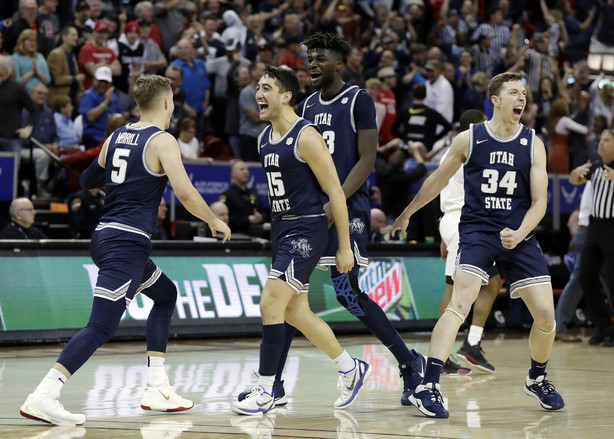 Merrill is the fourth player from the Mountain West selected in the 60-player draft, joining San Diego State guard Malachi Flynn (No. 29, Toronto), Boise State's Justinian Jessup (No. 51, Golden State) and Nevada's Jalen Harris (No. 59, Toronto).
The Aggie alum is the first NBA draft pick from Utah State since Greg Grant was selected in the sixth round of the 1986 draft by the Pistons. The Bountiful product is the highest Aggie selected since Brian Jackson went to Portland in the second round (No. 26 overall) of the 1981 draft.
Merrill's rookie contract with the Bucks will be a two-year, $1.4 million deal with 1½ years guaranteed, according to The Athletic.
In four seasons at Utah State, Merrill worked his way up from a role-playing bench player to a veritable star on the Logan campus. He started as a freshman recently off a two-year mission for The Church of Jesus Christ of Latter-day Saints in Nicaragua, in 18 of 30 games, and averaged 9.4 points, 3.3 assists and 3.1 rebounds per game.
He became a full-time starter as a sophomore, where he shot 50.4% from the field en route to 16.3 points, 3.3 rebounds and 3.1 assists per game in 2017-18.
When Smith moved from South Dakota to Utah State in 2018, Merrill's game took an even bigger step forward. The 6-foot-5, 205-pound guard poured in 20.9 points, 4.2 assists and 3.9 rebounds per game in 2018-19 en route to USU's 28-7 record, a regular-season conference co-championship and a Mountain West tournament title that led the Aggies to their first NCAA Tournament berth in over a decade. Utah State's 28 wins tied for the third-most all-time with the 1999-2000 and 2000-01 teams, just behind the school record of 30 wins held by the '08-09 and '10-11 teams.
And with one final season to impress, Merrill averaged 19.7 points, 3.9 assists and 4.1 rebounds per game in leading the Aggies to back-to-back tournament titles in Las Vegas, clinching the championship on the final shot of his collegiate career — a 3-pointer at the buzzer to top San Diego State in the Mountain West championship game last March a week before the season (and NCAA Tournament) was shut down due to the coronavirus pandemic.
"The last game that they have on tape was pretty good, too," Merrill joked during a media call last week with Utah State Athletics.
Like most prospects, Merrill didn't get the typical pre-draft workout phase — a scenario that he feels could've helped him, like it does most mid-major basketball players.
But with 131 career games, including 119 starts, his game is fairly well known for NBA scouts and executives.
"One of the question marks teams had with me was that I didn't consistently play against great competition in college," Merrill said. "So I think an opportunity for me to get in front of teams against my peers would've been helpful; I feel confident I would have succeeded.
"But at the same time, because of the lack of workouts, teams are forced to do more film deep dives. And as they watch that film, I think they can see I'm more than a shooter."
×
Related Links