This archived news story is available only for your personal, non-commercial use. Information in the story may be outdated or superseded by additional information. Reading or replaying the story in its archived form does not constitute a republication of the story.
LOGAN — Utah State men's basketball has found its guy.
A day after various reports that South Dakota coach Craig Smith was the frontrunner to replace Tim Duryea as the head coach of the Utah State basketball program, a source confirmed to KSL that Smith is on track to become the permanent replacement.
The impending hire, which has not been made official by Utah State, was first reported by ESPN's Jeff Goodman and confirmed to KSL's Rod Zundel by a person familiar with the situation, citing anonymity because the Aggies have not announced the hire.
The school announced the hire Monday morning, scheduling a press conference to formally introduce Smith for 11 a.m. MT Tuesday at the Wayne Estes Center in Logan.
South Dakota's Craig Smith is done to Utah State, sources told ESPN.

— Jeff Goodman (@GoodmanESPN) March 25, 2018
Smith has spent the past four seasons leading the Coyotes, including winning a Summit League regular-season championship in 2016-17. The 45-year-old led South Dakota to a 79-55 record in four seasons, including a 26-9 mark in 2017-18 that ended in a 90-77 loss to North Texas in the opening round of the College Basketball Invitational.
A former assistant coach at Colorado State under former head coach Tim Miles, Smith followed Miles to Nebraska in 2012 before becoming the head coach at South Dakota two years later. He led the Coyotes to a 14-18 mark in his first season, but steadily improved in each successive season afterward.
Smith reportedly signed a three-year contract after the 2016-17 season at South Dakota, one that began at approximately $275,000 per year.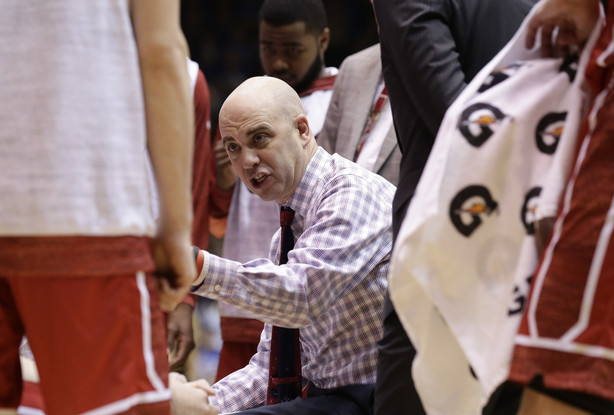 Utah State fired Tim Duryea on March 11 after the longtime Aggie assistant went 17-17 and finished tied for seventh in the Mountain West Conference in 2017-18. The Aggies were just in three years under Duryea, who replaced legendary head coach Stew Morrill after the latter stepped down from Utah State in 2015.
The Aggies were 22-32 in the Mountain West under Duryea, but did not advance past the second round of the conference tournament until upsetting second-seeded Boise State a few weeks ago in Las Vegas. Utah State's season ended with an 83-68 loss to New Mexico in the league tournament semifinals.
Duryea, who had one year remaining on his contract, was set to be owed $379,000, according to Utah state public records. His contractual buyout was not immediately known.
Editor's note: This story has been updated to reflect Utah State University's official announcement Monday morning.
×
Photos
Related Stories