LAS VEGAS — Utah State couldn't make a shot.
The Aggies were held scoreless from the field for nearly 13 minutes while San Diego State casually and clunkily built up a double-digit lead in the Mountain West tournament championship Saturday afternoon.
Then Utah State decided to ride the train that brought them to Las Vegas: the Sam Merrill Express.
Merrill had 27 points and six rebounds, including the game-winning 3-pointer with 2.6 seconds left, to help the Aggies win their third game in as many days with a 59-56 win over No. 5 San Diego State at the Thomas and Mack Center that wrapped up a second straight Mountain West Tournament title and an automatic berth in the NCAA Tournament.
"It's what I've been reaching for my whole life and trying to accomplish," Merrill said. "When we lost at New Mexico last week, I know coach doesn't pay attention to bracketology, but I do. I knew that the cards were stacked against us.
"This morning, getting prepared for the game, I did not want to play in the NIT. I didn't know what would've happened if we had lost — but we had a sense of urgency all week. For me personally, to be a part of this and to see Utah State back on the map is unlike anything I could've ever imagined."
Neemias Queta added 15 points, eight rebounds and three blocked shots, and teammate Justin Bean supplied four points, four assists and a team-high 12 rebounds for the Aggies, who won back-to-back conference tournament titles for the first time since winning three straight in the Big West from 2009-11.
SAM MERRILL, ONIONS pic.twitter.com/PrXYv0DQVu

— CBS Sports (@CBSSports) March 8, 2020
"This one's been sweeter than last year's," said Queta, who also earned all-tournament team honors. "We had a lot more downs than last year, but we just stuck together and found a way to overcome everything that came at us.
"Coach Smith always told us to stay together, and always try to think of the next player. Keep staying together."
But it wasn't easy.
"That's what March Madness is all about right there," Utah State coach Craig Smith said. "That was a whale of a basketball game; two highly competitive basketball teams, two very, very talented teams, and guys who make all the plays.
"It was a heavyweight fight … and fortunately for us, we were the last man standing."
After trailing by as many as 16 points in the first half, Utah State (26-8) rallied to take a late lead it held until Flynn drained a pull-away jumper with 1:08 remaining to put San Diego State, the No. 5 ranked team in the country, up 56-55. The Aggies tied the game on Merrill's free throw with 39.4 seconds left, but saved the biggest shot for last.
That was the Bountiful product's 3-pointer with 2.6 seconds remaining, capping off three wins in three days for the tourney championship.
Oh, and an automatic berth to the NCAA Tournament.
"I was just hoping to get a good look," said Merrill, who was named Mountain West Tournament MVP for the second straight year, the first to do so in the history of the conference that dates back to 1999. "I've been waiting for that shot; I barely slept last night — partially because the schedule is so rough when you play that late-night game Friday night and it's a quick turnaround. I have a move envisioned at what I was going to do, and I didn't get to it because he took it away. But I just threw it up there, and it went in."
Malachi Flynn had 16 points to lead San Diego State (30-2), and Lani Wetzell added 12 points and 12 rebounds for the Aztecs. KJ Feagin supplied 11 points and five rebounds.
"It was a battle between two very good teams," San Diego State coach Brian Dutcher said, "and Sam Merrill made a really hard shot over a great defense played by KJ, and that was the difference in the game."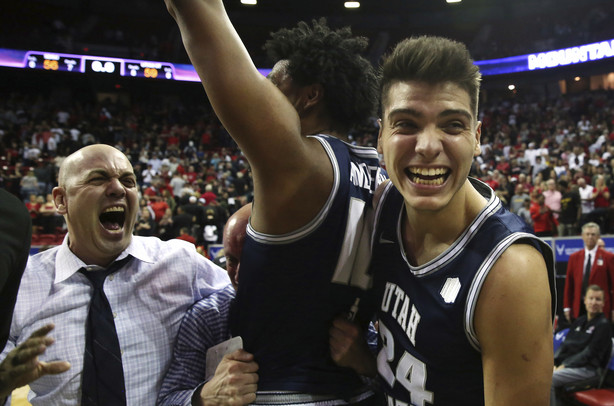 Merrill opened the game by banking in a 3-pointer 90 seconds after the tipoff, but missed his next five shots as the Aztecs held the Aggies scoreless from the field during a 13-minute stretch in the first half. San Diego State built up a game-high 16-point lead, but Diogo Brito's walk-off 3-pointer to beat the halftime buzzer capped a 10-2 run to pull Utah State within 29-21 at the break.
"The way we finished the first half was huge," Smith said. "Not a lot was going right on the offensive end … and on that last play, Abel Porter found Brito wide open on the other side of the key and he hits that 3. We went into halftime down 8, but quite frankly, it felt like we could've been down 18."
The Aztecs looked every bit the part of the No. 5 team in America, an NCAA Tournament lock and one with only two losses on its otherwise spotless resume.
"No doubt about it; it's hard when you're in that moment of a conference championship game to know exactly who you are playing," Bean said. "It's just another team who wants exactly what you do.
"But when I looked back on it, beating the No. 5 team in the nation is pretty special — and those guys beat us twice before. It was going to be a battle."
The surge continued with a 7-2 run out of the locker room, and Utah State pulled as close as 33-31 on Bean's bucket at the 15:39 mark.
Merrill gave Utah State a brief 44-42 lead with back-to-back triples with 9 minutes to go. But Flynn answered just 26 seconds later, and the Aztecs held a lead until a pair of free throws by Anderson with 7:05 remaining. Queta's and-1 dunk moments later capped a 7-0 run that kept the Aggies ahead into the final five minutes.
Still, the Aztecs wouldn't go away. Flynn capped a 5-0 run to put San Diego State back up by 1 with 1:06 to go.
Plenty of time for one last gasp at Merrill magic. Flynn had one last-gasp effort, but his 2-second quickfire fell off the mark, and the Aggies celebrated their 10th time in school history.
"Sam Merrill stepped up and made great plays," Dutcher said. "Basically the game ended like this: Our best player had a step-back 3, he missed it; their best player had a stepback 3 and he made it.
"The current MVP, Malachi Flynn had a shot, it didn't go in; Sam Merrill had a shot, it went in. Both coaches put it in their best players' hands … that's March basketball."
At least one person in the arena of half-hanging heads and near-raising arms never doubted.
"I knew my job was to try to get a rebound if he missed it. But I knew he was going to make it," Bean said. "When it left his hands, it looked great.
"I thought he got fouled, too, but they didn't call it. My emotions were all over the place, and it was honestly really hard for me to stay focused at that point because of all the emotion."
Mountain West All-Tournament Team
Tournament MVP: Sam Merrill, Utah State
Malachi Flynn, San Diego State
KJ Feagin, San Diego State
Sam Merrill, Utah State
Neemias Queta, Utah State
Kwane Marble III, Wyoming
×
Related Stories