LAS VEGAS — Craig Smith couldn't contain the emotion any more.
The second-year Utah State coach is no stranger to emotional excitement, like pulling off his tie to spark the Aggies' rally against New Mexico in the Mountain West quarterfinals or hyping up his team when it held off upstart Wyoming in a stingy semifinal.
But the emotion he shared after Utah State's 59-56 win over No. 5 San Diego State in the tournament title game Saturday afternoon was different even for him. The Aggies (26-8) are locked into an NCAA Tournament bid for the second straight year, and are currently projected as an 11-seed in the East regional by ESPN's Joe Lunardi.
"He makes everybody better, and he has a unique … " Smith started before being overcome with emotion. "When he's on the floor, there's just so much confidence that he provides everyone else. He's out there and guys just play better.
"I think a big reason why is he's a star. He's the most unselfish star I've ever been around. I think he brings so much confidence because he's so humble."
Merrill is a star — and yet, you might not know it by looking at the mild-mannered assassin, a lethal 3-point shooter with the competitiveness of a cold-blooded killer. His 2,197 career points is second only to Jaycee Carroll in Utah State history, and trails just BYU's Jimmer Fredette (2,599) in the 21-year history of the Mountain West. He's the third player in the league to record more than 1,900 points, 400 assists and 100 steals, joining Fredette and Wyoming's Brandon Ewing.
Merrill's talent is singular, and he's doing things that haven't been seen since James Taft Fredette was firing 3-pointers from the logo.
He's also done a few things that have never been done. In six games over two years in the Mountain West tournament, Merrill has averaged 25.3 points per game. That's a run of more than 20 points in winning games that hasn't been done in NCAA Division I more than 20 years — if ever, according to Stats, LLC.
Sam Merrill in the Mountain West tourney the last 2 years for @USUBasketball:

23 pts - W
22 pts - W
24 pts - W
29 pts - W
27 pts - W
27 pts - W

He's the only Division I player in the last 20 years to have 20+ points in 6 straight conference tourney games while winning them all.

— Stats By STATS (@StatsBySTATS) March 8, 2020
But one thing he's never done? Win an NCAA Tournament game. And that's been his biggest focus as a senior.
"I'll look back when this is all said and done and be grateful and obviously have fond memories of Utah State," Merrill said. "But it's been the goal from day one. We had a chance last year, didn't come through, and fortunately found a way to get another opportunity."
Merrill doesn't enjoy talking about himself, but he's always quick to praise his teammates. Neemias Queta is the 7-foot rim protector and future NBA starter. Justin Bean is the best rebounder in the conference, he'll quip. Abel Porter doesn't always show up in the box score, but he's the engine behind the Aggie offense at point guard.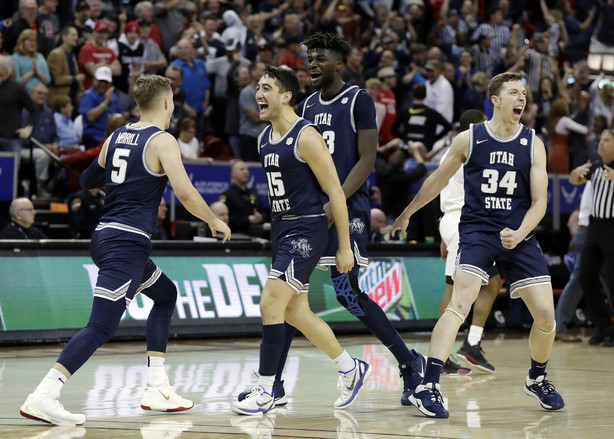 "I know I made the shot, and whatever," Merrill said. "But we could not have won three games in three days without doing it together."
Since he's all about the team, here's one: Merrill led the Aggies to back-to-back conference tournament titles for the first time since winning consecutive titles in the Big West in 2000 and 2001.
Merrill could go on about his teammates, and he has: Diogo Brito. Brock Miller. Alphonso Anderson. But they all have some things to say about him, too.
"Sam Merrill is by far the hardest worker I've ever been around, in so many ways. On the court, physically, but also with his voice." Bean said. "You guys don't see much of what he's like off the court, but also in practice. He's the most vocal person we have on the court, and it says a lot about him as a leader.
"He was born for big plays like this. That's just who he is. It's in his nature. People have called him the silent assassin, and I couldn't agree more with that. That's who he is, and I couldn't be happier for him."
Teammate Brock Miller agreed.
"Sam is an unbelievable player and person," he said. He's always humble; he doesn't like talking about himself. But he's a team guy. He's all about being unselfish and playing the right way.
"He means a lot to Aggie Nation, for what he's done in the course of his four years. He's been unbelievable."
What he's done in his career at Utah State deserves its own praise. A career 46.7% shooter, Merrill averaged 16.5 points, 3.6 rebounds and 3.7 assists in 128 games of his four-year leading up to his final postseason. He's poured his heart and soul into the Aggie program, one he fell in love with attending games in the Dee Glenn Smith Spectrum with his grandfather as a toddler, long before he starred at Bountiful High and on the local AAU circuit.
He knew he'd be playing there one day. And he's made the most of it ever since.
"Sam has been our leader," Miller said. "He's an incredible player. He just plays to win; he's not in it for himself, and he plays to win."
But Merrill saved his best for last — the last week of the season before the NCAA Tournament, that is.
"We weren't sure — we felt like every game was a must-win for us," he said. "This year feels sweeter than last year. Last year, it just feels like everything went perfect. We had no injuries. We obviously lost a couple games, but this year we had to go through some stuff. Neemy missing a ton of games, some other undisclosed injuries that slowed us down a little bit, and lost a couple games that we really had no business losing.
"To be able to just find a way. To win three tough, tough games against New Mexico, who is. probably playing their best basketball; Wyoming, who was absolutely playing their best basketball of the season; and then San Diego State, who's as good as advertised, it's super sweet."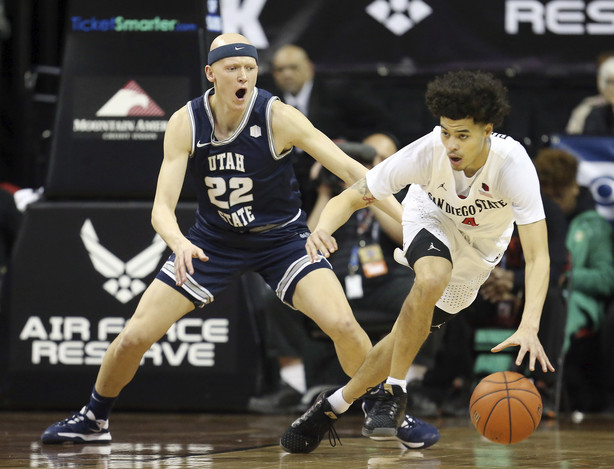 He also defended like a champion. He held Malachi Flynn, the Mountain West Player of the Year from San Diego State to 16 points, and when KJ Feagin started to find his groove from 3-point range Saturday, he switched on to help contain him to just 11.
"Sam gets nowhere near the credit for how elite of a defender he is," Smith said.
Merrill won't argue for more recognition. When asked about the iconic nature of his game-winning shot from NBA 3-point range Saturday, he chuckled and mentioned a half-court shot he made in seventh grade, when his team was up by 40.
"It's comparable to that one, probably," he said, tongue firmly in cheek.
Merrill won't live on that shot just like he won't focus on that meaningless junior high buzzer-beater. Remember, he just doesn't talk much about himself.
But he's not done yet.
"I hope there are a few more," he said, "a few more games to be played, and a few more big shots to be hit."
×
Related Stories