Estimated read time: 9-10 minutes
This archived news story is available only for your personal, non-commercial use. Information in the story may be outdated or superseded by additional information. Reading or replaying the story in its archived form does not constitute a republication of the story.
SALT LAKE CITY — More Utahns have voted in this election than in any other in history, the state elections office reported Tuesday.
"We've broken the record for total number of voters," said state Elections Director Justin Lee. "Right now we're at 1.214 million voters. Previously, 1.15 million voters was our record set in 2016."
He said that 72.2% of active registered voters have participated, with that percentage expected to increase before all the votes are counted. The record active voter participation of 82% was established in 2016.
He added that the record for overall eligible voter population voting was set in 2004 with 59.8% engaging in the process. That number could be in danger as well, but it will be a couple of weeks before official final totals will be known.
"Nothing is ultimately certified statewide until Nov. 23, which is when we do the statewide canvass with certification of results," Lee said. "We'll have some preliminary numbers in the next couple of days, but that's when we'll know the final numbers."
He said that while the COVID-19 outbreak did prompt increased mail-in voting, the number of people choosing vote by mail had been already growing steadily over the years.
"We would have been voting by mail even if there wasn't a pandemic, that's the way we would have been voting," he said. "This turnout shows that vote by mail really works well, so in the future people have more confidence in the system."
Utahns who did not vote by mail are lining up at designated polling locations throughout the state today to join what is already being called an "historic turnout" after some downtown businesses boarded up windows and plan to close early in case of any potential civil unrest.
Capt. Tanner Jensen, director of the Statewide Information and Analysis Center, a branch of the Department of Public Safety, says there is nothing currently on the department's radar that should have voters concerned Tuesday.
Yet the tense political climate that plagued Utah and the country this summer has officials ready to combat a number of potential threats — whether it's people tampering with election systems, demonstrations that boil out of control, or a single person looking to "make a statement in a violent manner," he said.
"We really have been dealing with the demonstrator versus counter-demonstrator, which sometimes can become confrontational. So that's kind of our biggest issue," Jensen said. "As far as vandalism, buildings being attacked, we really haven't seen a whole lot of that outside of a couple days here in Utah, so we expect it to be pretty safe, but we expect to see demonstrations in the valley."
Still, some businesses in Salt Lake City didn't take any chances Tuesday night, including several around the City Creek Center whose employees spent Monday boarding up windows with plywood. According to its website, the mall closed at 5 p.m. Tuesday and would again Wednesday.
A Nordstrom spokesperson told KSTU Monday that its stores were preparing for any activities that might take place on Election Day "and potentially in the days following. We're taking steps to keep our customers and employees safe and our stores secure."
Other stores, including Sunglass Hut, Michael Kors, Ebar and Tiffany were also boarded up at City Creek Monday evening.
"I probably won't be headed downtown, like some of the other rioting times," said Toni Taylor, who spent Monday in the downtown area with her family. "You just, you know, stay home, stay safe."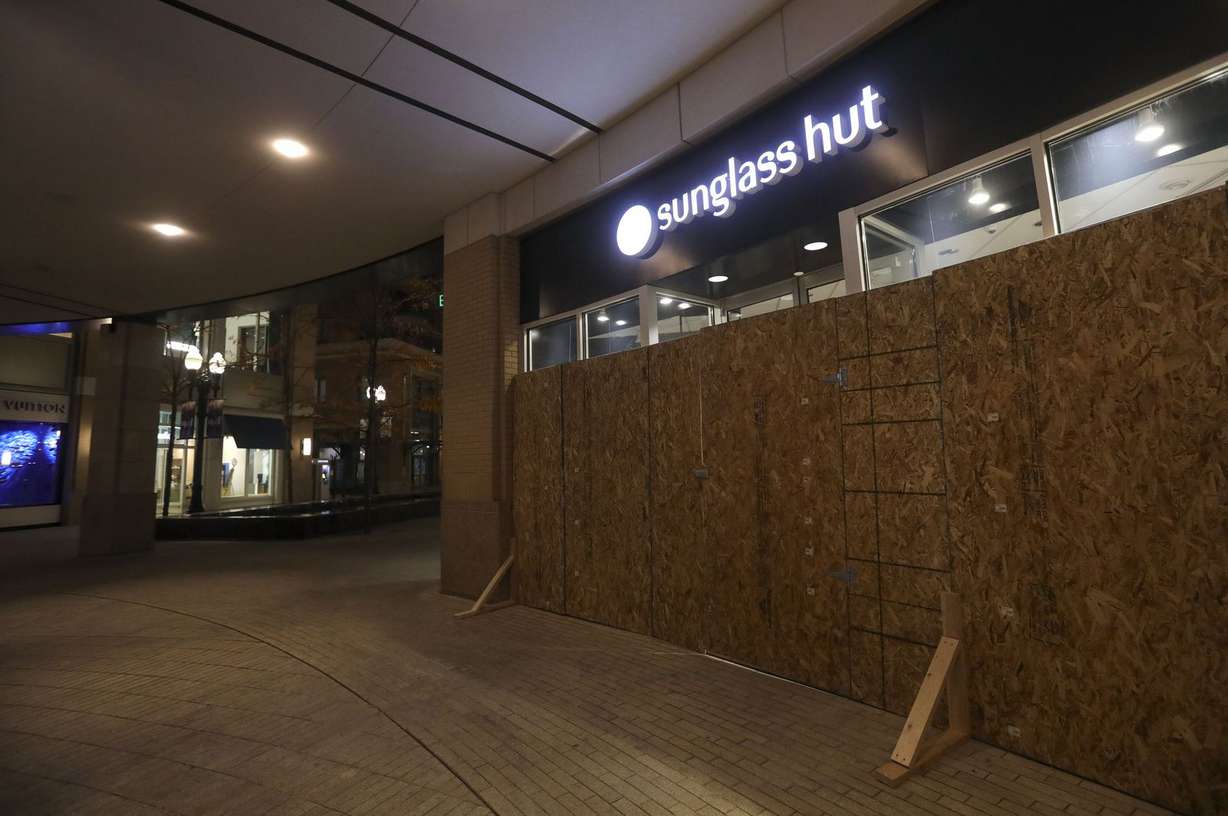 Salt Lake police say they have a contingency plan in place should there be unrest in the city, but the public will not see any of those plans unless they are needed.
Salt Lake Police Sgt. Keith Horrocks said officers will keep a low profile so as not to incite any reactions simply by their presence. But should something happen, police will be very visible, he said.
"We met with the ACLU, we also met with the county recorder, and speaking with them it was determined that the best practice is that you don't really have a uniformed law enforcement officer at the polls, because there are folks that are going to vote where that could cause an intimidation factor," Horrocks said.
"But behind the scenes there is a lot going on … we're ready if something happens."
Beside a small gathering near the Salt Lake City-County building on State Street, where a group of Trump supporters and Black Lives Matter protesters organized on opposite streets from each other, Horrocks said Tuesday has been relatively quiet.
"Our folks went down there and chatted with them and made sure they were 150 feet from the polling location, which they were," he said. "We're happy that so far today it's been peaceful."
Horrocks noted that Salt Lake police have had a lot of practice this year dealing with crowd control, protests and riots, and have learned a lot from each incident about how to improve their techniques.
By 7 p.m., things remained relatively calm in Salt Lake City.
Physical threats to election security weren't the only thing the Utah Department of Public Safety had to prepare for, and cybersecurity was an equally important aspect. Jensen says he has confidence in the state's election cybersecurity. Misinformation, however, is something he says increasingly "causes concern and distrust, sows discord among voters."
"We ask that you use websites that are trusted ... media sites that are trusted as well to get your information during the election," Jensen said.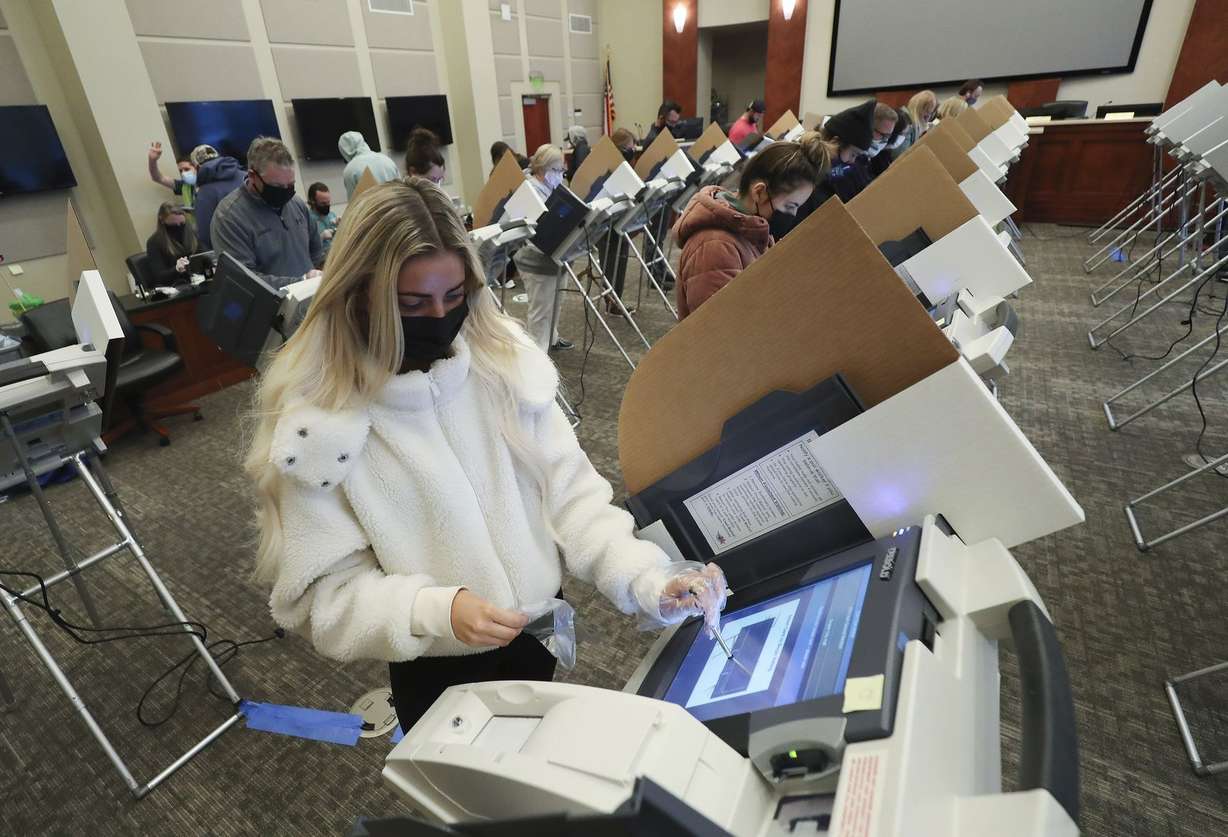 Leading up to Election Day, 67% of approximately 1.68 million registered voters in the Beehive State had already cast their ballots, Lee said, with scores more expected to vote in person.
"Right now, we're at 1,126,000 processed and there's obviously thousands more in the mail and people voting in the polling places today," Lee said Tuesday. "We have more coming in and at this point, I'll be shocked if we don't break every kind of record for voting in Utah."
He said 82% of registered voters participated in 2016, the most in recent history. The state record for percentage of voter turnout was in 1960 for the John F. Kennedy-Richard Nixon presidential race in which 89% of Utahns cast ballots. However, the state's eligible voter population was at 419,000 people back then, he noted.
Generally speaking, voter turnout happens in a few waves throughout the day, he said.
"There's three different spikes — usually first thing in the morning, we have a pretty good rush of people," Lee explained. "Then usually around midday we'll see people around the lunch hour, then close of business starting around 5:30 p.m. or 6 p.m. we usually have another spike."
What impact the pandemic will have on in-person turnout is still to be determined, but it may be brisk until polls close at 8 p.m. tonight, he said.
In Salt Lake County, election officials said the number of individuals voting by mail this year "far exceeds anything we've seen in the past."
"The numbers are huge. We had a record number of people register," said Salt Lake County Clerk Sherrie Swenson. "Also, compared to 2016, we've had about 100,000 additional voter registrations. On Election Day in 2016, the final report was 510,000, now it's over 610,000."
She said that number could increase depending on the volume of people who register in person before day's end. She also noted that the county has worked diligently to ensure voter safety at all local polling locations by having plenty of room for social distancing as individuals wait to cast ballots.
In Utah County, record turnout is also expected with pre-Election Day totals already at nearly 65% of eligible voters having already exercised their constitutional right, said Utah County Chief Deputy Clerk Josh Daniels.
"We anticipate thousands of people today dropping your balance off in drop boxes throughout the county or at polling locations. We expect thousands to show up to polling locations to either get replacement ballots, provisional ballots or to drop off their mail ballot," he said.
"At the beginning of the election season, we thought that the high watermark might be a 75% voter turnout. What's shocking to me is that I'm sitting here on Election Day knowing that there are still tens of thousands of ballots that will come in our doors, and we're already at 64.9% voter turnout. So we very well could see 80% voter turnout. this year, which is just staggering. The highest we've ever seen really."
He added that the record number of votes tallied in a single election was 204,000 four years ago, but the county is well on its way to eclipsing that total already.
"We're pushing 212,000 right now, so a very historic turnout," Daniels said. "It's really astounding."
He said between 40,000 and 50,000 more votes could be cast in the county by day's end.
Meanwhile, electioneering and voter intimidation are also on Jensen's radar, and despite no reports of protests planned at polling locations, he said the department is "monitoring it closely."
"Demonstrations holding up signs, any type of intimidation near a polling location, isn't permitted," he said, adding that "150 feet from that location, demonstrations can't occur there."
Candidates on all sides of the aisle have encouraged supporters to watch for voter fraud, including President Donald Trump, who called for his supporters "to go into the polls and watch very carefully."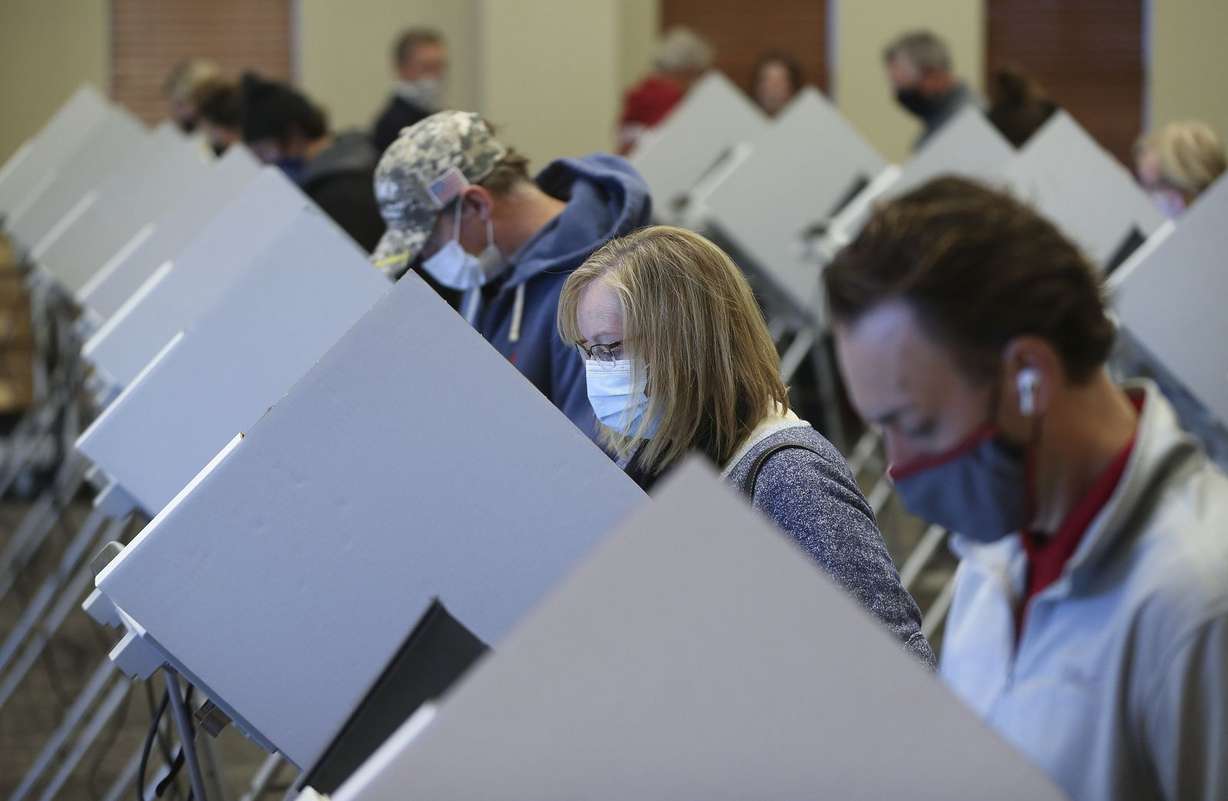 "They don't get to interfere, they don't get to question things on the spot, they get to watch," said Lee. "They can take notes or memos, but they're not there to interfere."
In addition to the presidential race, Utahns are deciding four congressional seats, picking a new governor and electing the state's attorney general. The ballot goes on to include races for treasurer, auditor, State School Board, seats in the Utah House and Senate, and several county level offices. Voters will also decide the fate of seven constitutional amendments.
For a vote to count, voters must put ballots in designated drop boxes or take them to other election centers by 8 p.m. tonight. People can also go to a polling location for in-person voting. The deadline to mail ballots was Monday. Mail-in ballots can also be dropped off at polling stations today.
To find your polling place or where to drop off ballots, visit voteinfo.utah.gov.
Contributing: Dan Rascon and Debbie Worthen, KSL TV, Pat Reavy, KSL
×
Photos
Related links
Related stories
Most recent Utah stories