Estimated read time: 10-11 minutes
This archived news story is available only for your personal, non-commercial use. Information in the story may be outdated or superseded by additional information. Reading or replaying the story in its archived form does not constitute a republication of the story.
SALT LAKE CITY — Election Day 2020 is upon us.
While votes will begin to be tallied Tuesday evening, it's possible some results won't be known until days or weeks after the election. Since this year's election will happen in the middle of a pandemic, a projected record number of votes through the mail and early voting will likely mean adjustments to when we'll know who won and what ballot measures passed.
Here's what to expect from election night and how KSL.com will report the results.
When the polls close
Utahns must have all ballots submitted through mail postmarked by Monday at the latest; all ballots that were sent to voters by mail must otherwise be delivered to drop boxes or other accepted locations by 8 p.m. Tuesday. Those who choose to vote through the traditional in-person method have until polls close at 8 p.m. Tuesday, as well.
The state entered Monday with 1 million ballots already processed as of 11 a.m., per updated election figures. It accounts for about 60 percent of active registered voters. It's also already 87% of the entire turnout of the 2016 election, according to the state elections office.
County clerks will start their count of all ballots processed ahead of time on Tuesday. Utah voters can check to see if their ballot was counted by visiting the state's election website and typing in their home address.
As of this moment 1,000,000 Utah voters have voted. That's more than 4/5 (87%) of the entire turnout in 2016!

Ballots must be postmarked today (11/2) or dropped at a drop box by 8pm tomorrow (11/3).

To learn about your voting options: https://t.co/B2BWWZQdY5.#vote#utpol

— Vote Utah (@ElectionsUtah) November 2, 2020
When will KSL.com call a race?
It's important to know that elections aren't finalized on election night. More on that in a moment.
KSL.com, like many other news outlets across the U.S., will rely on the Associated Press to report probable winners of election races. If major networks like NBC or ABC — two partners of KSL platforms — are calling the race, we will take a look and determine whether or not it is too early to tell.
On election night, sometimes the race is too close to call, or it's too early to call. Our promise to you: We will make it clear what we know and what we don't know, including, when we have it, and the share of the vote that has been counted. We will give updates every 30 minutes on election night.
AP posted its election procedures online leading up to Tuesday's election, which offers insight into its election result procedures. The news organization expects to declare winners in more than 7,000 election races this year, including the presidential race, as well as senate, congressional and various state legislative races across the U.S. These races aren't called until "the moment a trailing candidate no longer has a path to victory."
The AP didn't declare a winner of the 2016 presidential race until early morning after Election Day — 12:29 a.m. Mountain time to be exact — that year because it was the moment it was 100% certain who the winner was.
"AP's race callers and Decision Desk are driven entirely by the facts," the AP wrote. "Race calls made by other organizations have no bearing on when AP declares a candidate the winner. Our decision team does not engage in debate with any campaign or candidate. Should a candidate declare victory — or offer a concession — before AP calls a race, we will cover newsworthy developments in our reporting."
Related:
Once a race is called, the Associated Press will release a piece of journalism explaining why they made the call. We will pass that information on to you.
We will not call an apparent winner. We will say where numbers are at, and call a winner once it is clear there is no other way for another candidate to win.
Why you may not have answers on election night
Even though the election is Tuesday it doesn't mean a winner must be announced that night. In fact, there's no rule that a winner must be declared on election night, and winners are never actually determined on election night. It's only official after all the ballots are canvassed and the vote is certified by the states for most elections, while the presidential election has its own process.
Let's start with what Utah voters should expect from elections within the state. Ballots aren't certified until Nov. 23 this year, which means many ballots can and will be counted days after Election Day. Ballot results are often updated online every weekday until all the ballots are counted on the certification date.
This isn't anything new. State election officials have said on many occasions that one vote-by-mail tradeoff is that it can take longer to piece together the results. If anything, the 2018 election — the first federal election in Utah where all counties used mail-in ballots — offered Utahns the best preparation for what to expect Tuesday, over the next two weeks and possibly beyond.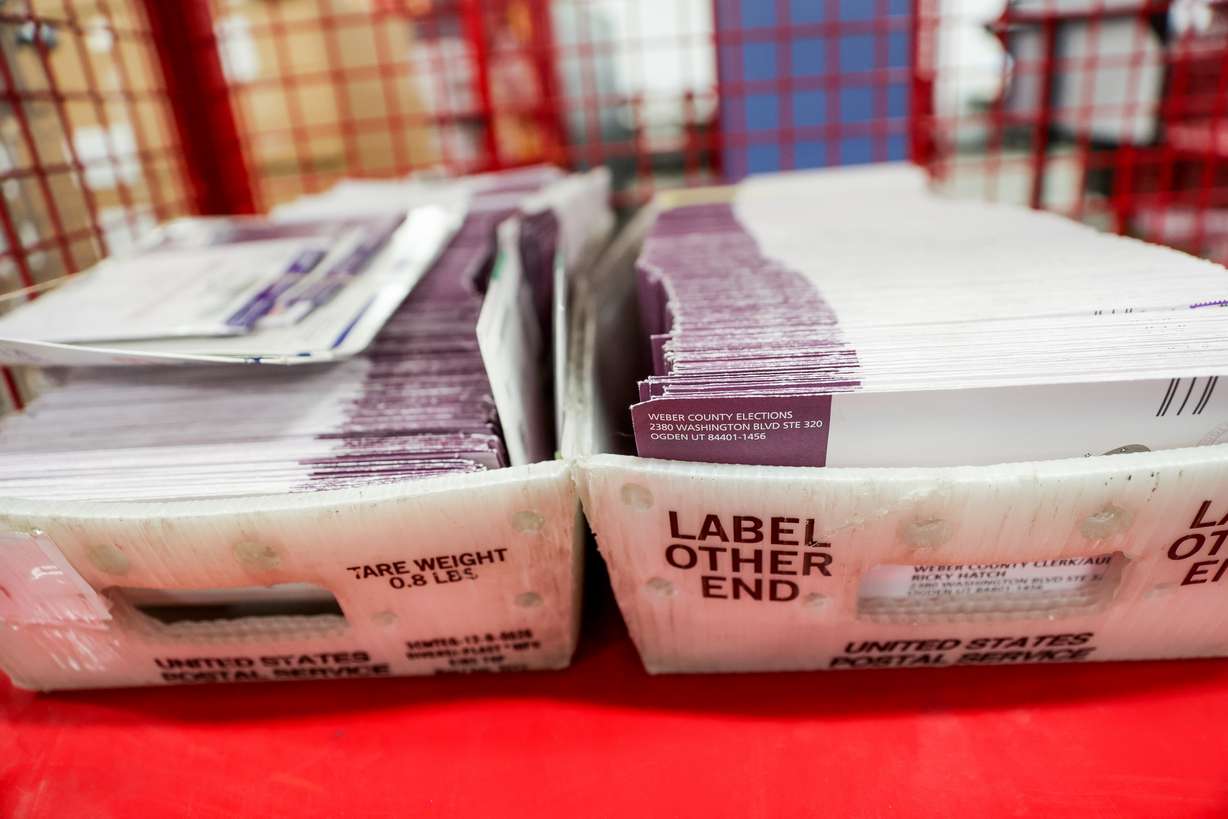 There will likely be many races and ballot items that unofficially pass Tuesday night. Going back to 2018, nearly every major news outlet declared Sen. Mitt Romney the victor of Utah's senate race within minutes of polls closing that year.
Then there was the 2018 4th Congressional District race. Rep. Ben McAdams didn't claim victory against his predecessor, Mia Love, until 13 days after the election and one day before the vote was certified. The delay was due to a race that was just too close for anyone to call for nearly two weeks. Love officially conceded the election four days after the certification date.
It wasn't just political seats that took a while to figure out during that election, either. The Associated Press declared Medicaid expansion and medical marijuana state ballot initiatives winners three days after the 2018 election date.
The results of another measure — an initiative that called for an independent commission to create congressional district maps — were more of a roller coaster. It had more than 50% — what it needed to pass — on election night before it fell below the 50% exactly one week after the election. It went back to above 50% the following day but wasn't determined to have passed until the certification date: a full two weeks after the election.
There is a chance a candidate will say they are a winner of the race before there is a clear winner. If any candidate does declare victory before there is enough information to make a call, KSL.com will explain that it is too early to call the race. We might report on what prominent candidates who declare victory early say, but if we do, we will include the context that we do not yet know the race results.
So don't be surprised if some items on your ballot aren't determined Tuesday night. It's something we're all just going to have to get used to.
What about other states and the presidential election?
In the seven presidential elections since 1992, the Associated Press has only called the presidential race on Election Day four times. The other three times, there was no call on Election Day. In 2000, the Associated Press was one of few outlets that did not call the race early and have to later correct their call.
Every state has its own rules as to how elections are run and ballots are counted, which means the canvassing process in other states won't directly affect how Utah votes are counted. That said, all eyes will be on the remaining states with the presidential election and questions of congressional control.
Dec. 8 is the "safe harbor" deadline for the presidential election. It's the federal deadline for states to settle election disputes and provide their final count to Congress that's set 35 days after an election. Most states plan to certify their votes before that date.
The local politics tracking website Ballotpedia is among the organizations that track ballot canvassing in all 50 states. It lists a few states that don't have specified deadlines to certify votes. Louisiana, Oklahoma, South Dakota, Vermont and Virginia have the earliest deadlines — set at one week after the election — to certify votes; Maryland, Missouri and New Jersey have the latest defined deadline, which is the "safe harbor" deadline of Dec. 8.
Of course, the ballot certification already gained a large amount of attention this year, especially because many states will use more vote-by-mail options than ever as a result of the COVID-19 pandemic — and that typically delays knowledge of full results.
The key battleground states of North Carolina, Pennsylvania and Wisconsin are three places where this process has been put into question. All three have different rules, which the Supreme Court asked to examine. Last week, the court responded to all three:
It voted to not speed up a ruling on the deadline Pennsylvania can count ballots, as reported by CNN. It means, at least for now, ballots can be counted in the Keystone State three days after the election. North Carolina was allowed to count ballots up to nine days after the election as long as ballots were postmarked by Nov. 3.
The court also upheld a Wisconsin court decision that determined all ballots must arrive by the time polls close Election Day in that state if they are to be counted, according to the Milwaukee Journal Sentinel.
It may be difficult to believe that the Florida voting fiasco in the George W. Bush and Al Gore presidential race was 20 years ago. In that situation, the Supreme Court was tasked with ruling on recounts in the state. After more than a month after the election, the court handed down its decision.
Seven justices argued it put the Equal Protection Clause of the 14th amendment in jeopardy. Since the ruling came down the day of the "safe harbor" deadline, it was ruled Florida couldn't complete its recount and the recount was stopped. Bush won Florida, which gave him enough electoral votes to win the presidency.
Given that the presidential races are expected to be close in some of the states already experiencing court rulings, extremely close races and ballots arriving late could present a 2000-like situation in which the Supreme Court is asked to decide what ballots are counted.
It's worth noting that Utah Lt. Gov. Spencer Cox, whose office oversees the state elections system, reminded Utahns in a tweet last week that court battles in other states won't factor into how and when Utah's ballots will be counted.
Other important dates
Congressmembers will be sworn in on Jan. 3, 2021. It's the same day the House of Representatives elects the House speaker.
The swearing-in of Utah's new governor is Jan. 4, 2021.
State electors will vote on the federal election on Dec. 14 and Congress meets to go over the results of the electoral votes on Jan. 6, 2021. The inauguration for the presidential election winner is Jan. 20, 2021.
×
Related links
Related stories
Most recent Utah stories