Estimated read time: 6-7 minutes
This archived news story is available only for your personal, non-commercial use. Information in the story may be outdated or superseded by additional information. Reading or replaying the story in its archived form does not constitute a republication of the story.
SALT LAKE CITY — Republican Attorney General Sean Reyes and Democratic challenger Greg Skordas opened their debate Wednesday on a negative note that crescendoed into an all-out argument at the end.
Also Wednesday, in a new Deseret News/Hinckley Institute of Politics poll, Reyes maintains a large lead over Skordas, though the twice-elected incumbent hasn't completely won over Utahns.
The contentious debate that turned personal at times covered a wide range of issues including health care, campaign finance, Black Lives Matter, mask mandates and LGBTQ rights.
The most heated exchange came in the last few minutes of the hour-long Utah Debate Commission event in a mash-up of accusations over the Affordable Care Act and campaign contributions.
Reyes defended his decision to join a multi-state Republican lawsuit to overturn Obamacare, which he said is unconstitutional. Skordas called the lawsuit "immoral," especially during a pandemic, and said people would lose their health care if it were successful.
"That's fearmongering, Greg, and you know that. No one's going to have their health insurance coverage taken away," Reyes said.
"Of course they are," Skordas replied. "If you do away the Affordable Care Act, there won't be affordable care. Don't say that."
Skordas said he never called Reyes a criminal or corrupt for failing to abide by the will of the people, including voters passing a Medicaid expansion initiative in 2018.
"It's on your website. What's pay to play?" Reyes interjected. Skordas said he was "dying" to talk about pay to play.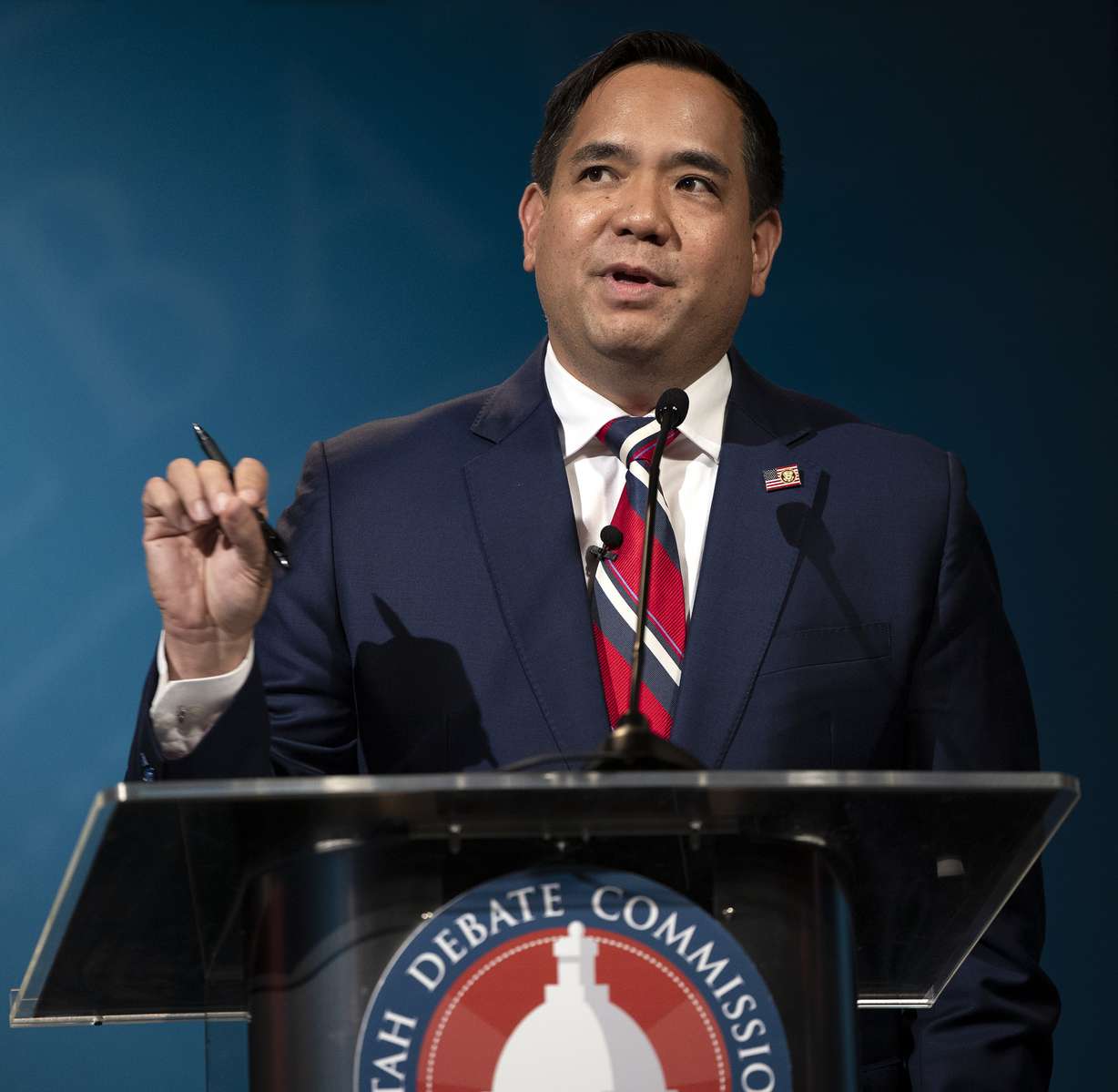 "You're for sale," Skordas said. "You've got a for sale sign on your forehead the size of Central Park."
Reyes said Skordas lies repeatedly and would say anything to get elected. He said there's never been a credible complaint about the campaign funds he has accepted.
A new Deseret News/Hinckley Institute of Politics poll shows Skordas has gained a little ground on Reyes, who still remains under 50% among likely voters.
If the election were held today, 47% of Utahns would vote for Reyes, 29% for Skordas, and 5% for Libertarian Rudy Bautista. But 19% of voters remain undecided less than two weeks before Election Day. Mail-in ballots went out last week.
Skordas, a Salt Lake defense attorney and former county prosecutor, picked up five points from the September Deseret News/Hinckley Institute poll, while Reyes' number didn't change.
"I think it shows Skordas is still within striking distance," said Utah Democratic Party Chairman Jeff Merchant.
Although Reyes would hope his numbers were higher, they are similar to other high-profile Republicans in the state and he still holds a significant lead over Skordas, said Jason Perry, Hinckley Institute director.
"There are still a number of undecided voters, indicating that the role of the attorney general still doesn't get as much attention as other high-profile races," he said.
While Reyes captured three-fourths of voters who identified themselves as conservatives, and Skordas did the same among liberals, Skordas outpolled Reyes by 13 percentage points among moderates. Still, 28% of moderate voters are undecided.
Independent pollster Scott Rasmussen queried 1,000 likely Utah voters Oct. 12-17. The survey has a margin of error of plus or minus 3.1 percentage points.
Reyes campaign consultant Alan Crooks said the poll results are consistent with the campaign's own polling.
The numbers show Utahns are doing their homework and can see and appreciate the job Reyes is doing and are "not getting hung up on our opponent's last-minute theatrics," Crooks said.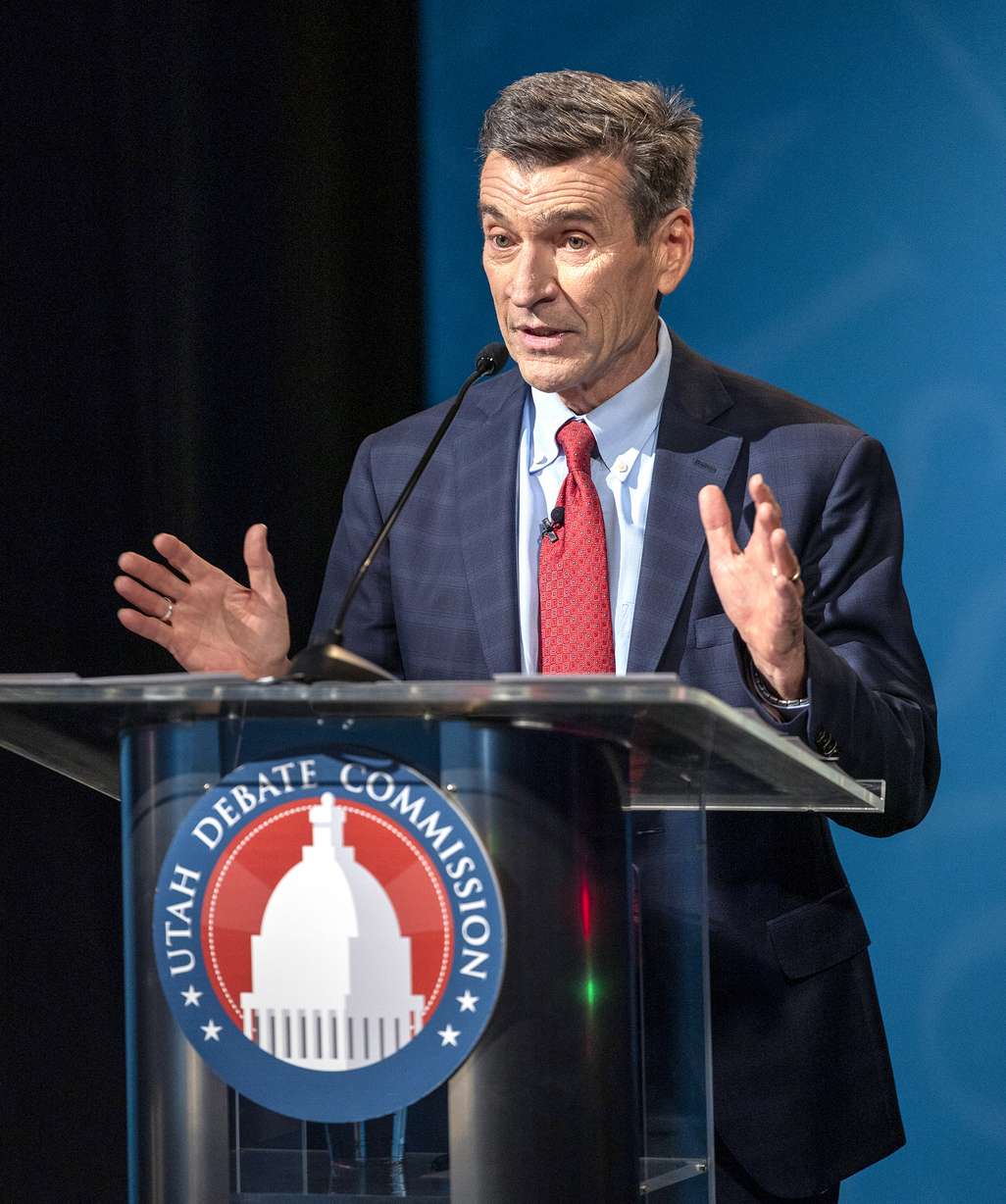 Reyes jumped on Skordas in his opening statement by reading a list of bad reviews about his opponent's legal work he said he found on a website. He said Skordas has gone "hyper negative" in the campaign and attacked his integrity.
Skordas said after the debate that he didn't expect it would be so uncivil, adding Reyes wouldn't acknowledge him before it started. He said he's proud of his record as a lawyer and has high ratings in the profession.
Sparks between the two candidates started flying even before they met face to face for the first and only time before the election.
Originally set for Oct. 1, the Utah Debate Commission rescheduled the event at Reyes' request. Reyes told the commission he planned to be in Hawaii in late September and early October. He said that his father died earlier this year in Hawaii, but because of the COVID-19 pandemic he and his extended family haven't been able to travel there to hold a funeral.
But he never went to Hawaii. He held campaign and fundraising events in that time period and attended the vice presidential debate as a guest of Anheuser-Busch.
Skordas maintains that Reyes "played" the commission to move the date. He said he believes Reyes orchestrated the debate to come after mail-in ballots had gone out and less than two weeks before Election Day.
On Wednesday, Utah Democratic Party Chairman Jeff Merchant sent a letter to the debate commission saying it was either lied to by the Reyes campaign or was involved in an effort to benefit his campaign.
"It is extremely distressing to hear that any candidate would overtly lie about something like this. It is understandable that the commission would not want to fact-check someone attending a funeral, but I suppose the apparent need to do so just demonstrates how low Republican politics in Utah has descended," he said.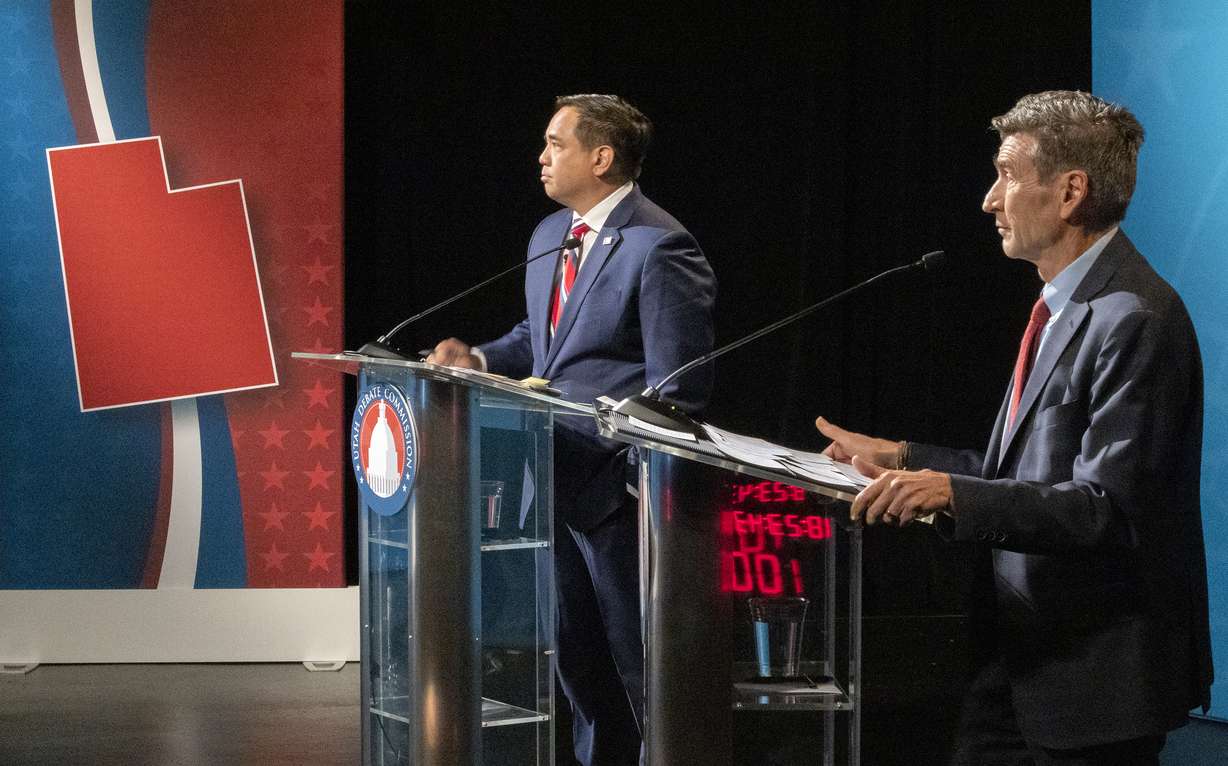 After the debate, Reyes said there's no truth to the accusations and that he wanted to debate. "You can tell. I'm not shy about getting in and talking about the issues," he said.
During the debate, the candidates were asked if they support Black Lives Matter.
Skordas said "Absolutely yes, and they support me too." He added that he supports BLM "to the extent that they peacefully protest."
Reyes said he supports the statement "black lives matter" but not the movement. He said until BLM denounces violence and lawlessness, it would be hard for him to support it.
The candidates also addressed questions about whether a mask mandate would be legal amid the ongoing coronavirus pandemic, which has surged in Utah the past few weeks.
Skordas said Utah leaders are afraid to initiate a mandate and that there's nothing in the Constitution about masks. The state has passed public safety laws about things like seat belts, child car seats and indoor smoking bans because they make sense.
"A hard, fast mask mandate in this state for two weeks would get our numbers down," he said, accusing Reyes of setting a bad example by attending rallies without masks.
Reyes said he can't answer questions about mask mandates "because I'm defending those right now" in lawsuits against the state. He said the debate commission knew he couldn't respond to those questions.
"I think it's an unfair question," he said.
The candidates were asked whether they would promise to protect the rights of LGBTQ people as attorney general.
Reyes said he would pledge to follow the law and stand up for those who need representation.
"I don't make the law. I can't dictate policy," he said. "Yes, I will support them within the role of my office."
Skordas said he prosecuted hate crimes and crimes against the LGBTQ community, which he said has endorsed him. He said he has a record of supporting them and would continue to do so if elected.
2020 Election
Increased mail-in voting, COVID-19, and a variety of state-by-state election formats contribute to a unique 2020 election. As a result, it is likely that many close House and Senate races, as well as the presidency, will not be called on Nov. 3.
States may also shift in outcome in the days or weeks following the election — an expected change experts have warned about as results are returned. While human error happens, both mail-in and in-person voting have extremely low rates of fraud.
The state of Utah has used vote-by-mail since 2012. It has safeguards in place to make sure every ballot it receives is legitimate.
×
Related Links