Estimated read time: 9-10 minutes
This archived news story is available only for your personal, non-commercial use. Information in the story may be outdated or superseded by additional information. Reading or replaying the story in its archived form does not constitute a republication of the story.
SALT LAKE CITY — Voting by mail is becoming more widespread and accepted, especially as an alternative to in-person voting in the midst of a global pandemic, and has been used in Utah for years.
But the practice remains controversial, with even President Donald Trump weighing in firmly against it.
On Wednesday, elections officials from Wasatch Front counties gathered in a virtual forum, hosted by the Hinckley Institute of Politics, to discuss mail-in voting and voters' concerns. How can officials ensure that noncitizens don't get a ballot? That no one votes twice? That voters' privacy is protected?
All these questions and more were tackled by officials during the hourlong session.
Are ballots sent to deceased Utahns?
Weber County Clerk/Auditor Ricky Hatch said the key to removing deceased Utahns from the voter rolls is to maintain a "good, clean" voter registration database. When Weber County first implemented a vote-by-mail system in 2013, Hatch said, more than 15% of its ballots were returned as "nondeliverable" for various reasons; these days, that number is more like 1.5%, he said.
When someone dies in Utah, that information is provided to the Office of Vital Records and Statistics, which in turn updates the statewide voter registration database. "In addition to that, many counties will also look at their obituaries in the paper just to make sure nothing got missed," Hatch said. "So, we're pretty careful to make sure, if someone has passed on, they are removed from the database."
Could noncitizens receive ballots by mistake?
"When a voter registers, we actually go and confirm their driver license number with the state Driver License Division," Hatch said. "And we confirm the Social Security number."
He said drivers now have to provide some "pretty significant documentation" to prove they are Utah residents and citizens when applying for driver's licenses. "That's one of the key controls to help make sure that only citizens are allowed ballots and are able to vote," Hatch said.
Utah County Clerk/Auditor Amelia Powers Gardner said states that don't do vote by mail actually end up with less accurate voter registration databases. "Because it's not as high of a security risk," she said. "They say, 'Well, if you're dead, you're not showing up at the polling location and showing your ID.' So, the administrators don't take nearly as much of an effort to clean that database."
County clerks have a financial incentive to clean their voter rolls, too, she said — sending ballots to deceased Utahns would waste county money.
How do clerks know the ballot was returned by the intended voter?
Forum moderator Frank Pignanelli asked the officials how they know whether ballots are returned by the voters they were sent to rather than a spouse, neighbor or bad actor. Salt Lake County Clerk Sherrie Swensen said Utah counties compare the signatures for every ballot returned to the voter's signature on file.
"If it doesn't match, we send that voter what we call a cure letter," Swensen explained. "We give them an opportunity to 'cure' that ballot, so that it can be counted. But we have a huge process, it's very labor-intensive, to make sure that signature on the return ballot affidavit matches the signature we have on record for that voter."
The signature verification consists of two rounds, Powers Gardner said — in the first round, matching signatures are verified. In the second round, signatures that don't match are subjected to more scrutiny and county clerks can be given access to more signature samples, and even household members' samples, she said.
That's how she discovered that a man's supposed signature didn't look like his, but was an exact match for his wife's.
"So we call her up and we say, 'Hey, we see that you signed your husband's ballot," Powers Gardner said. The woman said he'd given her permission to do so.
"OK, that's a felony," Powers Gardner responded. "It's voter fraud. We're going to give you the benefit of the doubt and assume that you didn't know it was a felony."
You can't sign for anyone else — missionaries, college students and spouses included, she said. They let the woman off with a warning, but said if she voted for someone again they'd have to report her to the FBI. "I've never had a repeat (offender)," Powers Gardner said.
Can someone vote twice?
"That's another great control we have," Hatch said. The statewide voter registration database means all counties have access to the same information — when someone has voted once, he said, they're recorded as having voted in that database.
Elections officials update the database by scanning the barcode on the ballot, Hatch said. If someone voted in person and then, say, dropped a ballot in a drop box, the system would reject the second barcode and show the resident as already having voted.
People who tried as much "got a visit from the FBI," he said.
"When that happens, most of the time, it's an old lady" who forgot she voted by mail before Election Day, Powers Gardner said.
How do clerks protect the right to a secret ballot by mail?
"It's like an assembly line," Swensen said, explaining that nearly the entire vote-counting process — from scanning the barcode to capturing the signature to recording the actual vote — is done by feeding the ballots through machines.
"The envelope, with any identifier, is dropped down into a bin" after an official removes the ballot from its security sleeve, Swensen said. "And now all the person removing that has in their hand is a security sleeve with a folded ballot in it.
"There is no way they can correlate that to the individual voter."
Powers Gardner added that county elections staff always works together, never alone, and that the Utah County counting room is monitored with cameras at all times. "If you want to reduce fraud, you take away people's opportunity to commit fraud," she said.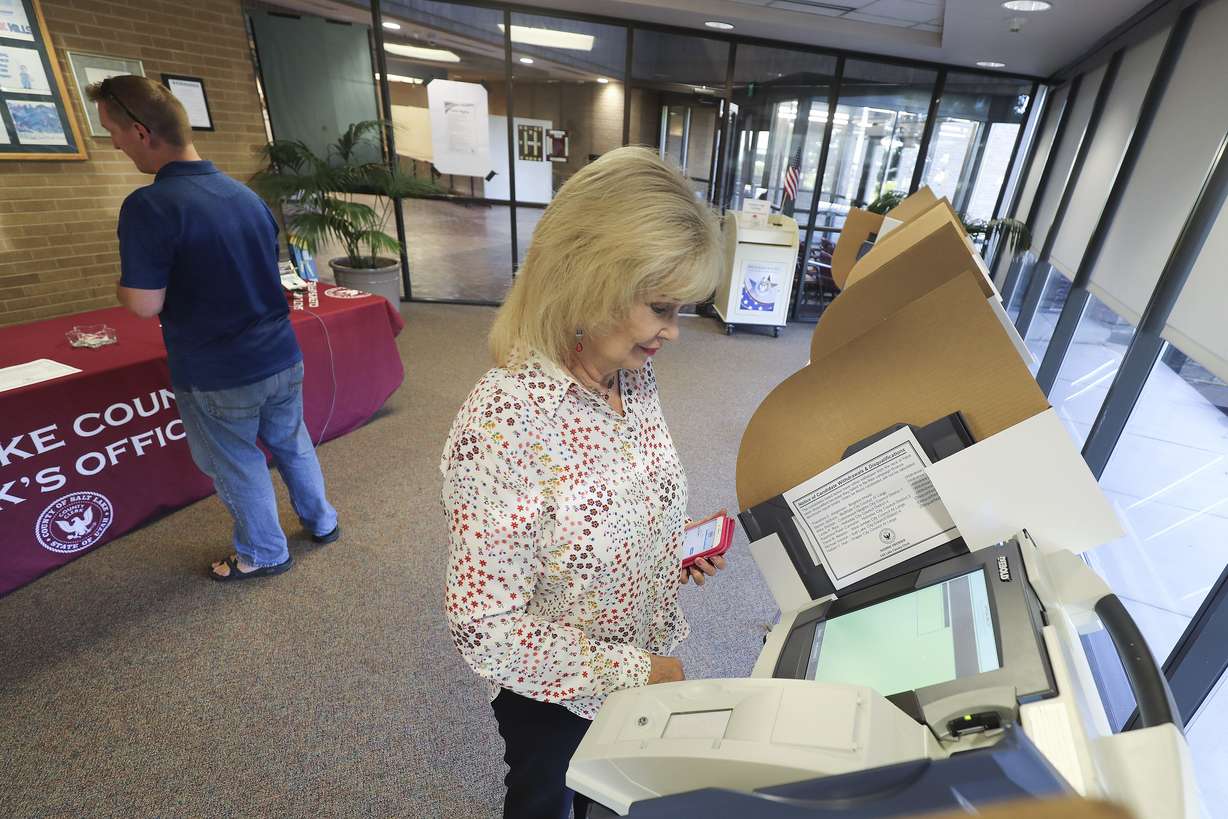 Does vote-by-mail favor one party over another?
"I don't think it favors one party," Powers Gardner said in response to a question from Pignanelli. "I think if you have more Democrats in your county, then more Democrats are going to vote. If you have more Republicans in your county, more Republicans are going to vote."
She said voting by mail has been shown to increase turnout across the board. "I think it just causes more voters," she said.
State Elections Director Justin Lee said the state hasn't "seen anything to indicate it helps one party over another." For example, he said, a Republican won the 4th Congressional District race in 2016 when Democratic-leaning Salt Lake County used voting by mail and GOP stronghold Utah County didn't. When Utah County voted by mail in 2018, though — which theoretically should have boosted turnout among its Republicans — a Democrat, Ben McAdams, narrowly won the race.
"So I think that's one example you can see, at least here in Utah, where one county doing vote-by-mail versus another did not change the outcome, from a partisan perspective," Lee said.
June 30 primary
Because of the COVID-19 pandemic, the June primary election will be conducted almost entirely by mail. With that Legislature-induced change comes a few differences Utahns should be aware of, officials said, including:
Ballots can now be postmarked on Election Day, moving back the deadline which was previously the day before; however, Powers Gardner said, ballots mailed in the evening are unlikely to be postmarked until the next day — so Utahns who've waited that long should use ballot drop boxes, she said, which will accept ballots on Election Day until 8 p.m.
Seven Utah counties — Salt Lake, Utah, Davis, Weber, Tooele, Box Elder and Iron — will offer a drive-up service on Election Day, but Swensen was quick to point out that the effort is not, in fact, "drive-up voting." Registered voters will simply be given a ballot packet, she said, and asked to deposit it at a county drop box.
Unaffiliated voters can change their affiliation at the drive-up locations, but affiliated voters cannot switch from one party to another on Election Day.
Utahns who are not registered to vote cannot register and cast a provisional ballot on Election Day this June.
There will be no in-person early voting.
Voters in counties with no drive-up options should contact their county clerks if they've not yet received a ballot.
The first round of provisional results will be issued at 10 p.m. instead of 8 p.m. on June 30; as usual, actual election winners may not be determined for days or weeks following Election Day.
As of now, elections rules are slated to return to normal in time for the November general election.
"So, a little confusing," Powers Gardner said. "That's frustrating for Sherrie, Ricky and myself. Anytime that there's legislation that can confuse voters, it's frustrating for us. But we're doing the best we can to accommodate as many voters as we can."
So why is there so much controversy over vote-by-mail?
One of the key reasons has to do with the difference between "absentee" vote-by-mail and "universal" vote-by-mail, officials said. "When you do expanded absentee vote-by-mail," Powers Gardner said, "you're not removing dead people from your rolls. You're not removing people that have moved from your rolls."
Most of the confusion is due to voters moving; there are about 7 million more registered voters in America than there are eligible voters, Powers Gardner said, because of poor voter registration maintenance. But in states like Utah that use universal vote-by-mail — sending a ballot to every registered voter — county clerks run their voter rolls past the National Change of Address database and conduct additional maintenance as described before.
"Part of it is, our rolls are better," Powers Gardner said, "so there's less chance for voter fraud."
When states use expanded absentee voting, she said, voters who, for whatever reason, don't receive or return their absentee ballot can't vote on Election Day, which is not the case in Utah.
Such states are "really where we were a decade ago," Lee said.
The confusion and problems created by such systems may be a key component of vote-by-mail opposition, officials said. "I think a lot of people do it because they don't understand the difference between universal vote-by-mail and expanded absentee," Powers Gardner said.
"They do not know our process," Swensen said, "and they just think it's some bizarre thing where everyone's sent a ballot and there's no security measures in place. ... I think if they saw our process, they would think differently."
×
Related Stories