SALT LAKE CITY — It's October during a presidential, congressional and gubernatorial election year in Utah, which means a flood of political advertisements, campaign events and debates.
It's also a time where polling firms try to best estimate who will win elections. These polls are traditionally a sampling of how the general public will likely vote or how they view specific issues. Utahns and, well, all Americans, are constantly given updated figures about how likely voters or even random members of the general public view candidates.
Modern presidential political polling dates back to George Gallup's opinion polls that started in time for the 1936 presidential election; however, the first political opinion poll is credited to a Pennsylvania newspaper that conducted a poll for the 1824 presidential election, as noted by research compiled by Franklin & Marshall College.
Many times the results of the election follow these polls, but that's not always the case — as many people might remember from four years ago; however, the Pew Research Center argued that 2016 and 2018 results showed that polling is still pretty accurate "when done carefully."
With many polls available for many races, here's what they have to say about how Utahns polled view the presidential, congressional and gubernatorial elections.
Presidential election
A short history of previous elections: The Republican presidential candidate has won Utah every election from 1968 forward. The last Democrat to claim victory in Utah was Lyndon B. Johnson 56 years ago. Over the four elections between 2000 and 2012, the Republican candidate won with an average of about 41 percentage points — so the races weren't very close.
The gap between Republican and Democratic candidates shrank in 2016, even though it was still rather lopsided. It wasn't because a higher percentage of voters supporting the Democratic candidate in that case, it was due to fewer Utah voters siding with eventual state and presidential winner Donald Trump than previous Republican candidates.
President Trump collected 45.5% of the vote four years ago — 18 percentage points ahead of Hillary Clinton and 24 percentage points ahead of independent candidate Evan McMullin. In many ways, it was similar to 1992 when George H.W. Bush won Utah with just 43.4% of the vote because independent candidate Ross Perot garnered 27% of Utah's vote, while Bill Clinton received about 25%.
Hillary Clinton actually received close to the average percentage Democratic candidates have received in the state over the past five elections, which is about 28%. Over the last 40 years, the highest percentage of votes any Democratic candidate has received in Utah was in 2008, when Barack Obama received 34.4% of the vote.
What the polls say this year:A poll from Y2 Analytics released Monday found 44% of 1,214 likely Utah voters said Trump was their "definite choice" with another 6% saying they were leaning toward Trump or would choose the president if they "had to choose." That's compared to 36% who said they would definitely vote for former vice president Joe Biden and another 3% who said they were leaning toward Biden.
SurveyMonkey's monthly poll hasn't changed much since June. It's reported Trump steady at about 56% to Biden at 42% among likely voters in Utah. A Deseret News/Hinckley Institute Politics poll released on Sept. 16 found Trump with a 53% to 35% advantage over Biden in the Beehive State.
Political analytics website FiveThirtyEight has kept track of Utah polling data on a daily basis. As of Thursday, it projected Trump ahead 51.7% to Biden's 38.9%. The closest the two candidates got on the tracker from late Feburary through Thursday was in mid-June, when it listed Trump with a 6.7 percentage point advantage.
Should any of these polls come to fruition, 2020 could be the best a Democratic candidate has fared in Utah since 1964. That said, it also indicates that it's still unlikely that Utah would become a swing state. Political experts project Trump to win Utah once again this year.
Congressional races
A short history of current district maps: Utah's current House of Representatives maps were updated in 2012 when the state received a fourth Congress member following the 2010 Census. Republican Party members have held the first three district seats every time since the new districts were mapped. The fourth seat is currently held by a Democratic Party member, but the seat was previously held by the Republican Party.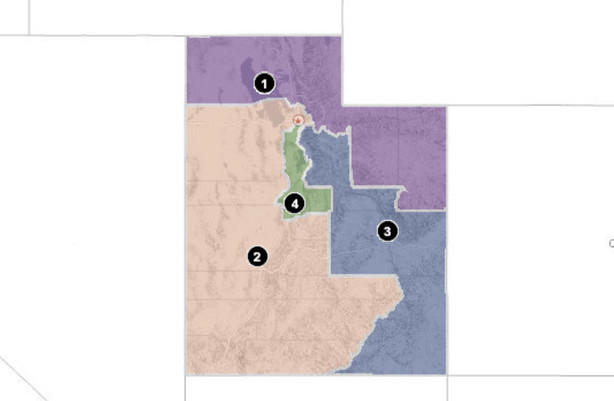 What the polls say this year: Latest available polling data indicates the possibility that all four seats will remain in control of the respective parties currently holding them.
District 1: This is the only seat with a guaranteed new face in 2021. Rep. Rob Bishop, a Republican, has represented northern Utah since 2003 and is the only representative in the history of the current district boundary; he announced last year that he would not seek a ninth term.
Bishop has since endorsed the Republican nominee, Blake Moore. The Utah Debate Commission sponsored a poll conducted through Lighthouse Research, which found Moore holding a 49% to 22% lead over Democratic challenger Darren Parry, as of its release on Sept. 16.
District 2: The Utah Debate Commission's Sept. 16 poll gave Republican Rep. Chris Stewart a 48% to 28% lead over his Democratic Party challenger Kael Weston, with Libertarian candidate J. Robert Latham at 6.5% — the largest polling percentage for any third-party congressional candidate in the state.
District 3: The Sept. 16 poll also found Rep. John Curtis, a Republican, held a 30-percentage point lead over Democratic challenger Devin Thorpe.
District 4: This is the only seat that's been sort of a toss-up under the current maps, which is why you will find more polls conducted for this race than any other congressional district in the state. In the first four elections in the district's history, the Democratic and Republican parties' candidates have split the results 2-2.
It's been extremely close — with the winner receiving less than 1,000 votes more than the runner-up — twice. Rep. Ben McAdams, a Democrat, won the 2018 election by just 694 votes. The largest win came two years prior, when Republican Mia Love defeated Democrat Doug Owens by more than 30,000 votes, or 12.5 percentage points.
Flash forward to 2020. All four available polls regarding the race — released by July and September — have been all over the place. The latest, conducted by Lighthouse Research for the Utah Debate Commission and released on Sept. 16, found McAdams held a 47% to 37% lead over Republican nominee Burgess Owens.
The first poll, which was conducted by the Moore Information Group and released on July 15, gave Owens a 43% to 32% advantage — although it should be noted that sites like FiveThirtyEight rated it as a partisan-influenced poll.
The two polls in between were much, much closer. A Deseret News/Hinckley Institute Politics poll released on Aug. 3 found a tie, with both candidates deadlocked at 35%. A follow-up poll, released on Sept. 14, gave McAdams a slight 4% advantage.
The two candidates are slated to debate Tuesday. Given the district's history and the ever-changing poll results over the past few months, it's quite possible numbers will change again before Election Day and that this race will be close again in 2020.
Gubernatorial race
A short history of previous elections: Utah's gubernatorial elections — which run on the same four-year cycle every time — have also shifted red in recent decades much like presidential results. Scott Matheson was the last Democratic Party member to hold office, which he left in 1985.
Republican Party wins didn't become as one-sided as the presidential results until the 1990s. Still, the Republican candidate has received an average of about 60% of the vote in every election since 1984.
What the polls say this year: Polls indicate little chance for that to change anytime soon. Y2 Analytics also released results of a gubernatorial poll Monday, which found Lt. Gov. Spencer Cox, the Republican candidate, ahead of his Democratic opponent — University of Utah professor Chris Peterson — by 28 percentage points.
Previous polls also pointed toward a larger lead for Cox. A Deseret News/Hinckley Institute Policy released on Sept. 18 found Cox held a 33-point lead. One conducted for the Utah Debate Commission, released on Sept. 16, gave Cox a 35 point lead.
The first poll in the race, also conducted on behalf of the Deseret News and Hinckley Institute of Politics and released on Aug. 7, found Cox held a 32-percentage point lead over Peterson.
2020 Election
Increased mail-in voting, COVID-19, and a variety of state-by-state election formats contribute to a unique 2020 election. As a result, it is likely that many close House and Senate races, as well as the presidency, will not be called on Nov. 3.
States may also shift in outcome in the days or weeks following the election — an expected change experts have warned about as results are returned. While human error happens, both mail-in and in-person voting have extremely low rates of fraud.
The state of Utah has used vote-by-mail since 2012. It has safeguards in place to make sure every ballot it receives is legitimate.
×
Related Links
Related Stories