Estimated read time: 6-7 minutes
This archived news story is available only for your personal, non-commercial use. Information in the story may be outdated or superseded by additional information. Reading or replaying the story in its archived form does not constitute a republication of the story.
SALT LAKE CITY — Red isn't a good sign when you're looking at a drought map, and most of Utah is now in the red.
More than four-fifths of Utah is experiencing an extreme drought, the U.S. Drought Monitor reported Thursday. It's the second week they've reported that 83% of the state — essentially the entire state south of the Great Salt Lake — falls within that category at the very least.
It's worse in some parts of central Utah and an area in southwest Utah along the Utah-Nevada border, which are now listed as being in exceptional droughts. It's the driest of dry listings by the U.S. Drought Monitor, which listed 3% of the state in that class for the first time last week; it grew to 5.8% with Thursday's update.
"The dry, summer months and the really hot weather and low humidity has caused our drought conditions to become more and more severe as the summer has progressed," said Rachel Shilton, river basin planning manager for the Utah Division of Water Resources.
The U.S. Drought Monitor, which is created by the National Drought Mitigation Center at the University of Nebraska-Lincoln in coordinating with many federal agencies, produces weekly updates every Thursday. They show the status of drought conditions in the U.S. based on various statistics, such as soil moisture models, weekly streamflow data and precipitation.
Utah's hot and mostly dry summer after one of the driest springs on record didn't help conditions. About 83% of the state was listed in being in at least a moderate drought at the start of June. Only 1.2% of the state was classified as being in an extreme drought on June 16 but that grew as the summer went on.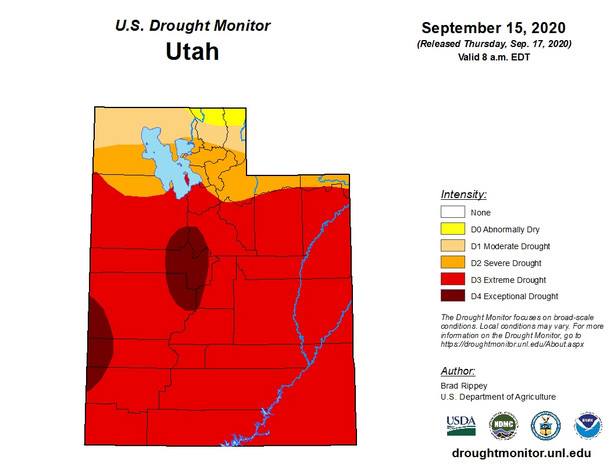 A good portion of southwest and central Utah up to the southern part of the Wasatch Front was listed in an extreme drought at the start of September. An update on Sept. 8 added nearly all eastern Utah, as well as listing a patch of central Utah — covering parts of Juab, Millard, Sanpete, Tooele and Utah counties — as being in an exceptional drought.
An update to the map Tuesday added another exception drought to the map along a portion of the Utah-Nevada border. It includes west portions of Beaver, Iron and Millard counties.
The dry conditions have exacerbated fire conditions in the state. Utah fire officials report over 1,300 wildfire starts this season, which have scorched more than 250,000 acres of Utah land.
Despite persistent dry conditions that began in the spring after the state received an average snowpack total, Utah's reservoirs — as a whole — remained above average heading into September. That's mostly due to the winter snowpack total and from the prolific 2019 water year.
All of the state's reservoirs combined, excluding Flaming Gorge and Lake Powell, were listed at 75% full as of Sept. 1, according to the Division of Water Resources data. The average is 68% for this time of the year; however, it was 85% at the same time last year. Flaming Gorge was 88% full, which is one percentage point higher than than the average for Sept. 1. Lake Powell was 6% which is on par with last year and the average.
Shilton explained that the majority of Utah's reservoirs are designed to hold water for more than one year to account for the possibility that a severe or extreme drought could happen at any time. Therefore, the overall percentage currently reported means the reservoirs are doing well as a whole.
Some of Utah's irrigation reservoirs and others that fill up on a year-to-year basis aren't faring as well, she added.
"The agriculture community is already using shortages and have been for quite a while because those reservoirs don't have the water to supply them through the entire agriculture irrigation season, which usually goes through Oct. 15," she said.
While reservoir levels are doing well during the drought, state water officials say it's still important for people to conserve water as much as they can — especially because it's unknown how long the drought could last, which can ultimately strain reservoirs in the future.
"The more that we're able to save and do our part to be conscious and responsible in our water use, the more that we set up ourselves for success for these (dry) years," said Marcie Larson, spokesperson for the Division of Water Resources.
Meanwhile, Utah is far from alone in dealing with extreme drought conditions, especially in the western United States. Extreme drought conditions blanket the intermountain area, including the western half of Colorado and large portions of Wyoming. Similar conditions are reported across eastern Nevada, the Four Corners and a large swath of Arizona. There are also extreme droughts reports in northern California and western portions of Oregon along the Pacific Coast, also as some parts of New Mexico, Oklahoma and Texas in the American Southwest.
Some exceptional drought spots were also reported in Colorado, Nevada and Texas — with the largest spot along the Utah-Nevada border. It's no surprise that areas experiencing droughts are also dealing with massive wildfires.
"Dry weather dominated the Far West, including California, the Great Basin, the northern Rockies, and the Pacific Northwest, leading to extensive drought intensification as wildfires continued to burn hundreds of thousands of acres and degrade air quality," U.S. Drought Monitor officials wrote in their weekly report released Thursday.
Drought conditions aren't just affecting the West. Some parts of the New England region, including northern Maine and most of Rhode Island, were also listed in the extreme drought category as well.
Water conservation officials say there are plenty of every-day actions that can help lessen water consumption. They include basics like turning off your water while you brush your teeth or taking shorter showers, but also converting landscapes to include more native, water-smart plant options.
The state has a website and a Slow The Flow initiative dedicated to informing Utahns about water conservation and providing tips for Utahns to conserve water.
"There has to be a shift. Water-wise ethic has to be a part of Utah culture," Larson said. "It's really important for people to start understanding and engaging because with the uncertainty (of future precipitation) — I would just always assume we'll have a drought year than a good snowpack year. I think drought is inevitable in Utah every single year and it's always touching here."
×
Photos
Related Stories