Estimated read time: 8-9 minutes
This archived news story is available only for your personal, non-commercial use. Information in the story may be outdated or superseded by additional information. Reading or replaying the story in its archived form does not constitute a republication of the story.
SALT LAKE CITY — If you haven't enjoyed the record-level heat across Utah the past few weeks, then you should be happy to know that fall is nearly here.
In fact, meteorological fall begins next week. The season, in terms of meteorology, runs from Sept. 1 through Nov. 30 — even if fall itself doesn't start until Sept. 22.
September marks the period when normal average temperatures begin to slide at high rates as the northern hemisphere inches closer toward winter. Precipitation in northern Utah usually picks up beginning in September, as well.
However, the National Weather Service's Climate Prediction Center forecasts a good probability for a warmer-than-average fall season and a decent chance for a below-average precipitation total for most of the state. It projects a 60% chance of above-average temperatures for the fall months throughout southern and eastern Utah and a 50% chance for northern Utah. In fact, all of the continental U.S. falls within 33-60% probability for above-average temperatures in fall.
It also predicts a 40% chance of below-average precipitation throughout most of Utah, Colorado, Oklahoma, as well as portions of Arizona, Kansas, Nevada, New Mexico and Texas. Northern Utah is a part of the country with a projection of 33% chance for below-average precipitation. While neither are above 50% odds, it's the only section of the continental U.S. with any odds for below-average precipitation.
So what does this prediction mean for Utah?
How an NWS outlook is compiled
Let's start with what goes into a National Weather Service's Climate Prediction Center issues a three-month outlook. The projections are probabilities using multiple data points. These factors include different atmospheric, oceanic and terrestrial data points mixed in with historic data to create a likely outcome.
That also means all projections are based on likelihood and not certainty. Even with the best equipment, meteorologists can't see very far ahead of about a week or so because exact weather patterns are hard to pinpoint.
The weather service reported on Aug. 13 there is roughly a 60% chance of La Nina pattern developing throughout the fall with a roughly 55% chance it remaining during the winter. That's one of the factors for the outlook. As Reuters pointed out in July, La Nina patterns are tied to "unusually cold temperatures in the equatorial Pacific Ocean and linked with floods and drought."
It last emerged in late 2017 and early 2018, according to Reuters. The 2018 water year, which began on Oct. 1, 2017, was the ninth-driest on record for Salt Lake City. According to NWS data, city precipitation totals were 2.25 inches below normal by Jan. 1, 2018.
On the other hand, National Weather Service meteorologist Monica Traphagan said La Nina patterns typically don't have as much impact on Utah weather as it does on the Pacific coast. In La Nina years, it's slightly wetter-than-average seasons.
What does a normal fall mean in Utah?
It's also important to know what a normal average is when looking at these projections. In Salt Lake City, fall is typically the second-wettest season of the year, according to National Weather Service climate data from 1981 to 2010. The city averages 4.17 inches of precipitation during meteorological fall months. Spring is the highest with an average of 5.73 inches.
At the same time, temperatures begin to cool off from the heat of summer. The normal average temperature of September in Salt Lake City 66.1 degrees — about 11 degrees cooler than the average of August, weather service data notes. The normal average dips to 53 degrees in October and then to 40 degrees in November. Average maximum highs fall from 79.2 degrees in September to 49.1 degrees in November, as well.
The seasons, at least in terms of precipitation averages, are a bit different in St. George. According to climate data compiled by the St. George Area Chamber of Commerce, fall is slightly ahead of spring for the second-wettest season and behind winter in terms of annual precipitation. Average highs drop from 99 degrees in August to 92 in September down to 63 degrees in November.
What do projections mean for Utah?
As previously stated, these projections indicate there's a good chance for above-average warmth and a decent chance for below-average precipitation.
Average doesn't exist much in weather and that's especially true for Salt Lake City. Every year is different and those numbers are often the middle point. For example, September had an average temperature of 72 degrees in 1990 and 57.5 degrees in 1965. Those are the highest and lowest averages on record.
The variance above average is currently being experienced in Utah's capital city. Per preliminary weather service data through Sunday, Salt Lake City holds an average temperature of 84.4 degrees this month. If that were to hold steady through the end of the month, it'd finish 7.4 degrees above the normal average and 1.7 degrees above the record-high average set in 2013.
Above-average temperatures and below-average precipitation within the projections don't necessarily mean record heat or excessive extension of drought conditions are on the way. It means there are strong enough chances for temperatures above what's considered normal for the fall months and for precipitation to be below what's considered normal based on the apparent dominant weather feature.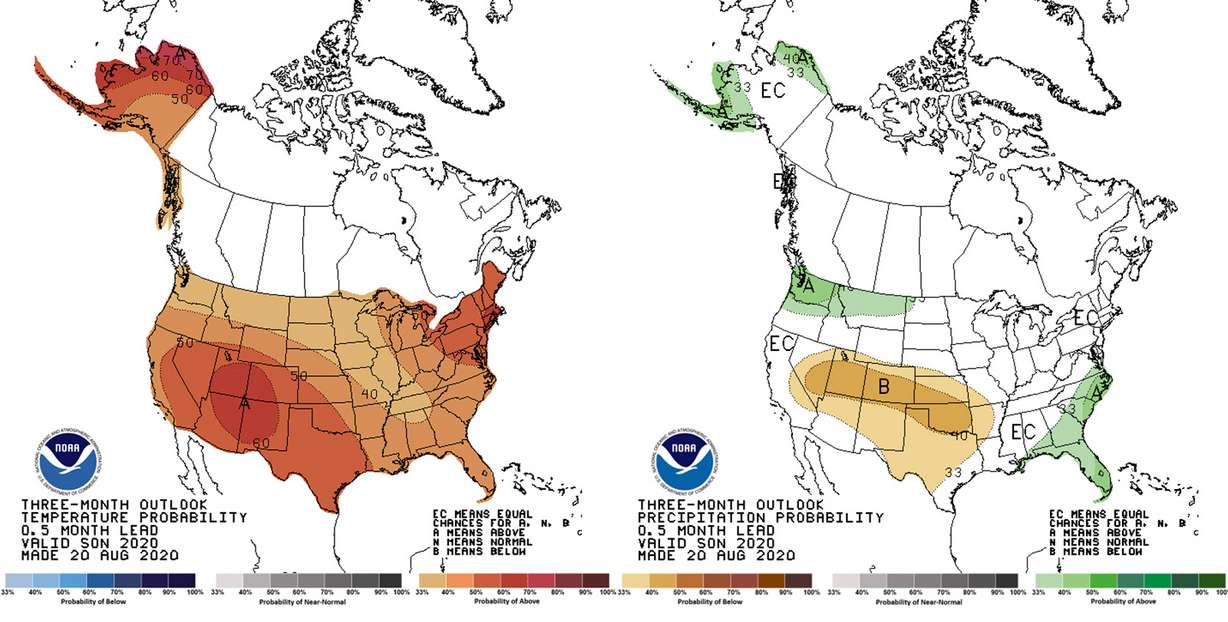 "It's been kind of status quo for us the past couple months. It seems like we've been quite warm and relatively dry," Traphagan said. "It looks like the most likely scenario for us is that the trend we've been seeing the past few months will continue into fall."
Why does this matter?
The last three-month outlook for an entire season projected good odds for hotter, drier conditions across Utah for the summer. Those projections led to state and federal firefighters forecasting a more active fire season.
While it turned out June was wetter than average along the Wasatch Front, the weather projection mostly came to fruition. The National Weather Service's station in Salt Lake City recorded just 0.26 inches of precipitation in July and a trace of rain in August heading into the final full week of the month. Even though July and August are normally the two driest months of the year in the city, the current totals — should they stand — are still 1.04 inches off the average for those months.
That's been the story throughout Utah and many parts of the West. As a result, drought conditions have only worsened in the state and region. In its latest report Thursday, the U.S. Drought Monitor listed 28.6% of the state — almost the entire southwest corner and a large pocket in southeast Utah — as being in an extreme drought. About half of the state, including the Wasatch Front and central to southern Utah, was listed as in a severe drought. Nearly the rest of the state was listed as being in a moderate drought.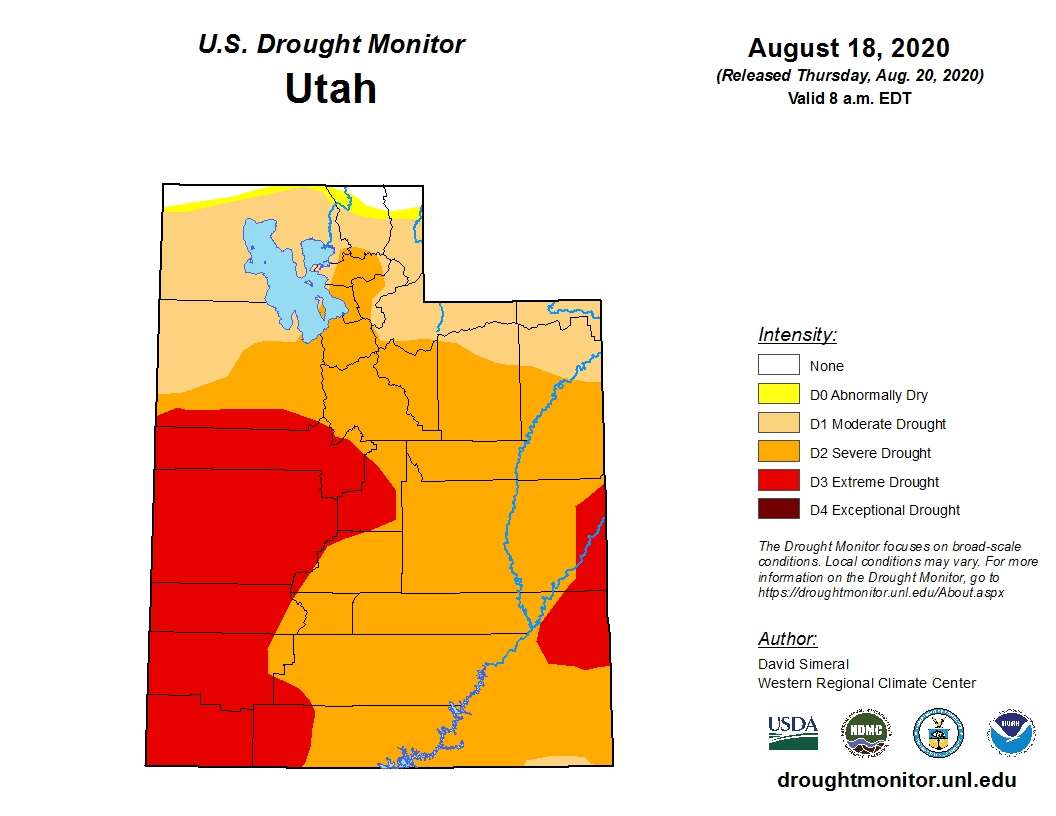 It seems as if conditions will only worsen should the fall outlook happen, Traphagen said. The weather service's drought outlook for the fall months does have nearly all of Utah experiencing persistent drought conditions.
"It's not great news for our drought conditions; it's not what people want to hear," she said.
The good news is that state reservoirs aren't far off where they were a year ago at a time when only 18% of the state was considered "abnormally dry" and there weren't any drought conditions. According to the Utah Division of Water Rights, 83% of statewide reservoirs — excluding Lake Powell and Flaming Gorge — were full as of Aug. 1. That's only 6 percentage points off the same point last year and also 9 percentage points ahead of the average for Aug. 1. Adding in Lake Powell and Flaming Gorge, storage is 61% of capacity, which is well below the 79% average but just 2 percentage points off of 2019.
The bad news is the prediction of an active summer fire season came true. As of Aug. 16, firefighters have responded to 1,077 wildfires that have burned over 188,000 acres across the state, according to the Utah Division of Forestry, Fire and State Lands. If the fall projection holds up, it plays into the notion state officials have said in recent years that Utah's fire season is now extending past its usual end date of Oct. 31.
"Typically with a fire season you have that season-ending trough and you start to get into this having snow and more precipitation — that kind of ends your fire season," Traphagen said. "But there is a potential that if we just continue to stay abnormally warm and abnormally dry, we could see higher fire danger leaking farther into the fall."
Given the current conditions and the projections on-hand, she added that Utahns should look to conserve water the best they can, such as limiting watering their lawns and doing it in the morning or evening when the water can absorb into the soil. She also advised people to make sure they don't leave faucets running.
As for spending time in the outdoors, continue to be careful around potentially flammable vegetation.
×
Photos
Related Stories