Estimated read time: 7-8 minutes
This archived news story is available only for your personal, non-commercial use. Information in the story may be outdated or superseded by additional information. Reading or replaying the story in its archived form does not constitute a republication of the story.
SALT LAKE CITY — There's no question it's been an active fire season — not just here in Utah but across the west, and the evidence is everywhere in the U.S. right now.
California fire officials reported on Wednesday that over 3.3 million acres have already burned in that state, which is nearly double the destruction from the infamous 2018 fire year. Smoke from the western wildfires began drifting into the East Coast this week.
But as massive fires continue to rage along the Pacific Coast and Utah firefighters deal with a less-destructive but nevertheless busy fire season themselves, emergency responders and those who oversee public lands are fighting another battle: misinformation.
Last week, emergency responders in the Pacific Northwest received a flood of reports that the massive fires in Oregon and Washington were caused by arsonists for political reasons. The reports came from far-right and far-left individuals pointing blame at one another. It got to the point that the FBI publicly said the accusations were untrue, the Associated Press reported.
There's also a viral video that shows a firefighter critiquing a wildfire conspiracy claim video while they watch the person speak of other conspiracies out there, like that the fires were planned.
"I've seen some of the videos and theories floating around there and it's pretty maddening," said Jason Curry, spokesperson for the Utah Division of Forestry, Fire and State Lands. "It's really frustrating to see people try to use basic — sometimes outdated and oftentimes inaccurate — information to try and support some sort of a political conspiracy theory."
What is true is that most wildfires are human-caused. A report from the nonpartisan Congressional Research Office updated on Sept. 1 found that 88% of fires on U.S. land from 2015 through 2019 were human-caused. As of Monday, 75% of Utah's 1,295 wildfires this year are determined to be human-caused; they've scorched over 250,000 acres of land, according to the Utah Division of Forestry, Fire and State Lands.
Not all of the large fires currently burning in the West, however, are human-caused and there's a large difference between human-caused fires and arson, too. In fact, human-caused fires can almost always be described as unintentional and sometimes even careless.
So if people aren't intentionally setting large wildfires, then what's causing them this year?
What's caused the largest fires in the West?
It's worth noting it's been an incredibly hot and dry summer, not just in Utah but across the West. 2020 didn't just produce the warmest August on record in Salt Lake City and Utah but the entire northern hemisphere as well, according to the National Oceanic and Atmospheric Administration. It was also the hottest meteorological summer on record, as well.
It's not just Utah, serious droughts popped up throughout the western U.S. this summer, which only makes it easier for wildfires to start by both human and natural causes. And as prevalent as human-caused fires are, they actually aren't to blame for some of the largest fires burning in the West right now.
California, for example, is currently dealing with four active wildfires larger than the size of Utah's entire season to date. The largest of those, August Complex Fire, neared 840,000 acres in size Thursday afternoon. It's the largest fire on record in the state's history and there are four other fires burning at least 200,000 acres. The four largest fires were sparked by lightning, and a cause is yet to be determined by the fifth, according to Cal Fire.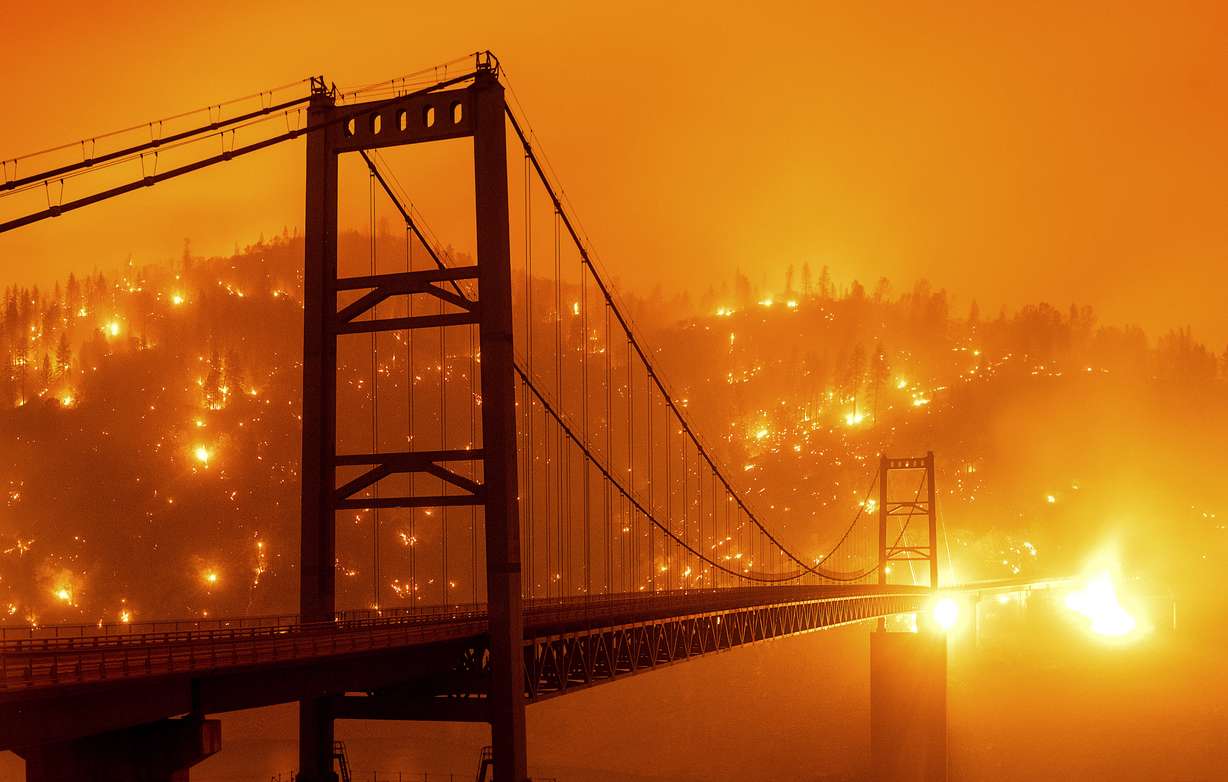 A similar pattern can be found in Utah this year. Lightning and other natural-caused fires account for 25% of Utah's fires this year but about 70% of acreage burned, according to data available from state and federal land officials. It includes the state's two largest fires.
That's not to say human-caused fires aren't problematic or destructive, they still burn thousands and thousands of acres of land, drain firefighting resources and cost taxpayers money.
A breakdown of human-caused wildfires in Utah
Perhaps the exact cause that's created the largest headlines this year is California's El Dorado Fire, which has burned over 18,000 acres in the southern part of the state since Sept. 5. The fire started when a pyrotechnic device went off during a gender reveal party, according to fire officials.
Most human-caused fires aren't as memorable or newsworthy — and certainly aren't arson for political reasons. Curry said arson is to blame for 34 of Utah's 1,300 wildfires this year, which is about 2% to 3% so far.
"It's not really a big issue for us," he said. "Obviously, anybody who is lighting fires intentionally we pursue, and we've made some arrests."
Of those arrests, they've found none tied to politics. Some said they did it because of a thought "driving them to start a fire" while a few others didn't intend for a fire to get out of control, Curry explained. One set of fires were set by a child.
The U.S. Forest Service is still investigating about a dozen small, intentionally set fires in Sanpete County earlier this month but there's not indication any of those were caused by political factors.
KSL.com obtained a list of the various ignitions of 1,001 likely human-caused Utah fires this year, as of Thursday morning. The list, compiled by state and federal officials, does acknowledge unknown causes for 210 fires.
Equipment is the primary cause for human-caused fires, with 219 total wildfire sparks. That means about 22% of Utah's probable or determined human-caused fires to date were tied to sparks from motor vehicles, chainsaws, lawnmowers and other machinery igniting them. It covers a wide array of possible ignitions, which is why it's traditionally the main factor to human-caused fires every year.
Debris burning is second among determined human causes, with 139 starts. It's followed by campfires, which accounted for another 101 starts. Those are typically the second and third-most common reasons for starts annually. The top three categories currently account for about 46% of human-caused fires this year.
Another 74 fires were tied to a combination of vehicle fires or cutting/welding/grinding, which filled two other categories.
Fireworks, with 64 fires (6.4%), and electrical power lines, with 58 fires (5.8%), rounded out the top five causes. Firearms use is another cause ahead of arson, with 50 total fires. It's also a cause land management officials say is increasing from year's past.
"It's probably a combination of the popularity of the activity, the (COVID-19) quarantine conditions people have been living under. People just want to get out and go shooting, which is totally fine, but what we're finding is people aren't really evaluating their backstop very well," Curry said. "They're just shooting into areas full of rocks and dry grass or they're shooting at a metal target around the grass and then a fire is the result."
It's to say that arson, and especially politically-motived arson, isn't at all considered an alarming factor among Utah fires and doesn't appear to be the case elsewhere either.
Conditions moving forward
Given that dry conditions haven't improved as the state heads into fall, fire officials urge residents to be careful outside, especially if they are doing activities that could start another wildfire. It's likely that — barring major persistent rain in the coming weeks — that fire conditions will continue to be poor even up to and past the traditional end of the fire season, Oct. 31.
Officials are also hopeful that people now see the scale of fires this year and will be more cautious outdoors not just this year but for time to come.
"It is the way things go. People don't take things seriously until someone gets hurt or someone loses their home — and this year we've been relatively well-off in terms of (that), where in other years sometimes dozens or hundreds of homes are lost," Curry said. "We've lost several this year but things could be a lot worse."
×
Related stories
Most recent Outdoors stories