PROVO — Plenty was different as BYU opened football training camp Tuesday on the outdoor practice field in Provo.
Players were screened for symptoms of COVID-19, including mandatory temperature checks under NCAA regulations. Balls were sanitized regularly and only handled by players, coaches and staff who needed to handle them.
Coaches wore face coverings to shield potentially loaded aerosol droplets from spreading from coach to player. Players, too, wore masks when possible — including during some workouts.
As a harbinger of things to come, Tuesday's football camp began unlike any other BYU has played in — at least since the 1918 Spanish flu pandemic, for which none of the players or coaches were alive.
COVID-19 has a way of doing that to a lot of industries.
But there was one thing that remained the same.
"Trying to be cautious about the coronavirus is the only weird thing," tight end Matt Bushman said. "The football has been the same."
Off the field, it seems like everything has changed since the Cougars canceled spring practices in March as a result of the pandemic — the same cancellations that ended the NCAA men's basketball tournament before it began, and upended the spring seasons of baseball, softball, men's volleyball and track and field, to name a few.
The virus. Social justice activism across America, including on college campuses and in Provo. A debate over student-athlete rights and upcoming Congressional legislation surrounding name, image and likeness.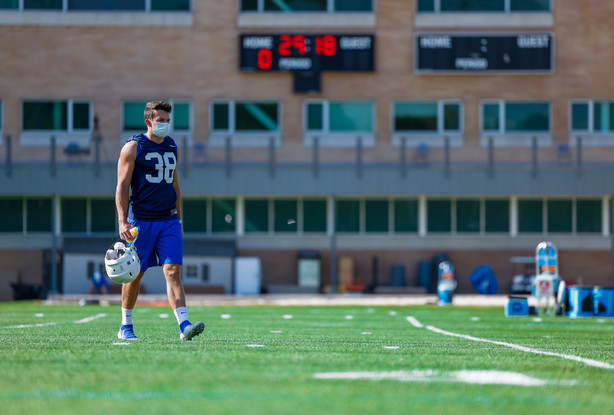 It's all hitting as the Cougars open camp.
BYU's players have seen it all and how it has, at times, adversely affected those student-athletes on campus.
So putting on a mask to practice? Undergoing temperature checks, and staying home when sick? Even playing home games without fans, or at least a limited number of them, as most assume college football will be played this year?
It's all a small price to pay to be back on campus and to play the game they love.
"They're watching how sports are being run right now," head coach Kalani Sitake said, making mentions of the PGA Championship this weekend and the NBA's postseason run in a bubble near Orlando. "No one is going to be walking on the 18th fairway with Tiger this week, and they see the virtual fans in the NBA games.
"But, I'll be honest: Our guys just have a sense of gratitude. I've felt it from them — it's appreciation for what they can get. These guys aren't picky. They have a huge sense of appreciation for what they can get."
It's impossible to know the full emotions of 123 players on a training camp roster. Truthfully, there are as many different experiences, thoughts and feelings about the pandemic, social justice and BYU's upcoming schedule as there are unique faces in the locker room.
But so far, Sitake said no one has opted out of the 2020 season, and his "open-door policy" of communication with each of the players has stayed open. The same policy applies to the locker room, where guys have freely and openly discussed things like the Pac-12 players who are threatening to opt out unless their demands are met from the conference, or cornerback Isaiah Herron's recent foray into the transfer portal to enroll at a historically black college and university — a trip he canceled because he saw a better way to make a difference in the fight against racial injustice at BYU, in Provo and in Utah.
The Cougars talk openly about all these things. It's why a college football locker room is a special place — even sacred, in some ways, many maintain. It's also why BYU football's unofficial motto for the 2020 season is to "Be the Change," which is as much a reference to on-the-field game day preparation as the Cougars' preseason video in support for racial equality and justice.
"We have a platform, and we have a voice," linebacker Isaiah Kaufusi said. "We have the right to be listened to, and also to listen.
"I wish the nation was more like a locker room," he added, almost as an aside.
BYU's football season was threatened to be upended before it even began. The Cougars still have six games to replace on the schedule as the Power Five leagues have opted for some version of conference-only or conference-heavy play. But there are people charged with fixing those issues, like athletic director Tom Holmoe. The main charge as the Cougars opened camp Tuesday morning was to be ready to play.
No matter who they play this fall — or even if they play, which may be a better qualifier — BYU vows to be ready, a promise they made as they conducted individual workouts back home or occasionally met for player-run practices at a park or a high school field near Provo, always in small groups, always taking whatever precautions they needed to.
The extra precautions? Those just strengthened a team culture.
"We weren't really together. And when we were, it was in groups of 10 and then 20, and then 30," Kaufusi said. I didn't really see the offensive guys much.
"Our culture has just thrived. That's going to be the biggest factor in us being a great football team: we're united."
The past few months have been tough on the Cougars, just as it has been for all student-athletes across America — and even for some professionals. It's been tough for a lot of Americans, dealing with a once-a-generation pandemic and trying to balance health and safety while protecting the most vulnerable of the population with economic output and the need to earn a living.
It's been tough, physically, emotionally, psychologically.
But it's also taught a few lessons.
"I grew up in a family where football is everything. But it eventually comes to an end," Kaufusi said. "I've always had the perspective that football is an avenue — but I know that football will end one day, and I will continue to be a husband, and a father, a son, and a brother.
"Football can be cut short … but I showed up to camp today just ready to play football, and that's been my mentality."
×
Photos
Related Links