HERRIMAN — While he's known as a top-flight basketball coach, David Evans is, at his core, a builder.
A general contractor by trade, Evans built one of the top home-building construction firms in Hawaii while he worked as an assistant coach at his alma mater BYU-Hawaii years ago. He left that firm when he moved to the mainland — and led Lone Peak to the 2018 Class 6A state championship before moving on to national power Wasatch Academy.
But still, above everything else, he is a builder.
Evans has accepted the position as head coach of the Real Salt Lake Basketball Academy, an independent venture through the RSL Academy for soccer that will launch in fall 2020.
"I love to build things," Evans told KSL on Thursday morning. "We get to start from ground zero and see what we can do with this, and we have support from the administration. It's going to be really fun."
His goals are high: to create a national powerhouse that will develop basketball players for Division I and professional competition, and hopefully, even compete for national championships — even the mythical ones that aren't sanctioned by the National Federation of High School Associations.
But so, too, are the aims of the administration and executives of the RSL Academy.
"We recognized the opportunity to continue to develop athletes in the sport of basketball. Our goal is to give them the resources they need to succeed at the professional level," said Jake Haueter, president of the Zions Bank Real Academy. "Coach Evans' expertise in working with elite basketball talent, coupled with our infrastructure and experience in developing professional athletes, is an ideal partnership. It will allow us to immediately establish ourselves as a development center within the sport."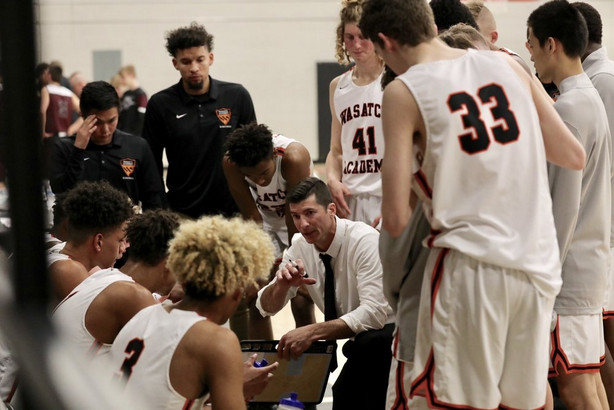 A former BYU-Hawaii standout who played professionally overseas, including most recently in Great Britain, Evans is 120-20 as a high school basketball coach — including at Lone Peak and Wasatch Academy, where he went 53-6 in two seasons. His tenure with the Tigers was culminated by a No. 2 national ranking and No. 2 seed in the GEICO National High School Invitational that was canceled due to the coronavirus pandemic.
One month after stepping down from the 108-year-old boarding school in rural Sanpete County, Evans sees the RSL Academy as another extension of his previous moves. The fit may seem odd when considering the basketball program at RSL Academy High School, where Evans' student-athletes will go to the school.
The Griffins went 1-15 in 2019, including an 0-10 mark in 2A Region 15 play. The Griffins' lone win came 57-39 home victory against West Ridge, and they regularly lost by large margins — such as the 111-25 to 2A power Intermountain Christian in the season opener.
But Evans won't be building a program through the high school. He's starting a brand new program that will compete as an independent program within the Utah High School Activities Association — meaning they can play other UHSAA-sanctioned teams during the regular season but will be ineligible for postseason bids and titles. His job search was conducted by the RSL Academy, including Haueter, with input from Ryan Marchant, director of the Real Salt Lake Academy High School.
"Real Salt Lake Academy High School is excited to be part of the new basketball developmental program," Marchant said in a news release. "Over the past three years, Real Salt Lake Academy High School has had great success integrating the Real Salt Lake soccer academy into our school. We look forward to providing an excellent STEM educational experience as we continue to build upon our academic success."
Eventually, the RSL Academy basketball program may join a region and work for state titles. But Evans needs to build a program first, and the administration has higher goals. For now, he's about development — finding and developing players like he did at Wasatch Academy in the likes of BYU signees Caleb Lohner and Richie Saunders, or Mady Sissoko, a top-50 center nationally who signed with Michigan State.
"We would love to have a team eventually that could compete for a state championship," Evans said. "But at this point, we just want to have a national-level team that is independent and can play all over the country."
They also won't play Evans' old team Wasatch Academy and its new coach — Evans' former associate head coach Paul Peterson — this year. They need time to build the program to a level the Tigers have exhibited for several years.
"But maybe next year," Evans said.
The team will live in the RSL Academy on-campus residence halls used by the more famous soccer academy and will attend school at the attached RSL Academy High School, a public STEM-oriented charter school certified by the state's charter board.
They will also play home games at nearby Salt Lake Community College in Taylorsville — which is also home to the SLC Stars of the NBA G League — while a new home court is built for the team. Construction is anticipated to last around 18 months.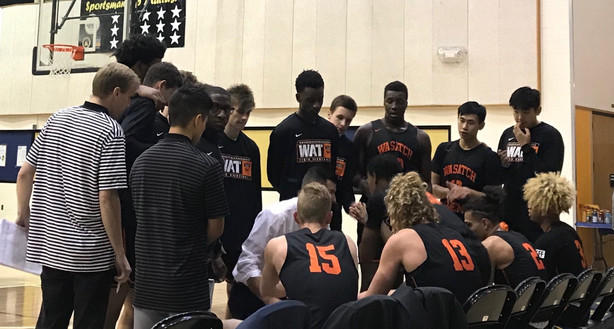 Evans has already begun to hear from recruits from Colorado, California and the Pacific Northwest about enrolling in the academy, which will pride itself in full-time training around 25 hours per week. It will be as intensive of a basketball developmental system as RSL pours into its own youth soccer academy, one of the best in the former U.S. Soccer developmental academy circuit.
But the new coach also won't recruit in the state of Utah. If a local player wants to enroll in Herriman, it needs to be completely up to him and his parents, Evans said. The Beehive State traditionally produces several high-quality, Division I-bound standouts every year.
But Evans will be careful about bringing those prospects to Herriman.
"I could see how it would be appealing to a lot of Utah basketball players, who are typically very skilled and intelligent in the game," Evans said. "But our target right now will be out-of-state. I'm not going to recruit kids in-state; if they come, they will have to come on their own accord."
Evans hopes to build a basketball academy on the same level as RSL's soccer development facility in Herriman, as well as the previous site in Casa Grande, Arizona, that produced eventual pros like Justen Glad, Bofo Saucedo and Brooks Lennon, among others — including head coach Freddy Juarez, who led the RSL Academy to a national championship.
"They want to push this thing like they do their soccer program," Evans said. "If there was a stumbling block, they have a solution and want to move forward. It's really nice to have that kind of attitude with the administration.
"We're going to compete at a high level. We can train 20-25 hours per week, and I think that will appeal to a lot of people."
×
Related Links