This archived news story is available only for your personal, non-commercial use. Information in the story may be outdated or superseded by additional information. Reading or replaying the story in its archived form does not constitute a republication of the story.
MOUNT PLEASANT — One local high school basketball coach is moving east, while another is moving up, according to a summer announcement Friday afternoon.
Lone Peak coach David Evans will be the new coach at Wasatch Academy, the school announced Friday. A former BYU-Hawaii forward, Evans replaces Curtis Condie, who is leaving the school where he was named head coach in 2015 to pursue other opportunities.
Evans, who replaced current BYU assistant coach Quincy Lewis in 2015, led Lone Peak to the Class 6A state title in February.
"Dave Evans has been an incredible teacher, coach and leader at Lone Peak High School," principal Scott Sumner said in a statement. "His time and service have made a difference to everyone who has had the opportunity of working with him."
Condie took over at Wasatch Academy following the shocking death of former coach Geno Morgan in 2015. He led the Tigers at the private boarding school that competes outside of the Utah High School Activities Association in boys basketball to back-to-back appearances in ESPN's national high school tournament.
A former assistant coach at Utah Valley University, Condie confirmed to KSL Sports that he was moving back into college coaching — but could not comment further until an official announcement is made.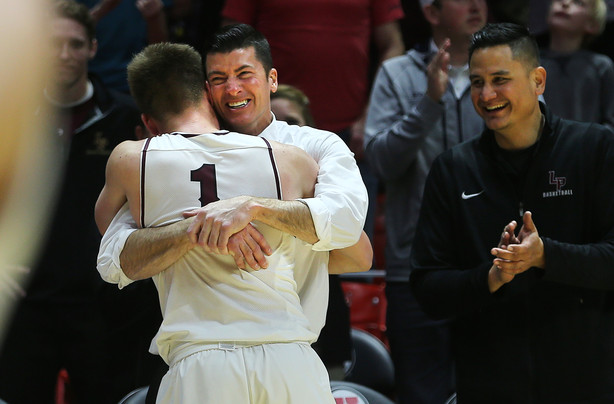 In his brief time at the academy, he helped coach former Utah State star Koby McEwen, who recently transferred to Marquette, and Arizona forward Emmanuel Akot, the 6-foot-7, five-star prospect and KSL's Game Night Live player of the year in 2016-17.
"I'm very grateful for my time at Wasatch Academy. Mount Pleasant is a great community, and working for Mr. Joseph Loftin was amazing," said Condie, a graduate of Utah State whose daughter will be student body president at the academy next year. "I've had some great student-athletes that I will always remember and keep in close contact with them for the rest of our lives, but I also got to work with students at Wasatch Academy from all over the world that weren't student athletes — just your regular students and were able to learn from them about their cultures and help them, as well.
"Wasatch Academy has some top-ranked student-athletes returning next year, and coach Evans will do a great job with them."
The head coach job at Lone Peak is immediately open. Interested applicants can apply through the Alpine School District's website.
×
Related Stories