This archived news story is available only for your personal, non-commercial use. Information in the story may be outdated or superseded by additional information. Reading or replaying the story in its archived form does not constitute a republication of the story.
MOUNT PLEASANT, Sanpete County — When Richie Saunders was little, he used to go with his grandfather to the Marriott Center, sit up in the nosebleed section, eat CougarTails with his cousins and watch Jimmer Fredette and the iconic BYU basketball teams of the late aughts and early 2010s.
"One day," he would tell grandpa, "I'll be playing down on that court."
His father Rich didn't believe him.
"He would always talk about trying to make BYU," said Rich Saunders, who played basketball at UC Davis. "His mom and I tried to lower the expectations and start with high school. But Richie has a very high vision, and he works very hard."
On Wednesday night, Richie Saunders fulfilled his promise.
The 6-foot-5, 185-pound shooting guard from Riverton by way of Wasatch Academy announced his commitment to BYU and head coach Mark Pope, selecting the Cougars over a top three that also included Creighton and Utah State.
"That's my family, that place," the younger Saunders said. "It reminds me of my family.
"It's not like I had my mind set on BYU. I could envision myself at any school. But I'm super excited to say that I am playing for BYU."
Saunders plans to serve a two-year mission for The Church of Jesus Christ of Latter-day Saints before he enrolls at BYU. And before that, he'll suit up for one final season at Wasatch Academy, alongside five other seniors bound for Division I schools, a first for the 108-year-old boarding school, according to head coach Dave Evans.
In addition to Saunders, Caleb Loehner has committed to Utah, Mady Sissoko — the No. 1 overall recruit in the state — has verbally committed to Michigan State, Leo Colimerio has committed to Fresno State and point guard Mike Saunders started the trend by committing to Cincinnati.
With Richie Saunder's commitment now official, the Tigers' season can begin. They'll open the 2019-20 season — one with high expectations for the independent boarding school in rural central Utah — on Tuesday, Nov. 26, against Payson.
A pure shooter with a strong jump shot, Saunders projects as a shooting guard at the next level, though he said he'll work on being a ballhandler and combo guard over his senior season.
But mostly, he wants to leave the point to a close friend of his.
"But I want to play next to my guy Dallin Hall; I want him to be my point guard," Saunders said of the current Fremont High star and BYU target. "I envision myself being a stretch-one, I guess — but a one or a two-guard."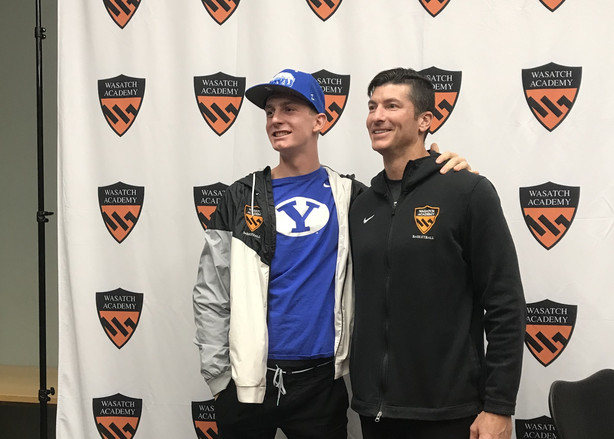 Pope may be new to Provo, but he isn't new to the Saunders family. He made an instant connection with the former Riverton standout who averaged 11.5 points, 3.8 rebounds, 1.9 assists and 2.1 steals per game as a junior at Wasatch Academy.
The former Utah Valley coach first met the family at Riverton, and stayed in contact through the years. Saunders had received an offer to BYU through former coach Dave Rose, and when Pope succeeded the veteran coach in Provo, the offer remained.
But the shooting guard was so close to the university and the program that when Rose suffered a heart attack last week, he and several teammates — led by coach Evans — visited Rose and his wife Cheryl in the hospital.
BYU — and Pope — just felt right.
"They just loved Rose, and when he left, he built a foundation that Pope is going to build on," Rich Saunders said. "And Richie is a builder. He wants to build, so he'll join in coach Pope's efforts and they'll do wonderful things together, with other great players as well."
The choice was never down to Rose or Pope. It came down to BYU — but Pope was a nice add-on, Richie Saunders admits.
"If you've ever met coach Pope, you know how personable he is," he said. "He's so enthusiastic about what he does. I wanted to play for him, and continue with his energy. I love his energy, and I wanted to be a part of it."
Saunders' game has improved from his first two seasons at Riverton to junior year at Wasatch Academy. He's a better shooter, a better passer, and a better defender, as Evans points out.
But mostly, he's a different person.
"I'm so much more mature," Richie Saunders said. "Last year was a hard season. That was my first year here, and it was a hard year. I really grew up, and it's only because of Wasatch and playing higher competition — and coach Evans teaching me to get up — that I was able to constantly work on."
Not bad for a player who "might not be a starter," as Evans told Saunders when he first transferred to Wasatch Academy.
"I was trying to be honest with him," Evans said. "I knew he would play, but I didn't think he'd start.
"Last year, he ended up starting a lot, and was second- or third-leading scorer because he can really shoot the ball. He went through a little bit of growing pains last year, and he came through that brilliantly. At the end of the season, he was really, really good — and he's picked up right where he left off."
×
Related Stories