MOUNT PLEASANT, Sanpete County — One of the top coaches in Utah high school basketball is stepping away from the game.
At least, for now.
David Evans has stepped down as head coach at Wasatch Academy, he told KSL on Thursday, citing a need to spend more time with his family and reassess his career.
"It just wasn't the right fit at Wasatch Academy," Evans said. "My wife and I are going to take a little bit of time to reassess and figure out which direction to go."
Evans added that he has received coaching interest from various programs, both in-state and nationally, but declined to elaborate while he and his wife Amy make a decision that best suits their family, which includes five children. Suffice it to say that if he wants to coach again, he'll have no shortage of opportunities.
He could also resume his former construction firm, Evans Construction, which grew to become one of the largest private contracting firms in Hawaii with more than 300 custom-built homes before he left it to get back into coaching in 2011 at BYU-Hawaii, his alma mater where he also taught as an assistant professor of exercise and sport science.
Evans will be replaced by Paul Peterson, the Tigers' associate head coach last year who served as Evans' right-hand man — and beyond, in many cases — while guiding Wasatch Academy to a 27-2 record, a No. 2 national ranking, and a No. 2 seed in the GEICO National High School Invitational prior to its cancellation due to the coronavirus pandemic.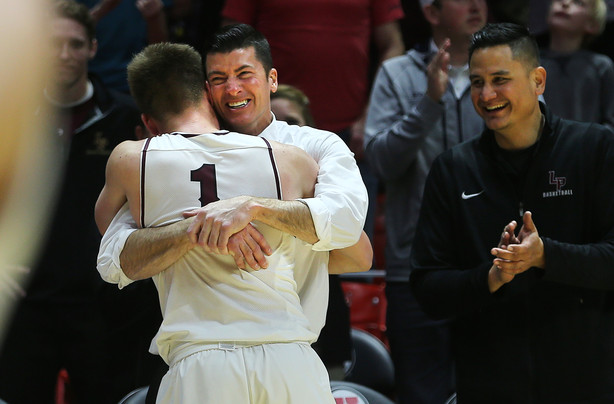 Evans' abrupt end to his second year in Mount Pleasant comes with a 53-6 overall record. Combined with a 67-14 record that includes the 2018 Class 6A state title at Lone Peak prior to moving to Mount Pleasant, Evans has a staggering 120-20 record as a high school head coach and is believed to be the only coach to take two different schools to the GEICO National High School Invitational.
In the same season Evans led the Knights to the 2018 6A title, Lone Peak also earned a No. 8 seed at GEICO Nationals — a rare appearance by a Utah public school in the prestigious tournament.
But when the Wasatch Academy job came open after former coach Curtis Condie left to eventually work at USU-Eastern in Price, Evans jumped at the rare opportunity to lead a national power in a small town of close to 3,000 people at the 109-year-old boarding school.
"The things that are really special about Wasatch Academy are very good facilities, and teachers who really care about the kids," Evans said. "I really loved all the kids. I loved the different kids from all over the world — not just my players, but the students."
In Wasatch Academy, Evans inherited a national power and made them even better. The Tigers got better year-over-year, culminating in a season where all five of the senior starters signed with Division I teams.
The top draw on the squad was Maddy Sissoko, the 6-foot-9, 230-pound rim protector from Mali, West Africa, who has signed with Michigan State. In addition to the No. 1 recruit in the state of Utah, the Tigers also featured BYU-bound shooting guard Richie Saunders, who will serve a two-year mission for The Church of Jesus Christ of Latter-day Saints in Madagascar prior to enrolling, and Utah signee Caleb Lohner, who has reportedly asked to be released from his letter of intent so that he can play for Mark Pope at BYU.
"My players were from all over the world, and it had a very good feel," Evans said, "kind of like my college experience at BYU-Hawaii."
A BYU-Hawaii graduate like Evans, Peterson was an all-conference and all-west region honoree as a senior with the Seasiders before embarking on a professional career in Europe, most notably Great Britain. He returned to Laie in 2011 and helped his alma mater reach the NCAA Division II national championship game.
Wasatch Academy will be Peterson's first head coaching position.
"Dave did a great job, and I give him a lot of credit," said Peterson, who was recommended for his new role by his colleague and friend. "The whole time we were together, he was always preparing for me to be a head coach. He gave me big-time responsibilities and taught me on the fly.
"He's always prepared me to be a head coach. Luckily for me, it's in the same realm as what I've been doing."
Evans came to Utah in 2015 to take the head coaching job at Lone Peak, and three years, 67 wins and a 6A state title later, he moved to Wasatch Academy.
Now it's his turn to initiate a succession plan, with a dear friend who is also among the top skills trainers in Utah, with clients that include Frank Jackson, Brandon Davies, Kyle Collinsworth, Eric Mika, George Hill, Mario Chalmers and Jimmer Fredette, among others.
He'll be able to bring that expertise in working with a slew of talent, including five-star junior Richard "Pop Pop" Isaacs, Jr., the No. 4 point guard in the country by 247 Sports, rising big man Fousseyni Traore, and Robbie Armbrester, a 6-foot-6, 195-pound wing recently moved to Wasatch Academy from Atlanta, Georgia and is the top player in Utah in the Class of 2021, per 247 Sports.
"Everything is in place to continue Paul's success at Wasatch Academy," Evans said.
With Peterson, the Tigers will continue Evans' mantra of fast play, getting up and down the floor, and an emphasis on skill development. Continuity was key in the transition.
"They felt like it was a natural progression," Peterson said. "They were all in, the athletic director and the head of schools."
×
Related Stories