Editor's note: This is part of a series at KSL.com featuring some of Utah's coolest cars. If you own a customized vehicle — from sports cars to semitrucks — email jormond@ksl.com with a photo of the vehicle and a brief description for consideration.
LOGAN — "Every vehicle has its own soul, Some souls do not want to become with others. When they want to become one, a project will come together."
Those are the words of Ron Kidman, of Logan — and he should know. He brought a dozen automotive souls together to create his 1929 Ford rat rod.
This build started 20 years ago when Kidman saw a Ford Model A pickup truck in a Cache County barn. In February 2019 he approached the owner, who was moving to Arizona. The owner sold the pickup to Kidman, who took it home and got right to work.
By "pickup," Kidman meant cab, bed and nothing more. Everything is custom-fabricated or came from something else. He built his own frame — designing it with two-by-fours, transferring the plans to steel and welding it. He also built his own cross members, motor mounts and braces.
The Ford 302 engine and C4 transmission came from a 1978 Ford Granada, but Kidman built it from the block up. The front end spindles, brakes and hubs are from a 1953 Ford pickup; the steering column is from a 1955 Ford pickup.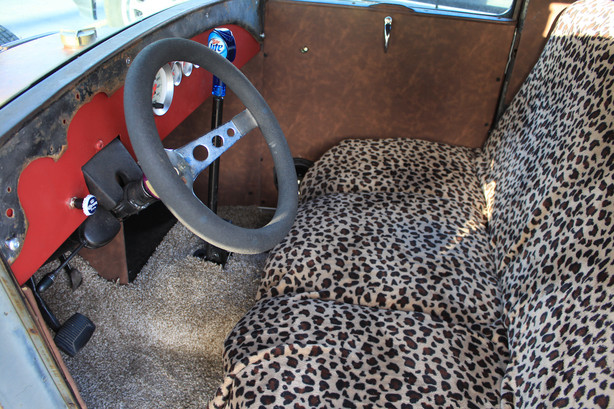 We're just getting started with the converging souls here. He built the recessed firewall from an old garden wheelbarrow, which let him tuck the engine in for a shorter wheelbase. The radiator is from a 1965 Mustang, housed in a narrowed and chopped shell from a Peterbilt truck. A Jack Daniels bottle serves as the radiator overflow.
The cab was already altered, but he used the roof of a 1953 Chevrolet car to finish it up. Inside, he built his own door panels. The seat is from a 1972 Ford pickup, narrowed 18 inches. The pedals and rear-end are from the same truck. He built the shifter from a three-quarter-inch piece of pipe, and he rotates beer tap handles for the handle. A Corona bottle cap serves as the headlight switch knob.
Kidman shortened the bed by 24 inches. The tailgate was original, but he covered the Ford emblem with a Peterbilt one (he drove Peterbilts for 15 years). The taillights are from a 1950 Pontiac. He built the roof insert with steel and bedliner material. The visor is from a 1974 Peterbilt, but he narrowed it at least 18 inches. Kidman hand-formed the exhaust, formed the headers, and welded in 18-inch mufflers on either side. He bought a triangulated four-link coil spring rear-end and altered and cut it to fit.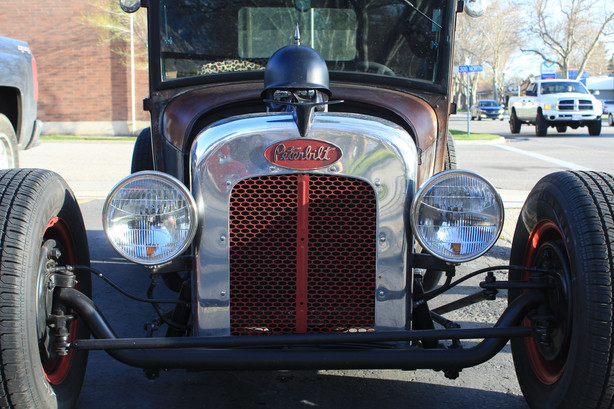 The noteworthy part of this is not so much that Ron Kidman was able to piece together a respectable hot rod from a veritable swap meet; it's that he did it in seven months and it works so well together. He credits the short build time to his focus. He credits its ability to go over 80 miles per hour, smooth and straight, to his attention to build quality. He measured and measured again before every weld, keeping everything square.
Kidman drives the truck around for fun and likes taking people for rides. He said it really takes off, slamming your head against the back window if you're not paying attention. He gets a lot of good feedback on it, especially when people stop and examine the alterations and cobbling he's done.
Kidman considers himself an artist who wanted to put his own twist on the rod. He said he had a vision for it and reverse-engineered to make things work. He didn't want it to be like any other vehicle.
As for all those souls he gathered to create the rod, he said, "When this truck came together, it wanted to fall together."
More Cool Cars:
---
×
Photos