Estimated read time: 3-4 minutes
This archived news story is available only for your personal, non-commercial use. Information in the story may be outdated or superseded by additional information. Reading or replaying the story in its archived form does not constitute a republication of the story.
SALT LAKE CITY — Following a 20-30% surge in food pantry service demand in Box Elder, Cache and Rich counties during the coronavirus pandemic, Lt. Gov. Spencer Cox announced Thursday a new project to help residents in those northern Utah communities.
The nonprofit organization Farmers Feeding Utah launched a campaign aiming to raise $150,000 that will go toward supplying the shelves at local food pantries.
"I am calling on everyone in Utah who is able to contribute, including specifically our business community," Cox said.
Farmers Feeding Utah was created earlier this month by the Utah Farm Bureau and Utah State University's Hunger Solutions Institute (https://extension.usu.edu/hsi/) with contributions from the Utah Department of Agriculture and Food. When people donate money, the money goes to struggling Utah farmers and ranchers, who then produce products that are donated to Utah communities in need.
The organization's first project aimed to help communities in Utah's portion of the Navajo Nation. Utah officials said 300 live sheep, 16,000 pounds of frozen lamb and 10,000 pounds of flour have been donated to the Utah chapter of the Navajo Nation in recent weeks. Another 300 live sheep are to be delivered early next week.
The southeastern corner of Utah has the state's highest COVID-19 case rate, according to the Utah Department of Health. The entire Navajo Nation has also been one of the hardest-hit sections of the U.S. to date. In addition to helping provide food for the communities hit hardest, state officials say they have provided testing, medical supplies and personnel during the crisis.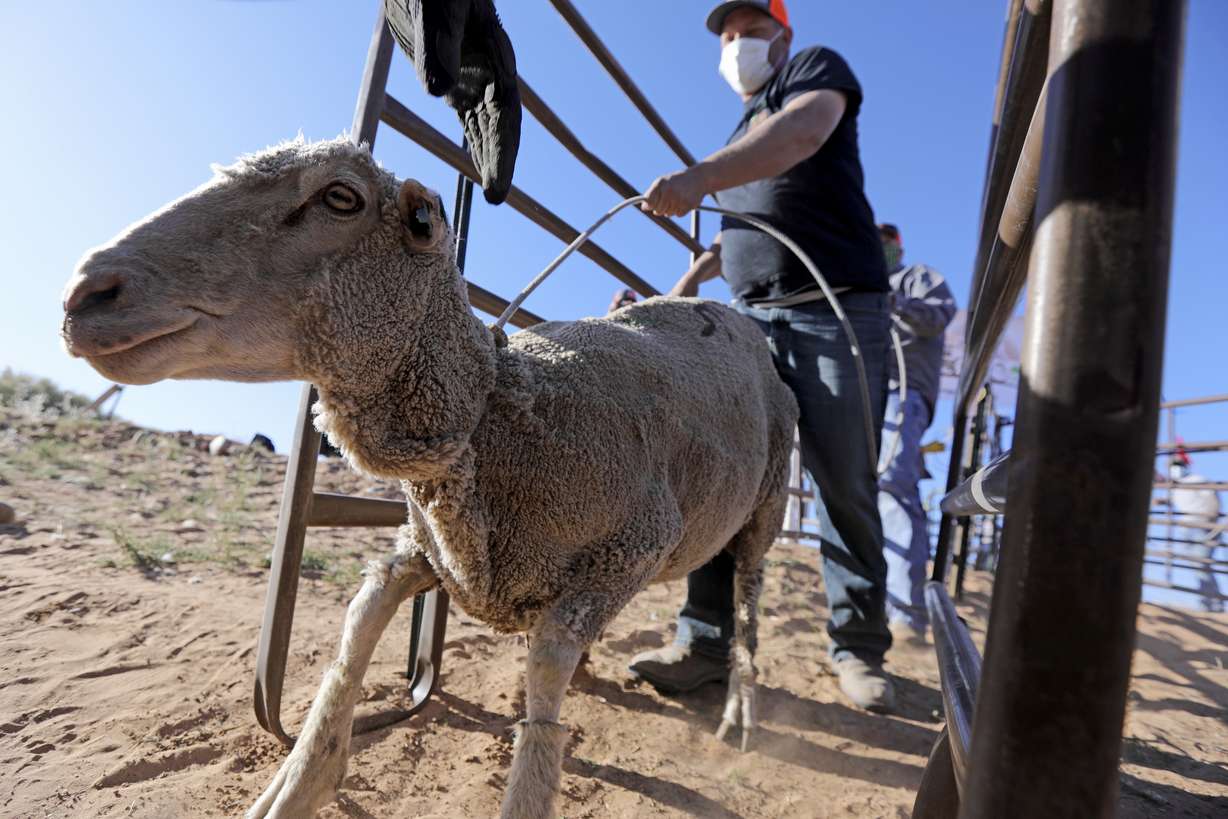 Now the farming nonprofit is looking to help those affected by the pandemic in northern Utah. The organization had raised nearly $15,000 as of Friday afternoon.
Cox also urged Utahns to visit the state's COVID-19-related donation and volunteering website, coronavirus.utah.gov/help, especially in the coming months. The site has links to how Utahns can donate to help fund programs like Utah Tribal COVID-19 Relief, the Downtown Food Service Workers Fund and the Feeding Our Frontline Fund. It also has links to where and how Utahns can donate blood, as well as projects people can volunteer for.
"This is what makes Utah so special," Cox said. "We lead the way in charitable giving and we lead the nation in volunteerism; never have we needed that charitable giving and volunteerism more than we need it right now."
An update to funding for nonprofits in general, many of which have struggled in recent months due to decreases in donations and grants, was also provided during Thursday's press briefing.
Major arts and culture events in Utah are among those that have been most affected. The Utah Arts Festival in Salt Lake City and Utah Shakespeare Festival in Cedar City were both canceled. A slew of concerts and community events across the state have also been canceled or pushed back for months.
Utah leaders launched a fund earlier this year that aims to keep nonprofits afloat amid economic constraints from the pandemic. More than $170,000 had been donated to that fund as of Thursday, including $50,000 from Utah Jazz center Rudy Gobert and another $50,000 from the Utah STEM Foundation.
The fund will also receive $400,000 that is a part of the CARES Act, which was passed in Washington in April. The first round of funds will be distributed in June, Cox said.
×
Related links
Most recent Utah stories