Estimated read time: 4-5 minutes
This archived news story is available only for your personal, non-commercial use. Information in the story may be outdated or superseded by additional information. Reading or replaying the story in its archived form does not constitute a republication of the story.
WEST POINT — Allen Bennett said it broke his heart when some of the onions he harvested on his 600-acre farm went to waste because there wasn't any place for them to go.
"It was a shame, people are hungry," he said.
A new initiative announced Thursday at Bennett Farms aims to help change that disruption in the food supply chain by raising money to purchase the oversupply of Utah agricultural products and get them to food banks, churches and other organizations to feed Utah's needy.
It's called Farmers Feeding Utah and was launched by the Utah Farm Bureau in coordination with Utah State University's Hunger Solutions Institute, other hunger relief organizations and the Utah Department of Agriculture and Food.
People can go to farmersfeedingutah.org to make a donation that goes to purchase the oversupply of agricultural products, which are then made available to Utah families in need.
Ron Gibson, president of the Utah Farm Bureau, said the disruption in supply chains caused by the COVID-19 pandemic has been devastating to ranchers and farmers, since about 50% of U.S. agricultural products are sent to the food service sector, which includes hotels, restaurants and cruise ships — all of which were on lockdown for weeks.
"It left us with a tremendous amount of oversupply," Gibson said, with prices plunging and food processors slashing rates in dramatic fashion.
Those dramatic drops in prices are unsustainable, he said, threatening the closure of farms and ranches.
Gibson said at one point there was a suggestion to set up a GoFundMe account to help struggling ranchers and farmers — but as a dairyman himself — he knew that likely would be rejected by the agricultural community.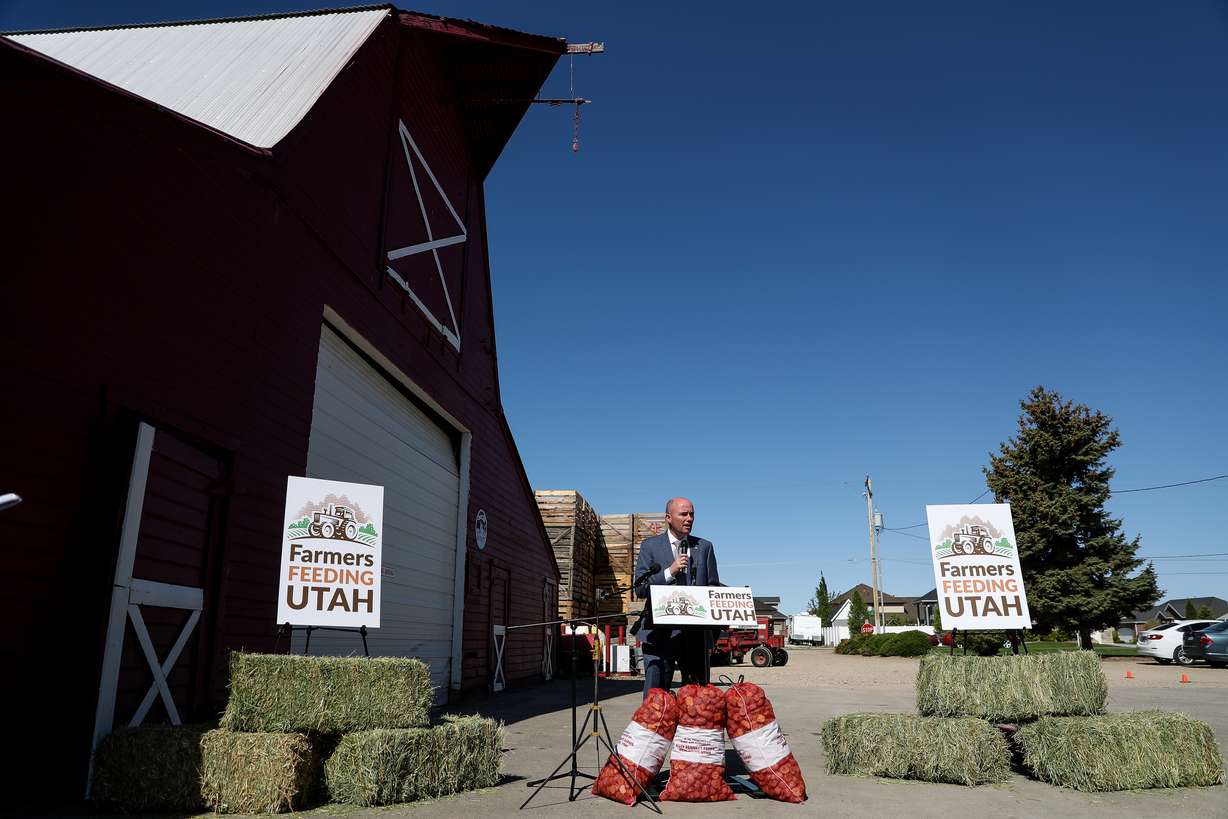 Describing them as "salt of the earth people'" who love what they do, Gibson said farmers and ranchers are proud people who just want to make a sustainable living.
"I don't think farmers would be happy to take a donation from people," he said.
Instead, this initiative will help fill a severe gap in the supply chain as a result of coronavirus.
"This program will help meet two important goals. The first is that it will help our farmers and ranchers stay in business at a time when many have seen markets for products either disappear or reduce dramatically. The second goal is that we will reduce disruptions in the supply chain locally and get food to families that really need it," Gibson said.
The closures across the country of processing plants disrupted the market and left producers and needy families in a lurch, he added.
"We need to break through the barriers we are having in the food supply chain. We know families across the state and country who need our help," he said. "Today we are asking you to be part of the miracle of agriculture."
Lt. Gov. Spencer Cox, whose family has been in farming and ranching for 160 years, said the issue is personal for him.
While he and his immediate family are not dependent on their farm for a living, that's not the case for others he knows.
"My uncle still runs sheep and he is losing everything," he said. "Farming is and should be a national security issue ... we have taken it for granted way too long."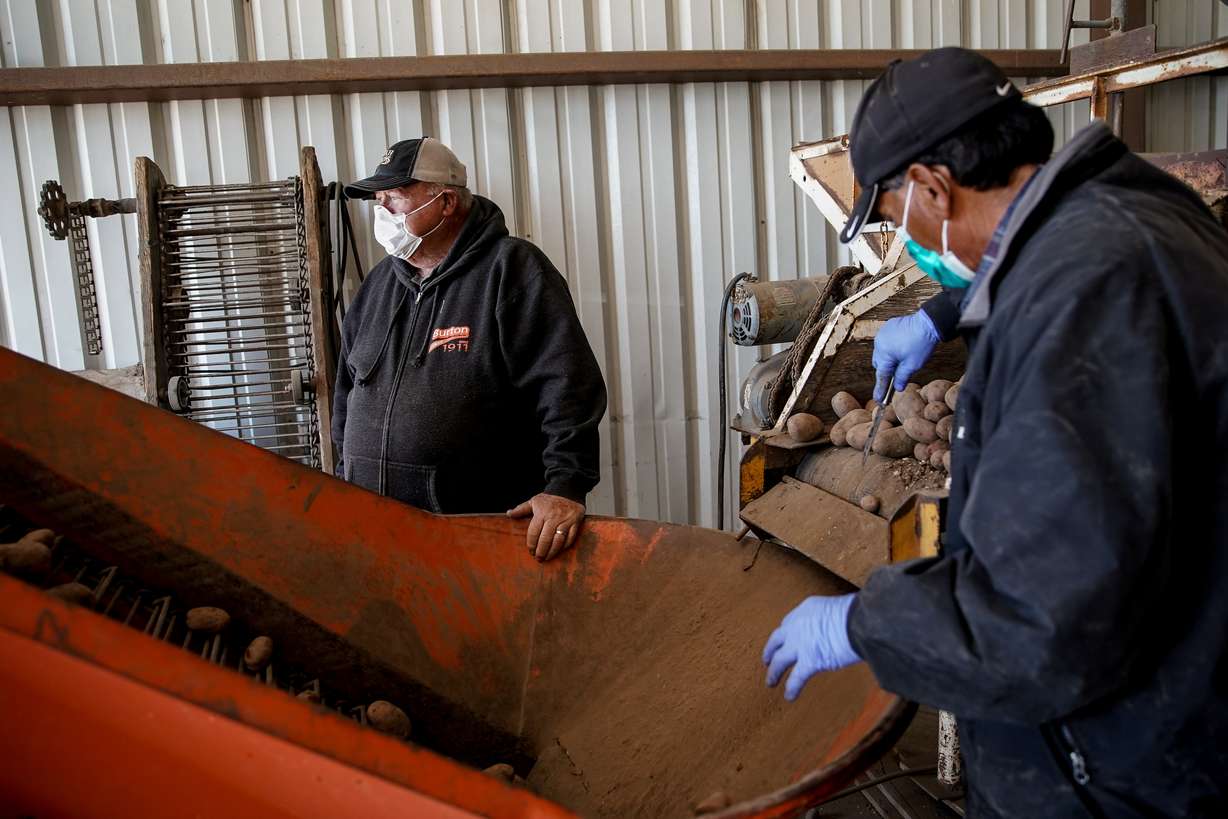 He added the next normal as the economy starts to improve needs to be a "better normal" for the country's ranchers and farmers.
The Utah Farm Bureau will work with its farmers and ranchers to determine surplus food capacity, and local food processors to reduce bottlenecks in production. From there, it will work with its food distribution partners to identify food needs and the best ways to meet those.
In an announcement made last week, Utah is able to tap into $20 million for grants to ranchers and farmers through the federal Coronavirus Aid, Relief and Economic Security Act.
Kelly Pehrson, deputy commissioner of the Utah Department of Agriculture and Food, said he combed through more than 200 applications for assistance that came in Monday.
"I was depressed, deeply depressed."
He pointed to one local business that grows flowers for weddings and funerals, and with those services on indefinite hold, they're practically wiped out.
Bennett grows potatoes, onions, peppers, squash and tomatoes on the land first farmed by his great-grandfather in 1896, and as a fourth-generation farmer said he wants that tradition to continue — producing safe and wholesome food for residents.
"That's what it is about in my eyes," he said. "We love what we do and we take great pride in what we do."
×
Related links
Related stories
Most recent Utah stories