SALT LAKE CITY — If May is any indication of what's in store this summer, then Utah may be in for a long fire season.
Fire crews have already dealt with a handful of small brush or field fires across the state. The largest two so far include the human-caused Saddle Fire, which has scorched 683 acres near Midway. A vehicle dragging a chain in southern Utah Monday ignited a nearly 800-acre wildfire that destroyed three outbuildings and briefly led to evacuations near Toquerville in Washington County. The Saddle Fire was 85% contained as of Tuesday night and firefighters said the blaze near Toquerville was fully contained.
But the National Oceanic and Atmospheric Administration projects a strong likelihood for above-average temperatures across Utah and most of the United States this summer. It also projects below-average precipitation for northern Utah and most of the Pacific Northwest, and an equal chance for southern and central Utah to receive a normal amount. NOAA's Climate Prediction three-month outlook looks at June 1 through Aug. 31, which is the meteorological summer.
There's also above-normal fire conditions projected for most of Utah this summer, according to the Great Basin Coordination Center.
"Based on what they're telling us, it looks like we had a pretty dry March and April, and that's going to translate into a little higher-than-normal fire activity in some parts of the state," said Utah Division of Forestry, Fire & State Land spokesperson Jason Curry. "Ongoing precipitation is a key piece that if we don't have, it doesn't matter how much snow is in the mountains. If it's just dry, all the vegetation away from the streams and waterways doesn't get any moisture, and that's a big problem."
Utah's drying conditions
That long-range forecast comes as the state is already dealing with drying conditions from an abnormally dry spring. The National Weather Service has two tracking locations in the state, which are located in Salt Lake City and Cedar City. Both are reporting below-average precipitation totals this far into the water year, which began on Oct. 1.
Salt Lake City entered Tuesday 3.75 inches below average, according to National Weather Service data. That's mostly due to only recording 1.79 inches of precipitation since March began. In comparison, the city's average is 1.79 inches in March alone, and 5.73 inches during the spring months. It's also a staunch difference from spring 2019 when the city recorded 10.89 inches during the three-month span.
Cedar City is in a better position, at 0.6 inches below its average at this point in the water year, but it is 1.24 inches below what it normally would receive at this point in the calendar year.
David Church, a meteorologist for the National Weather Service, pointed out that similar patterns are being seen in other places across the state. Drought conditions are beginning to reappear in Utah as a result.
"There are some drought conditions, roughly from Utah County southward," he said. "From Salt Lake County northward, things have been slightly wetter; but we're still seeing abnormally dry (conditions), not quite officially a drought."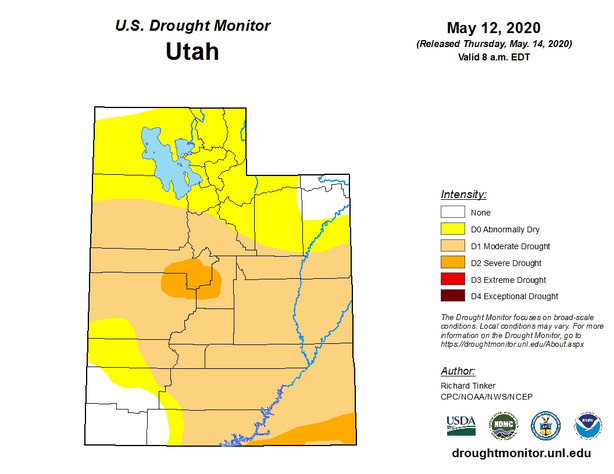 As of Thursday, nearly 5% of the state was dealing with a severe drought and about 55% of Utah was listed as having a moderate drought, the U.S. Drought Monitor reported. It also reported 90% of Utah was at least abnormally dry. That's compared to just 2% this time a year ago.
Drying conditions aren't affecting the state's reservoirs as much, to this point, because Utah received an average snowpack from storms during the fall, winter and early spring. It does mean grass and vegetation is starting to dry out much earlier than this time last year, but the grass growth is also stunted by the dry patterns.
"Obviously we're drier to start (the summer) out with, and so we've already seen a couple of fires start out there," Church said. "It'll be interesting to see how it plays out with some of the finer fuels right now. Normally the grass would be growing like crazy right now, but it's already getting stunted and starting to dry out, so we may not have as much of that grass."
Preparing for the fire season
Utah's traditional fire season starts in June and runs through the end of October, but hotter and drier temperatures have extended this period in recent years.
State forestry officials and all other wildfire fighting agencies use a prediction model created by the Great Basin Coordination Center, Curry said. Those projections are created by looking at various factors, such as weather outlooks, snowpack, drought and soil moisture conditions.
The center's projections indicated a normal fire outlook in May. Areas in southern and central Utah are listed as having above-normal fire risk heading into June. Most of the state is projected to have an above-normal fire risk in July as hot, dry conditions persist.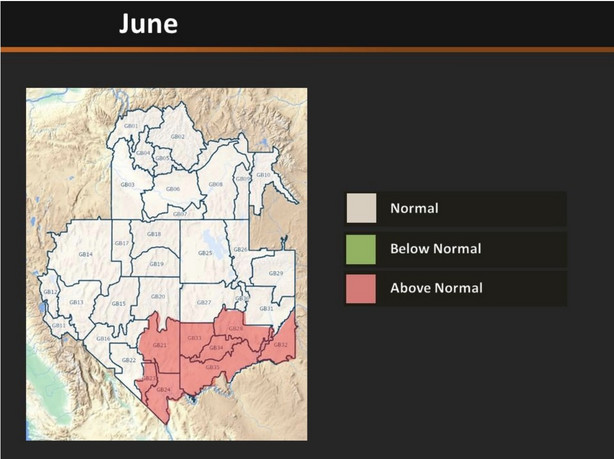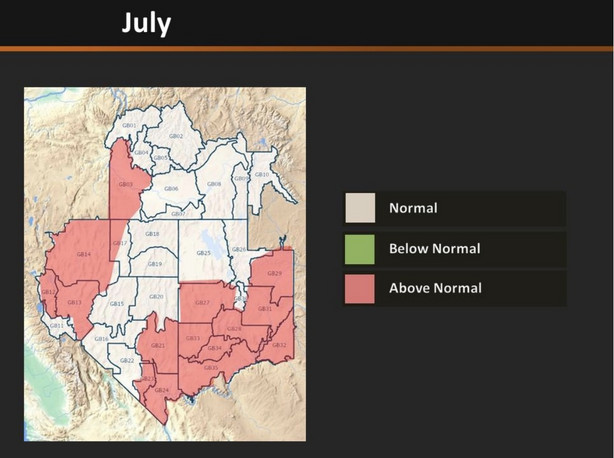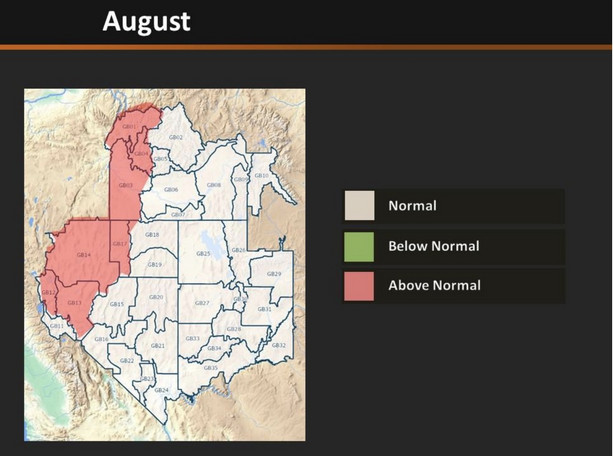 "It means what it means every year, in that we always prepare for the worst-case scenario," Curry said. "It's just kind of the nature of what we do with fire and other emergency services. We have our crews prepared, got all of our folks in each of the counties prepared, and we've got good working relationships with our federal partners."
State officials do controlled burns and fuel reduction to help lighten up fire risks in areas each year, and this year is no exception to that. Despite dry conditions, it's still unclear what's in store for the 2020 fire season.
"The thing that might be a wild card for us this year will be if we get more of a monsoon, which I expect since last year was pretty much absent," Church said. "If we get some more precipitation over the summer, it could help as far as moisture goes. But it may also bring us lightning, which can bring some fire starts as well."
Only about 88,000 acres burned from wildfires in Utah amid a prolific water year in 2019. There were more than 485,000 acres burned in the state in 2018, which was a below-average water year. Those years and previous fire seasons still have a common thread, which is that most fires are human-caused. More than two-thirds of the 2019 wildfires, and about 52% of fires in 2018, were caused by humans. The state has reported humans causing more than 50% of fires every year since 2015.
The two biggest wildfires of 2020 have also been human-caused. Curry explained that anything from arson to campfires not being properly put out to a vehicle dragging metal can qualify as a human-caused fire. As conditions dry out across the state, he urges people to be smart when they are outdoors.
"We want people to be careful; we want people to not strain our system any more than we have to," he said, adding that they have crews lined up to fight fires this season but would prefer to use those resources most after a naturally-caused fire. "We're always worried about fire season. We know there'll always be fire. And whenever there's fire, obviously lives are put at risk, properties are put at risk; and so we do everything we can … to catch those fires early, catch them small, and make sure that we don't end up in multi-day events that are dominated by the weather."
Fire officials say spring is also a good time for homeowners to begin working on defensible space. Tips for that and fire safety can be found here.
Contributing: Kelli Pierce, KSL NewsRadio
×
Photos
Related Stories