Estimated read time: 5-6 minutes
This archived news story is available only for your personal, non-commercial use. Information in the story may be outdated or superseded by additional information. Reading or replaying the story in its archived form does not constitute a republication of the story.
SALT LAKE CITY — Dozens of homes. Nearly 500,000 acres. Over $100 million.
Those are just a few of the numbers associated with this summer's wildfire season in Utah.
The 2018 fire season was Utah's worst in recent memory, and it burned more than double the number of acres compared to last year, according to state officials.
"In almost every way, it's been busier," Utah Division of Forestry, Fires and State Lands spokesman Jason Curry said.
The total number of wildfires reported in Utah this year was 1,314, according to Curry. That's 462 more fires than last season, and the most Utah has had in one year since 2012. Of those, 680 were caused by humans, Curry said.
Wildfires burned a total of 485,989 acres this year, up from about 220,000 in 2017, according to Division of Forestry records. It's the most acres burned in one season in the last eight years, with the next highest at just over 415,000 in 2012.
"It's really remarkable to see that many acres burned in higher elevations here in Utah," Curry said. "We've not seen that level of fire behavior in those areas for a really long time."
The cost of firefighting in Utah for the state and federal government is expected to be about $110 million, according to Brian Cottam, director of the Utah Division of Forestry, Fires and State Lands.
The state's portion of that will be about $35 million, Cottam told the Utah State Legislature's Executive Appropriations Committee at the committee's meeting Tuesday.
The $110 million figure doesn't include costs for local fire departments, which are responsible for initial attacks for fires, Cottam said. In some cases, those departments will be reimbursed for those costs, he added.
Many high-elevation areas of Utah had very low fuel moisture levels, as well as very high levels of energy release component, a metric used to judge how much potential heat and energy could be released per square foot in a possible fire area.
This year, both those metrics were at record levels, according to Curry.
"Which means extreme fire behavior, which is exactly what we saw," he said.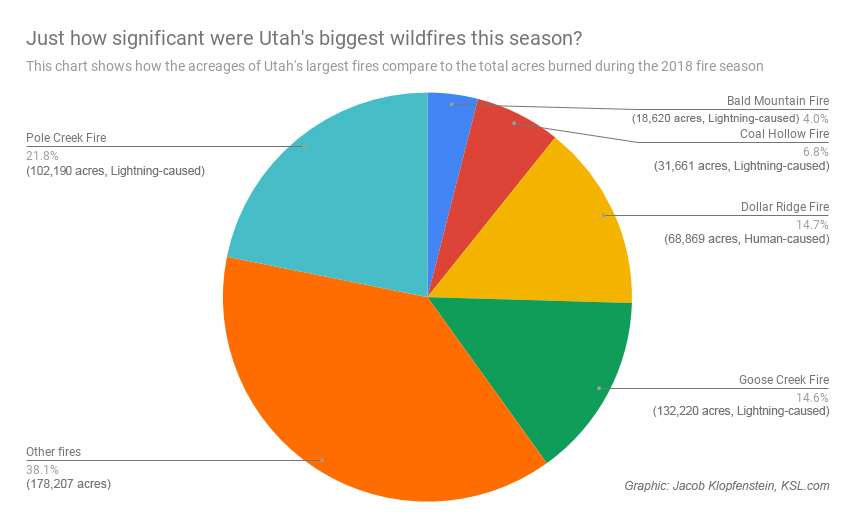 On the bright side, no major injuries or deaths due to Utah wildfires were reported this season, according to Curry. Draper firefighter Matt Burchett died fighting a wildfire in California in August, but there were no deaths or serious injuries in Utah, Curry said.
The largest fire of the season was the Pole Creek Fire, which burned 102,190 total acres during the month it burned. It was started by lightning Sept. 6 on U.S. National Forest lands east of Mount Nebo. The Bald Mountain Fire, also started by lightning, was much smaller but burned another 18,620 acres adjacent to the Pole Creek Fire.
Since both the Bald Mountain and Pole Creek fires started on U.S. Forest Service land, the federal government will be paying the full firefighting costs for the two fires, Cottam said. That's expected to be at least $20 million for the Pole Creek Fire and at least $10 million for the Bald Mountain Fire.
The Pole Creek Fire was fully contained on Oct. 7. Though the blaze threatened the communities of Elk Ridge and Woodland Hills, firefighters were able to prevent any property losses.
However, that wasn't the case with Utah's second-largest fire of the season, the Dollar Ridge Fire. That fire started July 1 east of Strawberry Reservoir in Duchesne and Wasatch counties and was human-caused. It burned about 68,869 acres.
Over 170 structures were destroyed in that fire, including primary and secondary homes and outbuildings, according to Curry.
"That's a high number," Curry said. "Higher than we've had in many years here in Utah."
In total, nearly 400 structures were lost in Utah fires this season, including at least 87 homes — mostly in the Dollar Ridge Fire, Cottam said.
The Dollar Ridge Fire's expected cost is about $22 million, with Utah covering about $14 million of that, Cottam said.
The Goose Creek Fire burned a total of 132,220 acres — 68,431 acres in Utah and another 63,789 across the border in Nevada, where it began. It started with a lightning strike on July 26 southeast of Jackpot, Nevada, and spread across the Utah border, burning near the community of Grouse Creek in northwest Box Elder County. The fire destroyed three structures before being contained in mid-August.
The cost for the Goose Creek Fire is expected to be $8 million, with Utah covering about $2.1 million of that, Cottam said.
The fourth largest fire, the Coal Hollow Fire, started with a lightning strike Aug. 4 about 15 miles southeast of Spanish Fork. It burned about 31,661 acres. That fire will cost about $13.5 million, and Utah will cover $1.6 million of that, according to Cottam.
The Trail Mountain Fire rounds out the top 5 biggest wildfires. It started June 6 about 15 miles northwest of Orangeville in Emery County. It burned just over 18,000 acres. Utah won't cover any of that fire's $15 million cost, Cottam said.
With another demanding fire season nationwide, resources were stretched thin, Curry said. That meant that many local volunteer fire departments were called upon to help out with wildfires.
They answered the call and put in more work than they usually do, Curry said.
"Volunteers stepped up and fulfilled that request and have done that more this year than ever before," he said.
Since nearly half of the state's fires were caused by humans, Curry said it's a reminder for people to be careful.
"Those that are human-caused really are the preventable ones," he said. "We want people to be very careful and be thoughtful as they're camping, recreating, traveling anywhere in the state."
×
Photos
Most recent Utah stories