SALT LAKE CITY — Everybody was in agreement, until they weren't.
Initial reports across college athletics and NCAA member institutions indicated that college football (and other sports along with it) would only resume in the fall if and when college classes resumed at their respective universities.
It seemed an easy conclusion to make the statement the Mountain West Conference did in April: no college, no college football.
Athletic directors and conference commissioners all voiced their approval and seemed to be in agreement.
Then, they weren't.
Fearing a second wave of infections, the California State University system threw cold water on the idea of an "all-or-nothing" resumption of college sports in the fall with Tuesday's announcement that the system, which operates 22 campuses, including three in the Mountain West Conference, would not conduct in-person classes this fall.
The reason is obvious; California has close to 68,000 confirmed cases of COVID-19, including 2,770 deaths, in the state. Los Angeles County likely won't lift a stay-at-home order until at least late July, according to the LA Times, leaving the possibility for a start to collegiate activities — including fall training camp — until August, at the earliest.
Within hours, NCAA president Mark Emmert eased up on previous desires to open the season with a shotgun start. Instead, Emmert told ESPN the NCAA won't mandate or oversee a uniform return to college sports across all of its member institutions.
If it feels like the college sports are making things up as they go along, it's because — in many ways — they are. No one in current leadership has ever been through a worldwide pandemic; the Spanish flu pandemic that shuttered much of academia and collegiate athletics came and went in 1918-20, and 100 years would be an impressively long career.
Unlike in the NFL, no commissioner with federal authority can make nationwide decisions that affect universities from Maine to San Diego. If there were a position with that authority, the biggest hurdle to restarting football might be finding adequate testing, like the UFC discovered last week in staging UFC 249 in Jacksonville, Florida.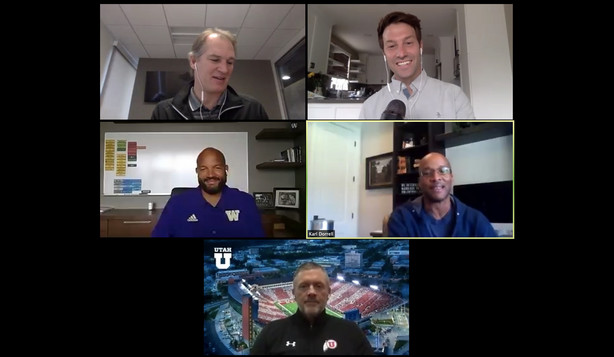 So yes, there are things still being learned every day, modifications tweaked, timelines adjusted.
It's the nature of living with COVID-19.
"Normally there's an agreed upon start date for every sport, every season," Emmert told ESPN, "but under these circumstances, now that's all been derailed by the pandemic. It won't be the conferences that can do that, either. It will be the local and state health officials that say whether or not you can open and play football with fans."
Clouding the issue is the fact that neither Emmert nor the NCAA are in charge of college football — at least not at the Football Bowl Subdivision level.
The game's highest levels are organized by the College Football Playoff, which is managed by a committee led by former BCS executive director Bill Hancock. Postseason bowl games are owned and operated by private corporations, most of them involving ESPN in some form or fashion, while the only postseason football tournament run by the NCAA is at the Football Championship Subdivision level.
That's why there are so many different ideas for when college football might return. Texas athletic director Chris Del Conte believes that "we'll have a football season," for example.
"Our campus is readying for safe ways to return our students," Del Conte said, "and we in Texas Athletics remain optimistic and positive about the future."
Other schools are hopeful — but doubt remains, even for an industry that relies on the millions of dollars in revenue that college football provides.
In the FCS-level Big Sky Conference, schools will be allowed to make decisions at an institutional level to resume practices and competitions. That means that Weber State, Southern Utah and every other school's president may decide after May 31 when to return to campus for activities such as fall practices, in accordance with local and statewide public health policies.
"As we prepare to enter a year that surely will be unlike any other, I applaud the foresight our leadership has shown in allowing our institutions to make their own decisions within NCAA rules about when it's appropriate to resume practice and competition on their own campuses," Big Sky commissioner Tom Wistrcill said.
"We're not going to have one rule for all schools. Each state can make a determination … and each president can make a decision about what happens on their campus."
The local uncertainty was already enough to spark the California Collegiate Athletic Association, the largest Division II conference in the Golden State, to action, suspending fall sports at its member institutions, effectively canceling the season.
"We understand the value of competition for our student-athletes fully," wrote Cal State East Bay athletic director Jason Carmichael said in a statement. "However, we also place a high value on the well-being of our students, and as such, today's announcement seems to be the best decision in light of the information we have at this time."
Related
More schools and conferences could follow. San Diego State, a Mountain West Conference rival of Utah State, pushed back on the idea of fall sports closing on its campus. But the Mountain West's joint statement with the Aztecs, San Jose State and Fresno State said what many of us should be saying: we don't know.
"Certainly, all conversations are led by academics, as well as public health and safety. Within that framework, more determinations are necessary," the statement read. "All three institutions will work closely with the Mountain West. No decisions on athletics have been made."
In addition to its obvious connection to the Aggies, San Diego State basketball is also scheduled to host BYU on Dec. 1.
Division II seems particularly vulnerable to the economic and financial impacts of the pandemic, though various Division I officials have called the prospects of a year with college football a "disaster."
Everyone agrees that opening in an all-or-nothing fashion is the best-case scenario; Washington coach Jimmy Lake said as much during a Pac-12 coaches' teleconference Tuesday. That it came from Lake is no surprise; the Huskies' campus is currently besieged by the coronavirus with more than 7,000 confirmed cases in King County and 506 of his state's 945 deaths.
But even Utah coach Kyle Whittingham agreed — to an extent.
"There's imbalances and inequities all across the board in the NCAA, facility-wise, recruiting bases," Whittingham said. "Nothing's equal when you really look at it, and so I would hate to see athletes just sitting around that you could be training and getting ready for the season just because other places aren't quite yet to that point."
It's becoming more and more clear that allowing college sports to resume won't be a decision made by Emmert, the NCAA, or even conference commissioners. Providing for a situation that enables mass gatherings like ones common at a 60,000-plus seat football stadium every Saturday will need to come from local governments.
That could be a problem for college football fans, who are desperate for some fashion of a "normal" season by September. Even in Utah, a state with a lower threat level to the general population than many in the nation, Gov. Gary Herbert doesn't anticipate sports returning before the end of the current phase of coronavirus response, likely to come in late September or October.
But while Utah began to reopen state businesses, parks and other public areas last week, California's (and L.A. County, in particular) slower reopening will likely have an effect on the Beehive State, through conference affiliations with USC and UCLA in the Pac-12, and Loyola Marymount and Pepperdine in the West Coast Conference.
"Sorry to say, I don't expect that we'll have any sports games until at least Thanksgiving," said California Gov. Gavin Newsom, a former collegiate baseball player at Santa Clara. "And we'll be lucky to have them by Thanksgiving."
×
Related Stories