WATCHING LIVE SPORTS — It was billed as the most entertaining fight in years — and a possible blueprint for how live sports could commence in the United States following a near-total shutdown in response to the COVID-19 pandemic.
And UFC 249 lived up to the billing.
Justin Gaethje defeated Tony Ferguson with a fifth-round technical knockout to win the promotion's interim welterweight title Saturday night in Jacksonville, Florida, in the first major live sporting event since the coronavirus pandemic shuttered most athletics across the country.
Gaethje-Ferguson was the headliner, and it lived up to the billing, most mixed martial arts fans agreed.
There were no fans, and even the handful of media in attendance were spaced by CDC-recommended social distancing standards. And even after a Friday night positive test for COVID-19 threatened to derail the event, the promotion moved forward.
"The system worked," UFC president Dana White told ESPN following the final bout. "I'm happy with the way tonight went, and I'm looking forward to Wednesday and Saturday.
"We'll share what we learned with other sports leagues, who have already asked us," White later added. "Not just for sports, but states trying to open up and send people back to work."
Nobody in the stands means you can hear EVERY hit in the Octagon 💥@espnmma | #UFC249pic.twitter.com/6GLPit3xiY

— ESPN (@espn) May 10, 2020
The night produced an electric run of bouts, with all 11 cards displaying action, athleticism, highlights and even several surprises for a sports-starved country approaching two months largely without live sports during the pandemic.
The promotion was not without its controversy. But the hiccups — and specifically, the protocols that helped North America's top professional combat sports organization survive them — could prove a blueprint for other live sports to return, including Major League Baseball, which is reportedly considering a plan that would have teams return to the field in July.
It could even hint at a pathway for college football and the NFL's return this fall, though present circumstances make the first week of September feel an eternity away.
The plan involves testing — lots and lots of testing — and contact tracing. White said the promotion administered around 1,100 tests throughout the week.
Just a day before the fight — after the official weigh-ins — the UFC canceled one of the undercard bouts after Ronaldo "Jacare" Souza tested positive for coronavirus. The 40-year-old challenger was immediately pulled from the lineup after his test, leaving opponent Uriah Hall to remain in Jacksonville without a fight.
But even then, the UFC can argue that they proved that medical and public health policies can aid a hasty return of live sports: through extensive testing and contact tracing.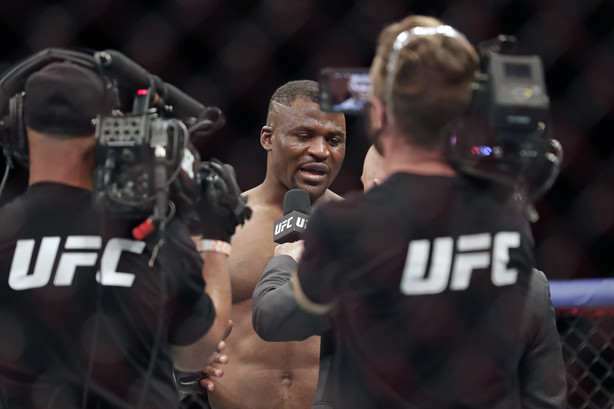 As soon as Souza arrived in Jacksonville, he informed UFC officials that a family member in Orlando had likely tested positive for COVID-19. He was immediately tested, made to weigh in wearing a mask and gloves (other fighters also weighed in wearing masks, though gloves were more sparse), and even made a lengthy, socially-distant stare down at Hall that took social media by storm.
In the end, it's a good thing he kept his distance. If he hadn't, things could've been much worse for the Pay-Per-View fight.
"UFC's medical team examined Souza and his two cornermen and found them to be currently asymptomatic, or not exhibiting the common symptoms of COVID-19," the promotion said in a statement Friday night. "As per UFC's health and safety protocols, all three men have left the host hotel and will be self-isolating off premises, where UFC's medical team will monitor their conditions remotely and will provide assistance with any necessary treatment."
Because Souza informed the organization of his possible test, he was able to be tested quickly and efficiently. Because the promotion put each of its fighters, employees and event staff in one location, they could quickly identify the individuals with whom Souza had significant contact who might be at risk of contracting the virus.
They, too, were quarantined — an endeavor that any sport intent on following suit in its return to play will no doubt follow.
Even without Souza-Hall, UFC 249 proved to be a resounding success for MMA fans. Henry Cejudo successfully defended his bantamweight title with a 4-minute, 58-second TKO over Dominick Cruz, followed by the 135-pound former Olympic gold medalist wrestler to retire with a 16-2 record in the UFC.
It wasn't the first time Cejudo has mentioned retirement. But this one felt different from the moment he uttered, "Triple C, out" to the empty arena.
"I'm happy with my career. I've done enough in the sport," Cejudo said on ESPN. "I want to walk away and enjoy myself. I'm 33 years old. I have a girl now, watching me from back home.
"Since I was 11, I've sacrificed my life to get to where I was tonight. I'm retiring tonight. Uncle Dana, thank you. Everybody here, thank you so much."
Cejudo doubled down in the post-fight media room, though he'll likely have his doubters as to how long his retirement lasts.
"I want to go out on top," Cejudo insisted. "I don't see myself coming back.
"I want to remain king forever."
His "uncle" believes him, too.
"Henry has been talking about retirement with us for the past few nights," White told assembled media in the late-night/early-morning hours in Jacksonville. "I didn't know he was going to do it tonight."
Francis Ngannou won his heavyweight bout with a 20-second knockout, catching Jairzinho Rozenstruik with a surprise left-handed hook shot for his fourth-straight first-round knockout.
It took Twitter by storm, including Super Bowl champion Patrick Mahomes of the Kansas City Chiefs.
UFC from Jacksonville continues Wednesday with an 11-match Fight Night headlined by light heavyweights Anthony Smith and Glover Teixeira. The made for ESPN+ event begins with preliminary bouts at 4 p.m. MT, with the main card starting at 7 p.m.
×
Related Stories