SALT LAKE CITY — An 11-game, conference-only schedule could be the path forward for the Pac-12 in its hope to resume football this fall.
The idea is just one of many options the conference has considered since collegiate sports was put on hold as a result of the coronavirus outbreak in the United States. And though nothing has been solidified, it's at least one of many "viable discussions" for the Pac-12 as it moves through uncharted waters.
USC head coach Clay Helton, who was part of a media call put on by the conference Monday, said the round-robin slate was discussed by the coaches and the Pac-12 commissioner in its spring meetings, but added it's just one of many options presented to help prepare for an unusual 2020 season.
"That is one of the many structures as we go through this situation and this crisis, the possibility of an all-conference schedule — that is one of the structures under discussion," Helton said, while noting the conference continues to be open to many ideas to ensure flexibility to an unknown situation.
Helton believes the conference will have a clearer picture in the next six to eight weeks, but said all the coaches are "half glass full people, and we're optimistic about a season."
The conference-only slate would allow the Pac-12 to control its season without having to factor in the potential differences in other conferences. That type of schedule would work for teams in an established conference but would present a difficult scheduling challenge for independent programs like Notre Dame and BYU, who rely on the Pac-12, and other conference-affiliated programs, to make up part of their schedule this season.
In the Pac-12 alone, Notre Dame has games scheduled with Stanford and USC, while BYU has games scheduled with Utah, Arizona State and Stanford. If other conferences followed suit, where do Notre Dame and BYU fall?
Under this conference-only scenario, there'd still be conference championship games and bowl games, but that's where it gets a little trickier.
"Depending on what the schedule looks like, depending on how many people are playing, depending on who you're playing, if we go to a conference-only schedule, then how do you compare conference to conference?" Stanford head coach David Shaw posited. "That's why there's been a lot of discussions about for this year do we expand the playoffs? Because we're not really going to know how to whittle this thing down to four."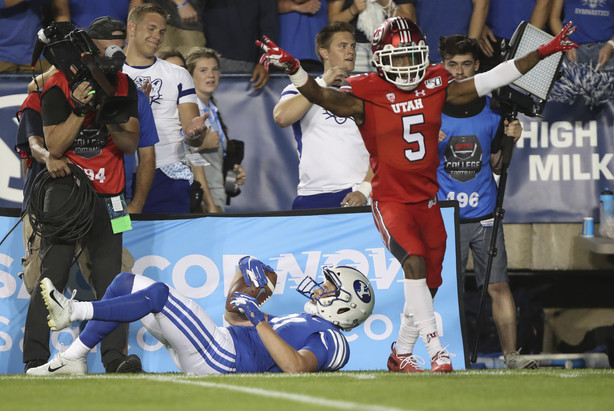 College football would get a one-year playoff expansion where each conference sends its champion to vie for the top prize. But is that just the Power Five schools? Do the Group of Five schools send a team, too? And, once again, where do the independent schools fall in this plan?
"I think talking about all the scenarios is really the only way that we're going to have any idea," Shaw added. "But if we're able to play 12, we can say status quo, that's great. Many of us believe it's not going to be 12, it may not even start on time, those other factors are going to affect however the bowl season looks as well as the playoff."
"The structure of the regular season will dictate the postseason, and a lot of its discussion," Helton added.
The idea sounds good on paper, but there's no guarantee the Pac-12 will be able to make it work. The conference features four teams from California, where the governor has some of the strictest stay-at-home rules in the country. Even then, Oregon Gov. Kate Brown said she doesn't expect to see fans attending sporting events through at least September, leaving two other teams out in the Pac-12 unless the conference plays games without fans.
Washington State head coach Nick Rolovich said he doesn't care about the idea or the season's structure so long as everyone is safe and football returns.
"I think, in general, if we feel it's safe enough to play, then I'd like to play. I don't necessarily — I know fans are part of the experience, it's also part of the financial model. But that's not in my job description, so we're just trying to hopefully get some games this fall."
"Hopefully, there are some regional things that do happen as we get closer to the start of football to where most of our states, if not all of our states on the West Coast, can kind of be on a similar timeline," Shaw added. "But at the very least, it's comforting to know that they've been in communication."
And while many are solely thinking about the competition aspect, Shaw said any approach chosen will have to have the student-athletes' health and safety at the forefront. If it's safe to play, the game will return somehow and in some fashion — the details of what the season looks like come secondary.
"I think we're in a good position right now to handle whatever happens as far as national and local governments say at all of our individual schools, and I think our conversation has been really, really good," Shaw said. "We've got a lot of great ideas, and hopefully we put ourselves in position to handle whatever comes our way."
"I think when we're given the opportunity, whenever that time is, I think all of us as coaches and players, we're going to be grateful," Helton said. "Don't know the start date of that, don't know the structure, don't know if it's gonna have fans or no fans, that's the unknown, but I know we're going to be grateful to be able to play the game we love — and meaning that the virus is probably a little bit further behind us."
×