SALT LAKE CITY — On the eve of the first step of Utah's slow return to some semblance of economic normalcy amid the COVID-19 pandemic, Gov. Gary Herbert urged people to continue being careful.
"We still need to be extra cautious," he said Thursday. "This is no time for us to relax."
At 12:01 a.m. Friday, the state will transition from a high-risk operating model to one of moderate risk under the Utah Leads Together 2.0 plan for the state's economic recovery post-pandemic.
Some businesses, including restaurants, bars, gyms and salons, will be allowed to reopen with strict guidelines for social distancing and hygiene. People will be allowed to gather in groups of up to 20 members.
For people who are at higher risk for the disease, such as people over age 65 and the immunocompromised, nothing will change. Herbert cautioned people to continue working to protect those people from the disease.
He said he remains cautiously optimistic that the state will be able to move forward from the pandemic.
"We have a lot of people who are doing their best," Herbert said.
---
Gov. Gary Herbert and Utah Department of Health state epidemiologist Dr. Angela Dunn discussed the current coronavirus situation in the state on Thursday afternoon. Watch the replay of the event below.
---
In addition to the changes, Herbert also issued an executive order Wednesday extending some deadlines for vehicle registrations. Enforcement for expiring vehicle registrations will be suspended until May 15, the governor said.
Wait times at Utah Division of Motor Vehicles sites have been long, but five branches along the Wasatch Front will reopen their lobbies on a limited basis starting Friday. The DMV branch in Hurricane also will reopen with limited hours.
The lobbies at those branches will be open by appointment only, Herbert added.
A few quick observations - we are aware of crowing issues at our DMVs. For that reason. I have suspended enforcement on expiring vehicle registrations through May 15. This order is effective immediately.

— Gov. Gary Herbert (@GovHerbert) April 30, 2020
New COVID-19 cases
Thursday, Utah's number of COVID-19 cases has increased by 177, with one new reported death, according to the Utah Department of Health.
According to state data, that's the largest increase in the number of cases since April 5, though health officials say they consider trends of at least two weeks overall more significant than day-to-day changes. The new numbers indicate a 3.9% increase in positive cases since Wednesday. That rate has remained consistently under 5% for the last several weeks.
The person who died was a 60-year-old man who was a resident of Salt Lake County, health department state epidemiologist Dr. Angela Dunn said. His death was not related to a COVID-19 outbreak at a long-term care facility, and health officials are working with the Salt Lake County Health Department to learn more information about his death, she added.
Thursday's totals give Utah 4,672 confirmed cases, with 390 total hospitalizations and 46 total deaths from the disease. Previously, there were 4,495 cases in the state.
Of the 108,501 people tested in Utah so far, 4.3% have tested positive for COVID-19. Seven new hospitalizations were reported Thursday.
The total number of cases reported by the health department includes all cases of COVID-19 since Utah's outbreak began including those who are infected now, those who have recovered from the disease and those who have died.
As of Wednesday, 1,939 people are considered recovered from COVID-19 in Utah. Anyone who was diagnosed with COVID-19 three or more weeks ago and has not died is considered recovered from the disease.
The vast majority of COVID-19 cases have been attributed to a known contact with the person infected, such as a family member, Dunn said. Only about 10-15% of cases are attributed to community spread, where investigators are unable to determine how the person became infected.
The rate of community spread in Utah went down drastically when health officials ramped up social distancing recommendations, Dunn added.
Strike teams to identify coronavirus hotspots
As the economy begins slowly reopening, health officials know they need to work hard to identify hot spots and outbreaks for COVID-19 that remain, Dunn said.
Strike teams will be formed so that they can identify such situations across the state, she said.
The teams will consist of mobile testing units, investigators who will conduct contact tracing, and support services that will help people have access to resources if they need to isolate or quarantine.
"This strategy will help us continue to control the spread of COVID-19 as we move to opening up more parts of our economy and society," Dunn said.
The teams also will include community members from the areas where the teams respond, she added. Community health workers may also be brought in as part of the teams.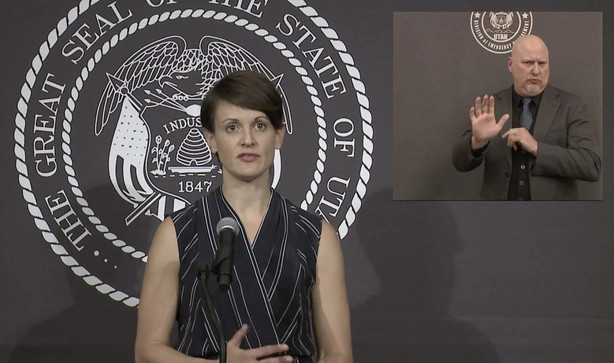 Taking precautions as economy reopens
Even though some businesses will reopen Friday, Utahns are still asked to practice social distancing and good hygiene moving forward.
Dunn said people are asked to continue social distancing and to wear a mask when that's not possible. Generally, people should follow the guidelines set forth in the Utah Leads Together 2.0 plan, she said.
Herbert said there is still a long way to go before Utah will be able to progress to the next stage of pandemic recovery.
Officials want to focus on not overwhelming Utah's healthcare system, and making a slow transition will help make sure there is enough personal protective equipment for healthcare workers and beds for patients, Herbert said.
There is also some concern about food security in the state since some food processing plants across the nation have been forced to temporarily shut down, the governor said. However, Utah Department of Agriculture officials are working with farmers in the state to make sure that food is not wasted, he added.
Herbert said he is "very cautiously optimistic" about the current state of affairs in Utah.
"Our hope for the future should be positive ... we've done good things," Herbert said. "We can have confidence in the communities that we live in throughout the state."
For more information, visit coronavirus.utah.gov.
×