Update: Utah Gov. Gary Herbert issued an executive order on Wednesday night to begin easing restrictions and placing the state on "moderate risk" protocols for the coronavirus pandemic starting on Friday, May 1, at 12:01 a.m., as previously announced.
---
SALT LAKE CITY — As expected, Gov. Gary Herbert announced Tuesday that the state will move from a high to moderate risk beginning Friday. That will loosen some of the restrictions that have been in place for more than a month to limit the spread of COVID-19.
That, of course, won't mean life will return to what it was like before the coronavirus pandemic reached Utah in March.
"This is not going back to business as usual. We're not to that point yet," the governor said during a press conference from the Utah Capitol on Tuesday. "It means Utah still has risks for COVID-19. It's out of an opportunity for us to open up more economic opportunities that we're doing this, and it will only maintain itself at this new orange level if we have continued vigilance. So the onus is really on all of us to continue to do what we've been doing even as we open up opportunities economically."
So here's what you can anticipate Friday and in the coming months.
What does orange mean?
As KSL.com reported back on April 17, Utah's COVID-19 risk scale from here on out will follow a scale that's referred to in colors. Red means high risk, orange is moderate risk, yellow is low risk and green means "new normal." So when you hear a state or local official say those colors, that's what they're referring to.
"These new levels give us kind of guidance as far as what we should be doing, taking precautions," Herbert said.
The state also has three phases: urgent, stabilization and recovery. Loosening up restrictions ushers in the stabilization phase, which is expected to last through the end of summer into fall.
Utah is in a HIGH RISK, or RED phase. Today I am announcing, in coordination with @UtahDepOfHealth, that Utah will transition to MODERATE RISK, or ORANGE phase, on Friday, May 1. pic.twitter.com/RMvDuf4RDC

— Gov. Gary Herbert (@GovHerbert) April 28, 2020
The state will remain red through Thursday before switching to orange. Each switch closer to green eases restrictions. For example, restaurants will go from having no in-building dining allowed to resuming inside dining with tables spaced 6 feet apart when switching from red to orange.
"We would expect restaurateurs, owners of these restaurants, to screen their employees when they come to work every day on each shift — check to see if they have temperatures, make sure they're wearing masks themselves and we'd encourage them to screen their customers when they come through the door, too," the governor said.
Related:
Gyms and hair/nail salons will also be allowed to reopen, as long as they follow public health guidelines outlined in the state's plan released earlier this month. A deeper look at the businesses reopening and their guidelines can be found within the state's plan.
Herbert said public gathering limits will be moved from 10 to 20 people beginning Friday.
Some guidelines in place during the orange phase will be something you're familiar with. People are still encouraged to keep 6 feet of distance from others, wear face coverings or masks when outside their home and wash their hands frequently. Public playgrounds will remain closed. Out-of-state travel should be limited and people should still quarantine for two weeks if you're returning from a high-risk area.
In addition, high-risk groups, such as those with underlying medical conditions, who are immunocompromised or are above age 65 should still follow guidelines under Utah's high-risk protocols. KSL.com outlined this in Monday's mailbag. Those are:
If possible, you should telework or limit travel to work-related travel only
Limit visiting friends or family unless there's an urgent need
Limit attending gatherings of any number of people outside your residence, especially if it's with other high-risk individuals
Do not visit hospitals, nursing homes or other residential care facilities
Take extra precautions and avoid close contact with multiple people. If you have caretakers, have the same caretakers if possible
"The same precautionary steps we had under color red are the same precautionary protocols we have under orange for our vulnerable populations," Herbert said.
Flexibility by region
The entire state may not be under the same guidelines beginning Friday, although many are expected to be in the orange category to start the new month.
The Weber-Morgan Health Department announced Tuesday it will move to orange on Friday. The Salt Lake County Health Department, which is where more than half of the state's cases have been reported, issued a statement on social media that it expected to begin reopening was still analyzing data before making its decision to reopen aspects of the county's economy.
"We anticipate Salt Lake County will be able to follow the governor's plan to begin reopening some businesses — with disease prevention precautions in place — in early May. We will have guidance for various industries in the coming days so businesses have time to implement any requirements necessary to open," the statement read. "Reopening is, of course, contingent on the latest data we receive about the spread of the virus locally, and our reopening date could change if virus transmission increases in Salt Lake County."
Salt Lake County Mayor Jenny Wilson is expected to talk more about the county's plan during a press conference Wednesday.
Summit County, which has had the highest case rate in the state, is also anticipating a move to orange. During a meeting last week, the county's officials said they would keep a close eye on the 20-person gathering limit.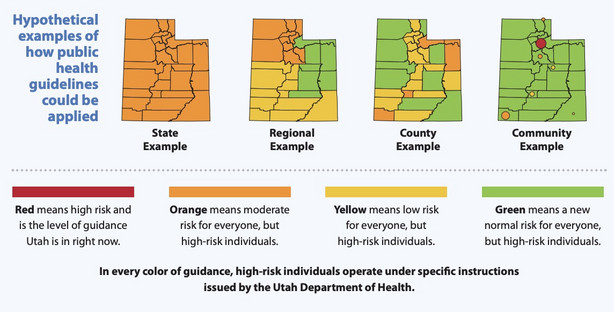 So how will this process work between local and state health officials? In an email to KSL.com, Summit County Health Department spokesman Derek Siddoway explained that the county will continue to monitor its situation by looking at the daily cases in the county and risk from visitors.
"Our stabilization planning is designed to allow some operations (that) will keep the curve down. The goal is to manage the virus as much as possible with the help of the public to prevent future surges," he said.
If a local health department feels it must fall back to previous restrictions or accelerate to more lenient restrictions, it will work with the state to do that. Herbert said he could see some areas of the state possibly moving to yellow "over the next few weeks."
"We'll never have zero risks. We know life has risk and we're trying to manage the risk to tolerable levels that lets us go back and open up the economy and yet still protect the people's health in a rational and reasonable way," he said.
But the whole state moving to yellow may take longer in some parts compared to others. In its meeting last week, Summit County health officials expected to remain in its orange phase for at least three to six months. The statewide plan also factors in the possibility of things getting worse, so if one area of the state experiences an outbreak after Friday, that area may return to stricter rules.
Herbert explained how that would work. A local government official would work with their health department, who would then bring that issue up to the state health department and the governor's office for a short-term return to stricter guidelines than other places in the state.
"That can happen. I expect it probably will happen. We have a lot of businesses out there that probably have questions. Certainly, we have 245 cities and 29 counties, I'm not going to be able to deal with all of them," he said. "So the protocol would be local government and businesses work with the local health department, which will work with the state health department to answer any questions, give any directions or answer whether we'd be willing to give them a variance going from (orange to red)."
Future plans for churches, sports
Houses of worship will remain closed and the governor said he hoped for them to be able to reopen by the end of the state's recovery phase, which is expected to start in fall. Sporting events would also be reopened at the tail end of the recovery phase, which indicates those types of events scheduled for the summer and into fall might be in jeopardy.
Once the state reaches the "new normal" phase, life like it was before pandemic will soon reappear. For now, this is what you can expect as the state continues forward during the pandemic.
×
Related Stories