SALT LAKE CITY — 82-year-old Phil Brown has been camping out for the Days of '47 Pioneer Day parade with his wife Mary for around 20 years. The couple and their family stays in the same place each year, arriving the day before the parade around 9 a.m.
"Most of the time everybody stays up all night," Brown said. "I'm 82, my wife is 80 and I remember maybe five times where I've ever fallen asleep."
Brown said it's been a tradition for years — they haul blankets, pillows, sleeping bags, and a table to their annual spot. There, the family passes the time playing cards, talking and watching the cars go by.
They'll have to wait till 2021 to do so again.
The Days of '47 board of trustees announced Tuesday that this year's July parade, rodeo, royalty pageants and other celebrations honoring Utah's pioneer heritage will be held next summer in order to minimize public health risks of the coronavirus.
Brown said he's disappointed that they won't be able to carry forward with their family tradition, but he understands the decision.
As for next year, "the Brown family will be there," he said.
The annual celebration is the latest of a string of summer cancellations caused by the novel coronavirus, joining two other fixtures of the Pioneer Day holiday, the Bountiful Handcart Days and the Deseret News Marathon, as well as Salt Lake's annual arts festival in June.
As the Days of '47 celebration has been a cultural norm in the state for years, it's a decision that has rippling effects, both culturally and financially.
Greg James, Days of '47 executive vice president, said it was a decision made carefully — the parade has only ever been canceled during World War I and World War II. Ultimately, the choice to postpone until 2021 was based off long-term and short-term constraints brought on by the virus.
Related:
While the situation could change by July, the Days of '47 parade requires months of work and float construction generally starts in February. Other forms of preparation like high school marching band rehearsals would also be challenging to do given the current dynamics in the state.
"We had no interest in causing anyone to suffer with the coronavirus. We didn't want to concentrate people," James said. "We saw no reasonable way to social distance and at the same time accomplish what would have to be done now to have the parade in July."
The parade frequently brings more than 200,000 people to downtown Salt Lake City, making social distancing impossible.
"We are not going to put one person at risk, we are not going to have one person lose their life — it's just not worth that," James said. "So as much as we are dedicated to it, it just doesn't make any sense."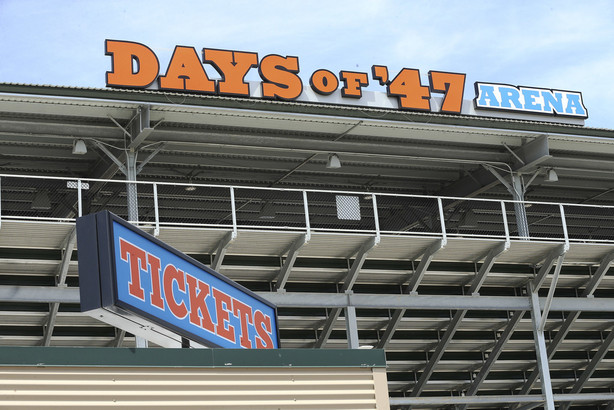 He said the community seems to understand.
Wayne Hinton, president of the National Society of the Sons of Utah Pioneers, said they've been walking in the parade for so many years that they are usually second in line now.
The group, ranging between 40 and 80 depending on the year, dresses up as pioneers and pulls handcarts down the route to pay tribute to their pioneer ancestors' sacrifices.
Hinton said walking in the event means a lot to him, but he understands the decision.
"I had a great-great-grandmother who was in the Martin Handcart Company. She lost her husband and three sons," he said. "There are many others that walk with us that have ancestors that were in the handcart companies."
Salt Lake City Mayor Erin Mendenhall also agrees with the decision.
"Our No. 1 priority in this pandemic is our community's health — both physical and economic," she said. "A gathering of that scale would be unwise to count on at this point and potentially cause an additional delay of our recovery."
---
... people can look forward to something special next year.
–Greg James, Days of '47
---
Organizers are referring to the decision as a postponement rather than a cancellation because much of the preparation already done this year, as well as the theme — "Pioneer Spirit: Alive Today!" — won't change in 2021. Royalty selections, stakes from The Church of Jesus Christ of Latter-day Saints assigned to build floats, and other awardees will carry over to the 2021 events, James said.
James said he's not concerned about the financial impact postponing will have on Days of '47, but he is worried about the other parties that will be affected, like businesses missing out on the income the waves of crowds would have brought in.
"There's hundreds of thousands of people that go down to Salt Lake City and buy breakfast and camp out all night, eat fast food — there's a significant impact on Salt Lake City," he explained. "Quite frankly I was hoping between the parade and the other events, it was going to be kind of a moment of relief that we could all get together in July and be glad we are out of it."
Cowboys too, he said, who come from all over the country to participate in the rodeo will be hit financially from the decision. The rodeo is one of the U.S.'s few "million-dollar rodeos," and "the money here is big."
"If a lot of people follow suit these guys are going to have a tough year," James said.
It's not all bad news. Next year's Days of '47 events may be geared in a way to compensate for this year's loss.
"We got more time to prepare now so maybe we can do something that's a little more complicated," James said. "We are working through that and we haven't exactly decided on what that's going to be, but people can look forward to something special next year."
×
Related Links