SALT LAKE CITY — Every time a person infected with COVID-19 coughs or sneezes, they spray out potentially lethal droplets of the virus.
Our mucus carries the virus in that cough. As the virus continues to spread globally, University of Utah biomedical engineers are working to identify the role mucus plays in spreading COVID-19 from person to person.
"Mucus is absolutely essential for life, from jellyfish to humans," said Dr. Jessica R. Kramer, who has been studying mucus in her lab at the university for years.
Now, the University of Utah biomedical engineering assistant professor and her eight-person team is focused on the relationship between mucus and the spread of COVID-19, which binds directly to mucus.
"What we want to understand in this project is how different forms of mucus relate to coronavirus transmission and infection," said Kramer.
Mucus hydrates and lubricates our bodies and acts as a natural defense against bacteria and viruses, she said. When bacterias, viruses or allergies irritate our tissues, our bodies produce extra mucus to flush those irritants away.
"Every time an infected person coughs or sneezes, they spray out mucus droplets," said Kramer.
We each produce different forms of mucus. Kramer's research team will test different forms to find out how well the virus lives in each of those forms.
"That information can tell us who needs to quarantine for longer," she said. "It could tell us who is more susceptible to infection. Eventually, we hope to make drugs that will block the virus from binding to mucus in the first place."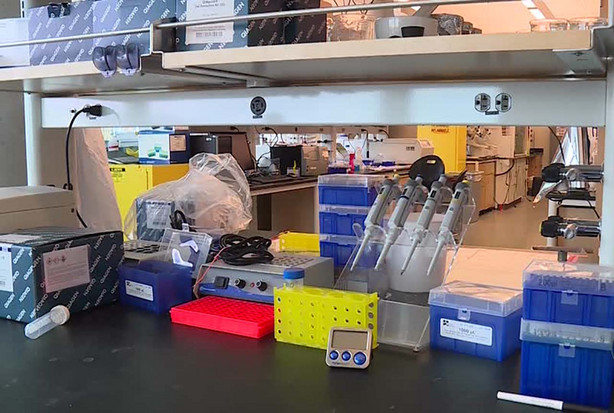 About 80% of new COVID-19 infections are attributed to 20% of the people, she said. "Not everybody spreads the virus equally," Kramer said.
She added they don't understand why, and it's not just poor hygiene.
"We think that these forms of mucus may better carry the virus through the air, or allow the virus to survive when it lands on a hard surface," Kramer said.
If researchers can identify the forms of mucus that bind to the virus, that could lead to drugs that block the bond.
"My researchers and I are really happy we can contribute to this problem, and, mucus is just at the center of the whole virus transmission," Kramer said.
Right now, her team is quarantined for two weeks and everything in the lab is being thoroughly disinfected In preparation for their work.
---
Eventually, we hope to make drugs that will block the virus from binding to mucus in the first place.
–Dr. Jessica R. Kramer, U of U
---
"I feel very optimistic," Kramer said. "My lab and many other labs are attacking this problem from every possible angle."
Kramer received a National Science Foundation grant for $200,000 for the research that is intended to produce data within one year. She hopes to have initial results in the next few months.
Symptoms and Resources:
Patients with COVID-19 typically have a fever, cough and shortness of breath, though asymptomatic transmission is possible. If you believe you may have the virus, speak with a healthcare provider.
Utah's COVID-19 website is https://coronavirus.utah.gov/.
Intermountain Healthcare has created a COVID-19 symptom tracker for individuals worried they may have the virus.
Utah's COVID-19 information hotline is 1-800-456-7707.
People are asked to first call the University of Utah Health coronavirus hotline at 801-587-0712 to determine if testing is absolutely necessary.
×
Photos