SALT LAKE CITY — OK 2020, we get it; you win — we surrender to your demands. Just give us back some normalcy, including March Madness, which was supposed to officially start today.
Just when we started to kind of get used to working from home (but did we really?) because of COVID-19, Mother Nature threw us a curveball (ahhh, remember sports?) and sent the state of Utah a 5.7 magnitude earthquake. Go figure. Are the locusts next?
Anyways, I planned to release this bracket Wednesday to add some levity to the global pandemic, but the shaking ground had other plans. Regardless, let's try to bring some fun back to life and stop fearing the global pandemic or whether the earth might shake again. These are serious matters and should be taken as such, but we need some joy in life, too.
Even though we can't have the NCAA Tournament this year, we're going to continue with our annual bracket challenge. The last few years have been related to Utah — best high school, most prominent Utahns, best big and small city — but we're going to mix it up and open it up to board games.
We all might be playing these more now that we're trying to "flatten the curve" with social distancing and all, so why not find out what board game is the best. In an effort to try to encompass various games, I'm using board games as an umbrella term. So these could be tabletop games, Eurogames, card games, dice games, etc.
The 64 games selected in this bracket are based on recommendations from family, friends, co-workers and Twitter, so there will certainly be games that are missed that are your favorite. Feel free to list in the comments some of your other favorites so all can enjoy. The games were seeded in the bracket based on their ranking on boardgamegeek.com.
As always, just have fun; don't take it too seriously. Vote on the board games that you like the most, or against ones that you hate — it doesn't matter. The Round of 64 voting will end at midnight, and the Round of 32 will start Friday — barring another major disaster.
---
If you can't see the poll, click here.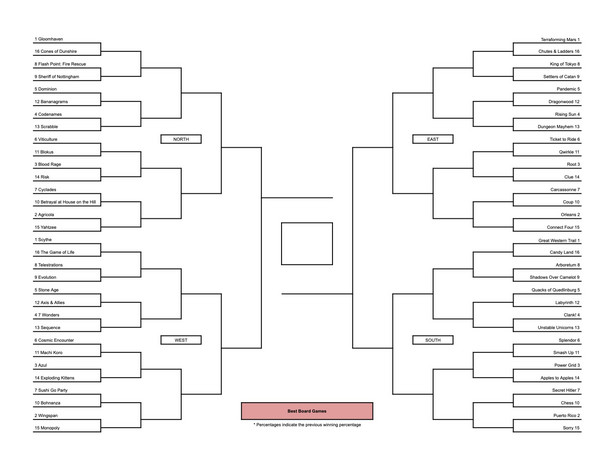 Board games
To learn more about each game, click on its title, which will direct you to its Board Game Geek page. Maybe you'll find a new game to play.
×