This archived news story is available only for your personal, non-commercial use. Information in the story may be outdated or superseded by additional information. Reading or replaying the story in its archived form does not constitute a republication of the story.
SALT LAKE CITY — It's that time of year again where we haphazardly fill out brackets and pretend like we know what we're talking about when it comes to college basketball — choosing a team because of their school colors is totally a legit reason.
Since we're just carelessly filling out brackets, why not try something a little more meaningful? Let's list 64 famous Utahns who are no longer with us, assign random numbers to each of them and pit them against each other … for science fun. We tried it the last couple years with Utah cities, and that seemed to incite some riots, so what could go wrong?
What's the vote for? To find the most prominent Utahn, obviously! Prominent doesn't have to mean the most famous person. It could be the most interesting Utahn or someone that did a lot for the state. It's really up to you to figure out what prominent means to you — tough, I know. Also, voting for someone like Ted Bundy does not necessarily mean you think he's "better" than his opponent — just throwing that out there.
So here are the ground rules:
The 64 individuals identified in this bracket are certainly not the only famous Utahns or ones with Utah ties. We most likely missed a name you feel should be added to the list, but life will go on. If not, I'm sure I'll hear about it on Twitter.
Because it's not entirely fair to rank individuals as a No. 1 seed or No. 11 seed, I listed the names alphabetically in a spreadsheet and then clicked a fancy button on the computer to randomize the list. I did this five — FIVE — times to select the seeding order. Yes, I know Brigham Young is a No. 13 seed, but it wasn't intentional, so please delete that email to me about your outrage.
Vote on as many devices as humanly possible, but please don't cheat. I'm looking at you random person(s) who create bots to influence the votes. Yes, creating a bot is a great skill and we're all proud of you, but let's save it for something else.
Voting will go throughout the day and will end at midnight. All votes cast after midnight will not be counted toward the totals. Screenshots will be taken of each poll with a time stamp to avoid issues. Due to the amount of teams in the initial rounds, the time stamp may read a few minutes after midnight.
Individuals receiving the most votes will move onto the next round. The round of 32 will be released Friday, with the Sweet 16 and Elite 8 voting taking place the following Wednesday and Friday, respectively.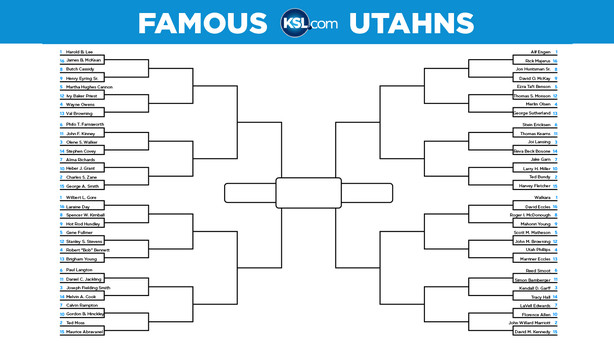 If you can't view the polls, click below. If the poll is not working, try reloading the page.
Region One:
Region Two:
Region Three:
Region Four:
Editor's note: An earlier version had Jake Garn against Larry H. Miller in the poll; however, none of Garn's votes will be counted in the poll as he's still alive and was mistakenly added to the poll.
×
Photos