SALT LAKE CITY — So much has happened since we began our attempt to answer questions you have asked us about COVID-19.
Since our first "Coronavirus Mailbag" was posted Wednesday afternoon, thousands of new cases have sprung up in the U.S., dozens of new cases have been reported in Utah, Utah schools have closed and moved toward online courses and nearly all forms of live entertainment events — from sports to Broadway shows — have been canceled.
The Centers for Disease Control and Prevention reported Monday afternoon that there are now 3,487 cases in the U.S. and 68 deaths. The Utah Department of Health reported 29 cases regarding in-state residents and 10 tourist cases. Summit County reported two more cases Monday evening, bringing the total to 41 in the state. As of Tuesday afternoon, the statewide total was 52.
Both the CDC and Utah health officials expect numbers to rise.
The point of this mailbag is to answer questions you have about COVID-19 or anything related to it. Here are some of those questions and the answers we've found.
How do new viruses get created?
A few of you asked how COVID-19 began, and, in general, how new viruses start. Scientists say it's possible, even likely, viruses have been on the planet for billions of years. When a virus comes in contact with a host cell, a virus can "insert its genetic material into its host, literally taking over the host's functions," according to the University of California, Berkeley. They've led to diseases like the cold, herpes, Ebola and now COVID-19.
The World Health Organization identifies a coronavirus as "a large family of viruses that cause illness ranging from the common cold to more severe diseases."
As you may have heard, COVID-19 is a novel coronavirus, which means it was never documented before. It isn't the first time researchers have had to scramble to figure out a new coronavirus in recent history. It happened with MERS in 2012 and SARS a decade before that.
Many viruses come from different animals. SARS, MERS and COVID-19 are all believed to have first originated from bats, the CDC states. In the case of COVID-19, Vox reported on March 6 that some evidence suggests that a bat may have infected a pangolin which then infected a human at a market in Wuhan, China in late 2019. Once humans were infected, they started spreading the disease and that leads us to where we are now.
What are the differences in symptoms between a cold, flu, and COVID-19?
Since we're still in cold and flu season, it's important to know all three:
You may recall from the previous mailbag that systems of COVID-19 are: fever, tiredness, dry cough and shortness of breath.
Flu symptoms are somewhat similar to that. They are fever, cough, sore throat, runny/stuffy nose, muscle/body aches, headaches and tiredness, as well as vomiting and diarrhea in some cases, according to the CDC.
Cold symptoms are a bit different. WebMD lists runny nose, sneezing, fatigue (tiredness) and cough as the general symptoms.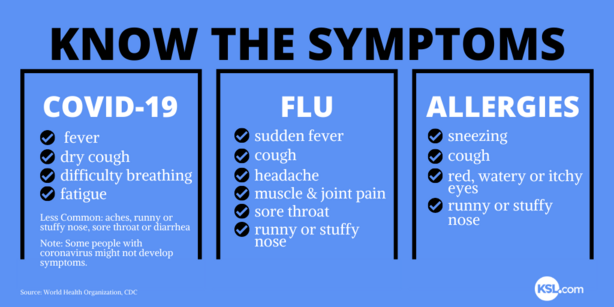 When is the virus expected to peak?
As previously mentioned, the number of U.S. cases has jumped rather quickly since the last mailbag. And that number continues to grow. That said, there's not really any way to know when the virus will peak, according to Utah Department of Health epidemiologist Dr. Angela Dunn.
"That's the scary part of something that's novel, like novel coronaviruses. We can't predict exactly how it's going to respond to the interventions we're doing," she said during a press conference Friday. "That's just something we're going to do the best we can to make sure the peak is lower, and watch and wait to see what happens."
Dr. Anthony Fauci, the nation's leading expert on the new coronavirus, said it could be several weeks to even a few months before the U.S. has returned to normal, during an interview with ABC's "This Week" Sunday. His estimation was based on how COVID-19 spread in countries like China and South Korea, which are both reporting signs that the disease has begun to stall in those countries after cases began there in late December.
The U.S. duration, he added, just depends on the effectiveness of mitigation efforts, such as social distancing and limits on public crowd sizes.
Are you contagious before symptoms appear?
There have been reports that the virus has spread before symptoms appeared, the CDC says. However, it's believed that people are most contagious when they are exhibiting symptoms. COVID-19 spreads more rapidly through respiratory droplets from when an infected person coughs or sneezes. Droplets can be transmitted to someone within 6 feet, the agency points out. That's why social distancing matters.
This is also why health officials tell people to stay home if they show COVID-19 symptoms or feel sick. Quick side note, the CDC also states it's possible for COVID-19 to be transmitted through touching surfaces, but it's not believed to be the main reason for it to spread.
How are people that contracted it, and didn't die, doing after they recover?
This is a good question and one to remember about any pandemic. Last week, we pointed out that the mortality rate was listed somewhere between 3-4%, according to the World Health Organization. Some researchers have indicated it may be lower than that. Either way, COVID-19 isn't a death sentence.
WHO's mortality rate estimate would also mean more than 95% who end up infected will survive.
Among Utah's cases, Mark Jorgensen, who was the first Utahn reported with the virus and both infected Utah Jazz players have posted videos during their recoveries. All three have reported that they are doing well as they await being cleared to be in public again.
Lt. Gov. Spencer Cox, who was placed in charge of Utah's COVID-19 task force, said multiple times last week that most people who contract COVID-19 will be OK. But that's also not a license to be reckless. Just because you will likely survive, doesn't mean you can't spread it to someone who is immunocompromised or elderly, who is more likely to develop a severe case.
If you get COVID-19 and recover, can you get it again? Or are you now immune?
Scientists are still learning about COVID-19, so there is no definite answer yet.
There is at least one case in which a woman in Japan tested positive for COVID-19 after previously recovering from it, according to Reuters. The news agency said she was released from a hospital on Feb. 1 and then tested positive again on Feb. 26. But as Bruce Y. Lee, a health expert and contributor to Forbes, points out, cases like this could be due to a health reporting error or even because a person's immune system just wasn't ready for the virus again. He recommends anyone who recovers to follow the same guidelines as everyone else.
As researchers learn more about COVID-19 in the coming weeks and months, we might get a clearer answer to this question.
If I was at City Creek Center the day the person with COVID-19 was there, what action should I take?
We asked Dunn about this on Friday. She said that, in general, the risk of contracting COVID-19 in an open area place like a mall is "very, very small."
"We wouldn't expect them to do anything different," she said.
Due to Rudy Gobert's infection, are there any concerns for the folks that attended (last week)'s Utah Jazz game against Toronto?
Again, the likelihood is low.
Cox said health officials were reviewing video to see if Gobert or Donovan Mitchell had contact with fans at Vivint Arena before, during or after the game. Dunn said the NBA is handling similar efforts for NBA teams. The Toronto Raptors — the team Utah was playing the two days before Gobert tested positive for the coronavirus — reported on Saturday that all of its players tested negative for COVID-19.
That's a bit of a long-winded answer. In short, unless you had direct contact with anyone with a confirmed case of the coronavirus, health officials and experts say you're likely fine.
Can pets contact coronavirus?
This might be the most frequently asked question we've received so far. There isn't much information to indicate COVID-19 can be spread to dogs and cats. That said, the CDC recommends that anyone isolated due to the coronavirus should limit interactions with pets the same way they would limit interactions with humans.
The CDC recommends people should avoid direct contact, which includes petting, snuggling, being licked or even sharing food with pets. Service animals, on the other hand, should remain with their handlers.
"If possible, a household member should be designated to care for pets in the home," the federal agency states on its website. "If the individual in home care and isolation must care for pet(s), including service animals, they should ensure they wash their hands before and after caring for pets and wear a facemask while interacting with pets, until they are medically cleared to return to normal activities."
Related:
Can the virus be spread to people through mosquitoes?
Since we're on the topic of other species, we might as well answer this too. The World Health Organization says there is no indication that COVID-19 can spread through mosquitoes.
Are packages from China (or other countries) safe to open?
This was another frequently-asked question. Packages from other countries are safe to open, according to Dunn.
"The virus can live — we think — one to two days on surfaces," she said. "But we don't see any risk from packages being shipped over from China."
In what case would grocery stores be closed?
On Monday, the Salt Lake County Health Department declared a public health emergency. The order means all restaurants in the county must cease dine-in options. A similar restaurant measure was made in Summit County over the weekend. Salt Lake's measure includes that grocery stores must close off any seating areas or areas where people could congregate, according to Nicholas Rupp, the department's spokesman.
This is more of a hypothetical question, so we asked Salt Lake County Health Department officials if there would ever be a scenario where the same measure would happen with grocery stores. Rupp said he couldn't imagine that scenario happening.
"People need to get access to food," he said.
That's likely the same scenario across the state. Rupp also told KSL.com that one measure that may happen should a wide-scale community spread occur, the department may limit a family to just one person to shop at a grocery store at a time. It's something he said families should consider right now to be prepared for that down the road, as well.
Is the UTA TRAX schedule affected?
As of press time, TRAX's schedule had not been affected. Utah Transit Authority spokesman Carl Arky pointed out that ski bus service ended after resorts closed amid COVID-19 fears over the weekend, but other services are going on as scheduled.
That could change. Arky noted that UTA's trustees look closely at recommendations and would take guidance from the Utah Department of Health or the CDC, which means schedules are subject to change at any point.
So, again, we turned this into a hypothetical question. At what point would TRAX schedules be affected?
That'd likely come from a federal or state mandate, Arky explained. That's because public transit is a vital operation to get people who don't have another form of transportation to places like work, doctor's appointments and grocery stores. To help fight the spread, crews clean trains and buses on a daily basis. More cleaning could happen if needed, he added.
"(We will continue) until really something happens to cause us to rethink how we're operating," Arky said.
Should something happen, the organization will announce any schedule changes on their social media pages and their website.
Update:UTA announced a few route changes on Tuesday, but none affected TRAX service.
If you have questions about the new coronavirus, please submit them to the KSL.com Google response form below for future installments.
Submit Your Questions:
×
Related Stories