Estimated read time: 6-7 minutes
This archived news story is available only for your personal, non-commercial use. Information in the story may be outdated or superseded by additional information. Reading or replaying the story in its archived form does not constitute a republication of the story.
SALT LAKE CITY — A predicted post-Super Bowl storm began dumping snow across the Wasatch Front overnight, turning the Monday morning commute into a challenging mess.
A winter storm advisory is in effect until 10 p.m. Monday.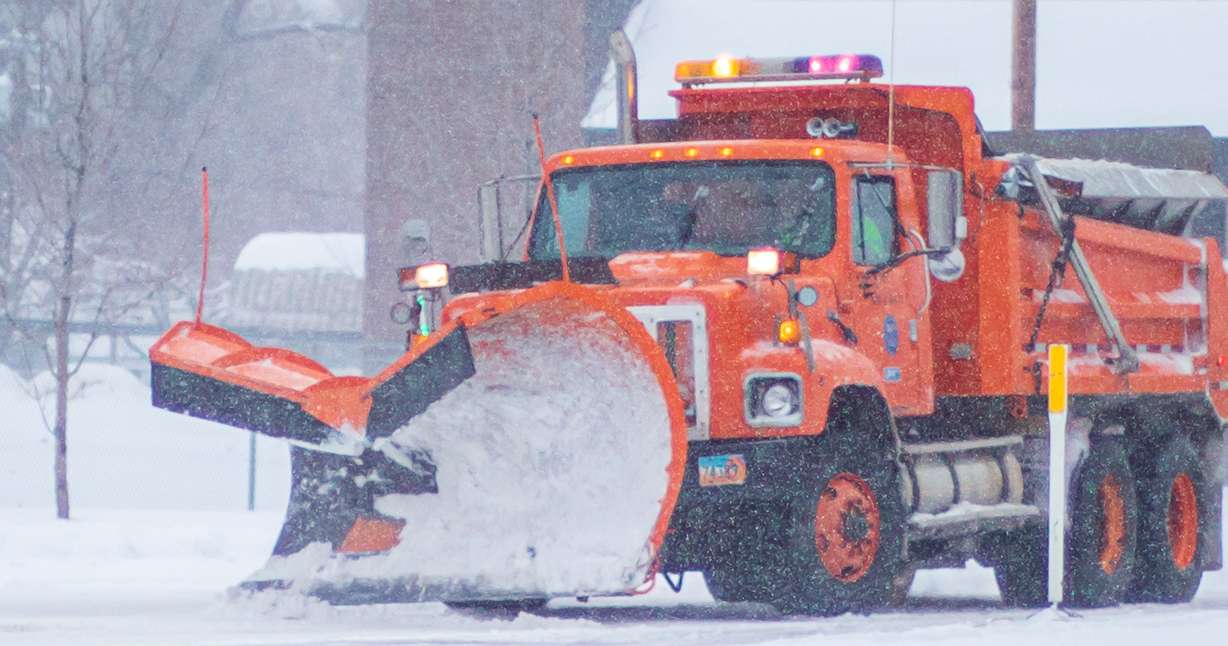 Traffic
Several spinouts and crashes were reported from Willard to Spanish Fork, according to the KSL Traffic Center. The traffic areas hit the hardest in the 5 a.m. hour appeared to be on I-15 between Midvale and Murray, and the I-215 belt routes on the east and west sides of the Salt Lake Valley.
As of 7:45 p.m., Utah Highway Patrol troopers had investigated 313 crashes statewide since midnight. Most of these were in Salt Lake County. Motorists should expect to double their typical driving time, the traffic center said.
A car crash caused a power outage that impacted 2,656 customers in the South Salt Lake and Sugar House area about 3:20 p.m., according to Rocky Mountain Power. Power had been restored by 4 p.m.
About 1:40 p.m., a southbound car slid off I-15 into a pond at 1000 North, according to Salt Lake City Fire Department officials.
One individual was released on scene and the other was transported to a hospital as a precaution, officials said.
During an early February snow storm last year, which started Feb. 5, 2019 and continued through Feb. 6, 2019, troopers responded to 410 crashes across the state.
Officials urged Utahns not to drive on Monday.
"We're recommending that if people have flexibility with their travel (Monday), that they stay off the roads as much as possible," said Utah Department of Transportation spokesman John Gleason. "Our primary focus is keeping everyone safe, and just having fewer people out on the roads (Monday) during this major snowstorm, that's going to allow us to accomplish that goal."
Chains or four-wheel drive are required in Big and Little Cottonwood canyons. Little Cottonwood Canyon and state Route 210 was scheduled to close at 1:30 p.m. for avalanche mitigation. Chains are required for semitrucks in Parleys Canyon.
Up north, I-84 is closed from the Utah state line to the I-86 junction in Idaho, just east of Burley, due to drifting snow and gusty winds.
Weather
KSL meteorologist Dan Guthrie anticipated Utah would see half its snowfall total overnight and half throughout the day on Monday. Though the storm will abate by Tuesday, he said, another storm system could blow through the state on Wednesday.
During the Monday storm, expect about 4-8 inches of snow in the valleys throughout northern and central Utah, Guthrie said. Some cities will see higher totals — forecasts anticipate about 10 inches for Salt Lake City and 12 inches for Tooele. The mountains should pick up about 1-2 feet of snowfall from the storm.
Warning: A special avalanche advisory for those unaccustomed to avalanche danger was issued in the valleys and the benches, according to the Utah Avalanche Center. Avoid steep terrain. The avalanche danger is considerable for the Salt Lake, Logan, Ogden, Uintas and Provo area mountains.
There was a steep dropoff in high temperatures between Sunday and Monday. While Salt Lake City topped out around 56 degrees on Sunday, high temperatures over the next three days will plummet to 26, 25 and 27 degrees.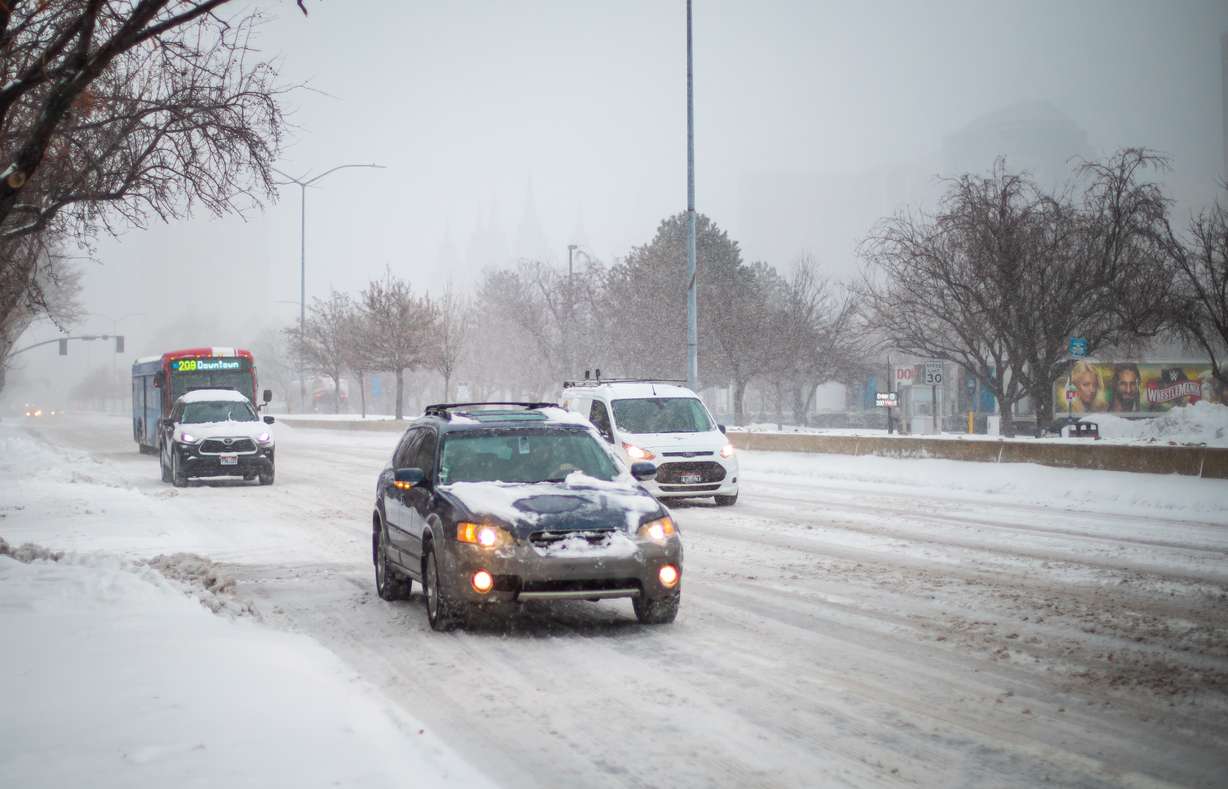 Closures and delays
Many school districts canceled the school day entirely before 6 a.m., while others announced late starts. Other businesses and government entities have also announced delays and closures. We'll keep you up-to-date on the latest closures:
Schools
Closed:
Alpine School District
Salt Lake City School District
Canyons School District
Juab School District
Nebo School District
Jordan School District (school and activities)
Murray School District
Provo School District
Beaver School District
University of Utah
LDS Business College
Westminster College
Salt Lake Community College
Juan Diego Catholic Schools
Layton Christian Academy
Intermountain Christian
St. Francis Xavier Catholic School
McGillis School
Saint Olaf Catholic School
Blessed Sacrament School
Kearns-Saint Ann Catholic School
Madeleine Choir School
Judge Memorial Catholic School
Guadalupe Schools
Saint Andrew Catholic School
Carden Memorial School
Monticello Academy (West Valley)
Lumen Scholar Institute (online classes only)
Hawthorn Academy
City Academy
Spectrum Academy (Pleasant Grove)
Athlos Academy of Utah (school and activities)
Utah Schools for the Deaf and Blind (all campuses)
Ascent Academy West Jordan
Freedom Prep Academy (all campuses)
Mount Vernon Academy
Dancing Moose Montessori School
Entheos Academy (Kearns and Magna locations)
Elizabeth Academy (Millcreek)
Garfield School (Salt Lake)
Academy for Math, Engineering and Science
Canyon Rim Academy
Roots Charter High School
Franklin Discovery Academy
Waterford School
Rowland Hall
The Children's Center (Salt Lake City and Kearns locations closed)
Open:
Utah Valley University
Brigham Young University
Utah State University
Iron School District
Millard School District
Two-hour late start:
Cache, Box Elder, Weber, Davis, Ogden, Logan, Park City, Ogden and Tooele school districts
Granite School District: School is delayed two hours from the normal start time, and buses will be running on a two-hour delay. Parents should keep their children home if they don't feel safe driving to school, Granite School District spokesman Ben Horsley said. The school district is keeping schools open, however, because there are many families who don't have any other options where their children can be appropriately supervised and get a hot meal, Horsley added. Hundreds have already arrived at the normal start time.
NUAMES Early
College High School
Syracuse Arts Academy
Ascent Academy Farmington
Venture High School
HighMark Charter School
East Hollywood High School
Leadership Learning Academy (Layton, Ogden)
Good Foundations Academy
Hawthorn Academies
Summit Academy
Spectrum Academy (North Salt Lake)
Renaissance Academy Charter School (campus in Lehi will start at 10 a.m.)
Major businesses/government centers:
City Creek Center (opens at noon)
Davis County Health Department (open at 10 a.m.)
Utah Legislature (committee meetings will be delayed until 9 a.m. and floor time will begin at 11:30 a.m.)
Discovery Gateway Children's Museum
Hogle Zoo (delayed opening time)
Matheson, West Jordan, Tooele, and Summit County courthouses (delayed until noon)
Nonessential Salt Lake County employees under the mayor's administration should avoid driving in to work and should work remotely if they can
Holladay City Hall and Justice Court closed today
Top Golf (closed until 5 p.m.)
Logan City offices (delayed until 10 a.m.)
Several trash and recycling services will be canceled today across the Wasatch Front, including in Draper, Centerville, South Salt Lake, Sandy and the Wasatch Front Waste and Recycling District
Salt Lake City Library closed today
Clinton and Syracuse city justice courts closed today
Murray City Justice Court (will close at 2 p.m.)
Salt Lake City Justice Court (will close at noon)
Sacred Circle Healthcare Clinic in Salt Lake is closed today
Salt Lake City International Airport
Record-breaking snowfall hit Salt Lake City International Airport during the storm, with 8.6 inches as of 4:53 p.m., according to National Weather Service Salt Lake City. The old record was set in 1936 with 7 inches, NWS officials said.
There were flight delays of about 60-90 minutes as of 3:45 p.m. and five departing flights and five arriving flights were canceled. Passengers are encouraged to check with their airline regarding possible delays. Crews at the airport are clearing snow from the runways.
Contributing: Lauren Bennett, KSL.com
×
Most recent Utah stories