Estimated read time: 3-4 minutes
This archived news story is available only for your personal, non-commercial use. Information in the story may be outdated or superseded by additional information. Reading or replaying the story in its archived form does not constitute a republication of the story.
SYRACUSE — Twenty-five bighorn sheep were released on Antelope Island Wednesday afternoon, as state wildlife biologists began work to reintroduce the species to the island after a respiratory disease mysteriously appeared and wiped out previous herds on the island.
"It's a good day," said Jeremy Shaw, manager of Antelope Island State Park.
The sheep released Wednesday were from a healthy herd captured in Montana, according to Utah Division of Wildlife Resources spokeswoman Faith Heaton Jolley. The animals were tested to ensure they were still healthy before they were released into their new habitats.
"We're just trying to be extra, extra careful in making sure these ones are healthy, especially in light of what happened to the previous herd," she said.
It's the first herd since an incurable and untreatable respiratory disease ravaged the population on the island. The trouble was first noticed in November 2018 after two sheep tracked by DWR biologists died soon after each other.
In 2018, there were about 150 bighorn sheep on the island. When they were counted again in January 2019, it had dropped to 26. Those remaining sheep were put down, leaving the species vacant from the island for the first time since they were reintroduced in 1997.
What exactly sparked the disease remains unknown. One theory biologists have is that the bighorn were leaving the island and mingling with domestic animals or other wildlife inland. Shaw added that water levels around the island have steadily dropped off in recent years, which would have made it easy for the sheep to travel toward domestic sheep or other animals. They could have received the respiratory pathogens there, then come back with the disease that spread quickly.
"Bighorn sheep, oftentimes, struggle with respiratory disease because they do not evolve with certain pathogens that cause respiratory disease. Now that they have been introduced to some of these, they struggle with it," Jace Taylor, DWR's bighorn sheep and mountain goat biologist, explained during a Utah Wildlife Board meeting last year.
Beautiful day to release a new herd of bighorn sheep on Antelope Island! A year after a contagious respiratory disease eliminated the previous herd, 25 bighorn sheep were reintroduced to the island today pic.twitter.com/vJDw9Akoru

— Faith Heaton Jolley (@FaithHJolley) January 29, 2020
As a precaution, an 11-mile fence was installed on the southern end of the island before Wednesday's release that biologists believe will stop the bighorn from leaving the island and contracting a similar respiratory disease.
"We have also GPS-collared all of them so we can monitor and keep a close eye on them and then we're also going to continue to provide periodic health assessments of this new herd," Jolley added.
About another 100 bighorn sheep are expected to join the new herd in the future. The state's bighorn management plan, which was approved last October, lists an objective to have 125 bighorn sheep on Antelope Island.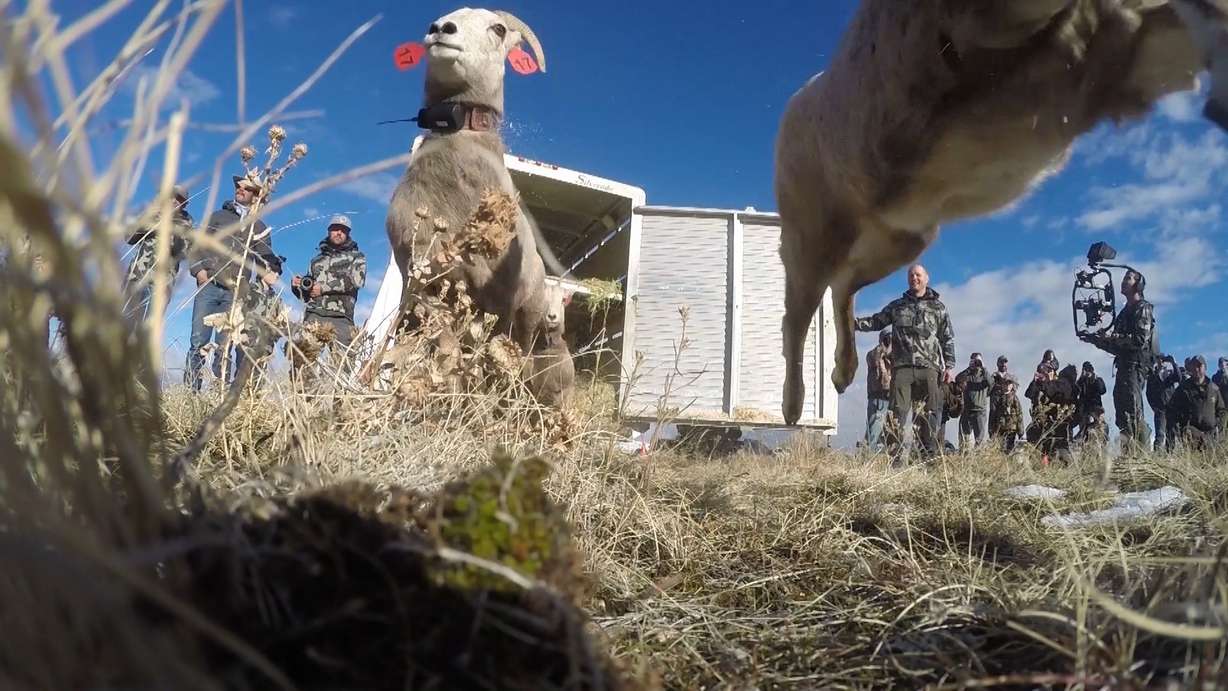 There is no timetable for that to happen, though. Part of the reason is the DWR coordinates with other state agencies to receive bighorn sheep to release in Utah, Jolley said. Those animals then have to be tested before they are released.
There were about 4,150 bighorn sheep in the state at the time the new management plan was approved. The division is seeking to have a little more than 9,000 total bighorn sheep in the state in the future.
Contributing: Mike Anderson, KSL TV
×
Photos
Most recent Outdoors stories