This archived news story is available only for your personal, non-commercial use. Information in the story may be outdated or superseded by additional information. Reading or replaying the story in its archived form does not constitute a republication of the story.
SALT LAKE CITY — When pioneer settlers first arrived in Utah, a herd of bighorn sheep lived on Antelope Island but disappeared over time.
Then in 1997, the Division of Wildlife Resources, along with Utah State Parks, reintroduced 29 bighorn sheep to the island to create what the division calls a nursery herd, to help start new populations throughout the state and bolster existing ones, said DWR spokesman Mark Hadley.
"Up until this point, they've done really, really well," Hadley explained.
But in mid- to late November, a ram that had a radio tracking collar on it died, and another died soon after, signalling that something was wrong, he said.
The DWR found that the herd had somehow contracted a devastating respiratory disease. Last year, about 150 animals were counted among the herd.
On Wednesday, biologists flew in a helicopter at a low elevation to look over the island and found four rams, 20 ewes and two lambs — only 26 sheep left in the herd.
"This disease has taken all of the sheep," Hadley said.
And there are no vaccinations or medications that can treat it, according to the division.
Hadley said though the disease is not common, it's not unusual. Bighorn sheep pick it up from domestic sheep and goats.
"We just don't know for sure how it got into the herd," Hadley explained.
There are no domestic sheep and goats on the island that officials are aware of. As a result, the DWR is working with Utah State Parks to try to figure out how the sheep contracted the disease.
"Wild bighorn sheep, they're really strong, hearty animals. They're really tough," Hadley said. "But one thing that they're really susceptible to" are respiratory diseases, he said.
And when one gets into a herd, it can do a lot of damage.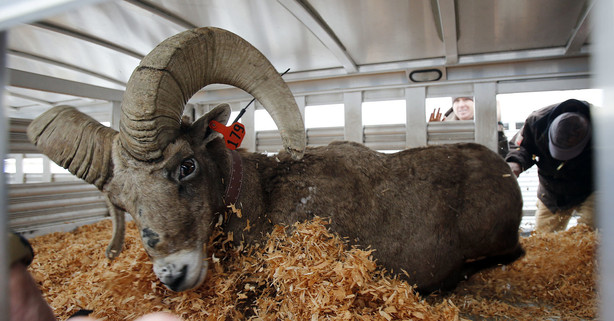 He said it causes a slow, painful death. DWR officials say that after careful consideration, they decided those that are left need to be put down.
The sheep that are still alive will be shot with a rifle from a helicopter — that's the most efficient and effective way, Hadley said.
"In this situation, we would rather end an animal's life as fast as we can than allow it to suffer a slow, painful, agonizing type of death."
However, "It's something that we hate to do," he said. "Being able to start new populations and see animals thrive is what brings us joy."
The DWR also needs to remove the animals to place a new herd.
Though some of the sheep might survive the disease, if they mingle with new sheep on the island, they will spread it, Hadley said.
He said a new herd could potentially be started on the island as soon as fall.
"It'll take a lot of years to build it back up, but we're excited to be able to start that herd up again at some point in the future," Hadley said.
It will take at least a few years to establish the new population before officials will be able to move the animals to other locations, he added.
But eventually, "we're pretty confident that we'll be able to have a good herd out there again and be able to move some sheep," Hadley said.
He said the disease is confined to bighorn sheep and does not pose a threat to other wildlife, people or pets on the island.
The last time sheep from the Antelope Island herd were moved to other areas was in January 2018 — and those sheep were tested and free of disease, Hadley said.
×
Photos
Related Stories