SALT LAKE CITY — State wildlife officials approved region-by-region plans for bighorn sheep — a species that has recently been affected by a respiratory illness — during a meeting Thursday. If all goes as planned, bighorn sheep populations are expected to double in the future.
Utah's bighorn sheep population has steadily grown over the past two decades, from a little more than 2,000 in 1996 to roughly 4,150 now. However, state officials have a goal to grow that number even more by steadily increasing populations in each region across the state, according to Jace Taylor, bighorn sheep and mountain goat biologist for the Utah Division of Wildlife Resources.
The Utah Wildlife Board approved a statewide 10-year management plan last November, but on Thursday they unanimously approved management plan changes for 18 of the 19 unit regions in the state.
Every region's target population is different based on habitats and water supply. Some regions have habitat projects to quarantine herds if they get sick with a respiratory illness that could threaten other herds.
If all 19 regions reach the approved population goals, the state's bighorn sheep population would jump to 9,025 in the future. Taylor told KSL.com that there is no exact timetable for a region to reach its objective bighorn sheep population number just because every region differs in how close it is to that number.
The region numbers presented to the board aren't new to wildlife officials but were made public for the first time during the meeting. They show that all 19 regions of the state have current Rocky Mountain and desert bighorn sheep populations below the state's objective.
"It's important to note that can change across time … depending on what happens in (a region) — whether it's human development, a fire that goes through and changes the habitat, water development, or a new risk of pathogen transmission," Taylor said, during the meeting. "Any one of those things can change the habitat that's available and then, therefore, the population objective."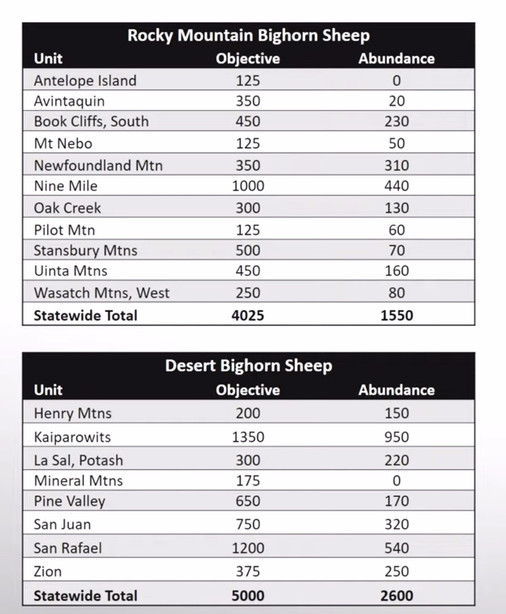 There weren't many disagreements about the plan during Thursday's meeting. That's because many of the disagreements had seemingly been settled prior to the final vote.
For example, Spencer Gibbons, director of field services and northern regional manager for the Utah Farm Bureau, told the board that Utah's wool grower community had some concerns about the management plan, but those were worked through and the group supported the measure.
"In this plan, all the tools are there to manage for success," Gibbons told the board. "We certainly recognize that and (we're) hopeful we can be a cooperative partner with you as we move forward."
The changes passed Thursday come at the same time officials have seen an uptick in a respiratory disease that has plagued some herds in the state. There aren't any vaccinations or medications that can treat the disease either, which poses a problem for sheep populations.
"Bighorn sheep, oftentimes, struggle with respiratory disease because they do not evolve with certain pathogens that cause respiratory disease. Now that they have been introduced to some of these, they struggle with it," Taylor explained.
Taylor said biologists do have policies in place to help slow down or eliminate the disease from spreading. The state employs new technologies when made available, removes sheep that are believed to be a threat to spreading the disease, and tests sheep to understand what pathogens exist in each herd. The state also uses "spatial separation" that keeps bighorn and domestic sheep in the state away from one another to stop the spread of disease.
The respiratory disease most notably dropped bighorn sheep populations at Antelope Island from 150 to 26 in from mid-November 2018 to January 2019. As of Thursday, there weren't any bighorn sheep on the island and the source of the disease remains a mystery.
Related:
However, state officials plan to reintroduce about 35 bighorn sheep to the island in January. Those sheep will be closely monitored for disease, and a fence is being installed at the southern end of the island to help stop the animals from moving off the island, thus reducing the risk of the animals transmitting the disease to other herds in the state. The island's target population for the future is 125 sheep.
"It's been hard. It's a sad thing to lose sheep up there. But we've taken some measures to hopefully reduce the chance of the respiratory disease from happening in the future," Taylor said.
Donnie Hunter, a Wildlife Board member, said he was appreciative of the efforts made to help control the spread of disease.
"We need to make sure some of the tools in these plans — we need to leave them in there because our sheep are pretty fragile. We need to do everything we can to keep them healthy," Hunter said. "Spatial separation is a big, big thing. That's why we have what we have now. It's been one of our best tools.
"We also need everybody to help to keep our sheep healthy. It's not just hunters; we need the public, the ranchers — we need everybody to help because it's a tough job to get those sheep back, and that's what we all want."
×
Photos
Related Stories