Estimated read time: 5-6 minutes
This archived news story is available only for your personal, non-commercial use. Information in the story may be outdated or superseded by additional information. Reading or replaying the story in its archived form does not constitute a republication of the story.
TAYLORSVILLE — Salmonella, E. coli, arsenic and mercury — those are just a few of the things the Utah Department of Agriculture and Food will begin testing medical marijuana crops for ahead of the state's program rollout in March.
It's one large task the department has taken on to ensure an available, safe supply by the deadline. State law calls for private labs to eventually take over the testing.
"The intent is just to provide a short-term solution until we get a lab up and running. Because if we didn't do this, the program couldn't move forward. The product has to be tested before it's consumed as a medicine. And so if the lab didn't step in, we'd have this dark period where the supply chain would be incomplete," explained Andrew Riby, the state's cannabis program manager with the Utah Department of Agriculture and Food.
One lab has turned in an application and is expected to get started sometime between March and May.
Last week, medical marijuana program directors said a limited crop will be available by March 1. Since last fall, cultivators and state officials have been under a time crunch to make sure product is in patients' hands when expected.
Paul Nguyen, controller with locally owned Dragonfly Greenhouse — which now holds a cultivator, processor and pharmacy license — said there were challenges in getting starting as the company worked to meet the many guidelines set forth by the state.
But the greenhouse has one crop ready and is now growing its second, he said. It's currently coordinating with the Department of Agriculture to get testing started.
Managers of Dragonfly Greenhouse, along with two hemp growers, met with the Utah Department of Agriculture in Taylorsville on Monday for a tour of testing facilities and to learn how the process works.
First, the cannabis or hemp sample needs to dry, which can take up to 24 hours. It's then ground into a fine powder, and chemists test it for microbial contaminants like salmonella and E. coli using the same technology crime labs use for DNA analysis, said Weston Judd, state chemist and lab director. Multiple tests search for other contaminants like pesticides and harmful metals. The testing takes between two and three days for one sample.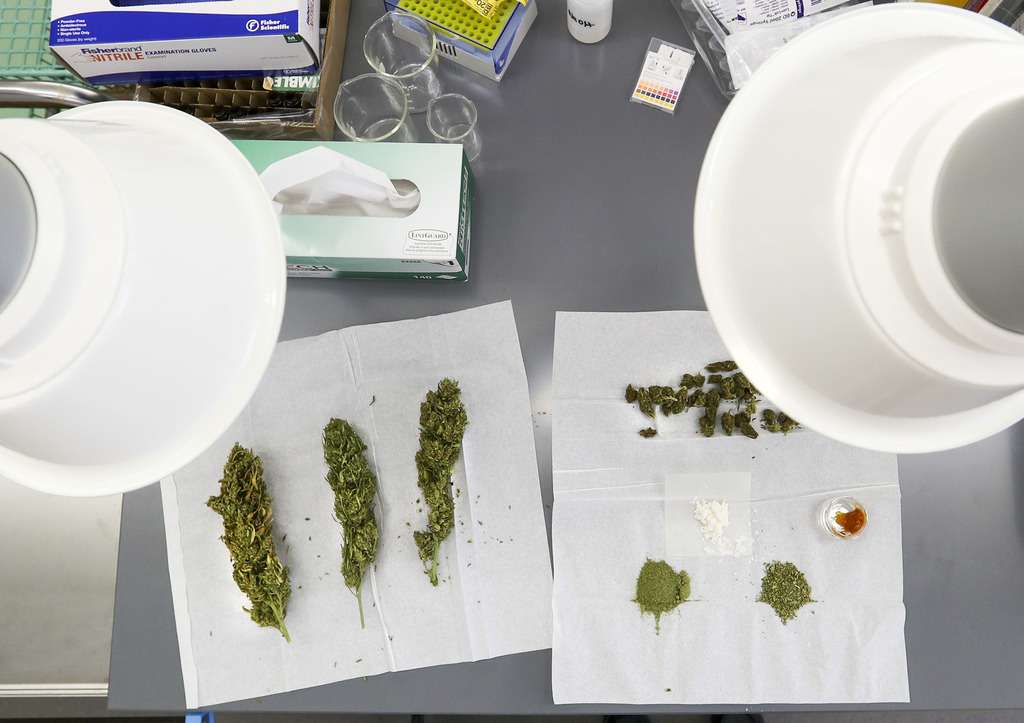 With cannabis, the chemists don't need to take strict precautions for their own safety, but they do wear gloves because of the plant's texture and smell, according to Judd.
The most important part of hemp testing is ensuring it has a THC content of the legal .3% or less by weight, Judd said. While medical marijuana testing will be turned over to private labs, the Department of Agriculture will continue testing hemp.
A sample is taken from every plot of every grower of both marijuana and hemp. If a sample fails the tests, the grower needs to destroy all plants from that plot of land where the sample came from.
After learning about the testing process, Narith Panh, chief strategy officer at Dragonfly Greenhouse, said, "It gives me so much confidence in the state that they're doing things the right way. Yes, extra regulation and all that stuff, and all that cost gets passed on to the consumer, but it's important that we ensure that we can provide them a safe, quality product so that they know that this medicine that they're buying from this pharmacy is safe to give to their kids."
Testing is an intensive process using advanced machinery, Judd said. While the department already had some of the required equipment, acquiring the same equipment would cost more than an estimated $1 million for a new lab.
The testing for hemp last year was included in all of the growers' fees, but the department realized it "was more expensive than we thought," and the fee structure will be adjusted, according to Judd.
"Going forward, basically the growers will need to pay for their lab tests, in addition to their fees," Judd said.
Related:
Utah voters approved the medical marijuana ballot initiative, Proposition 2, in November 2018 legalizing doctor-approved marijuana treatment for certain health conditions. State lawmakers the next month replaced the measure with a law they say puts tighter controls on the production, distribution and use of the drug.
"Navigating the law is challenging because the state is all learning this as well, too. They don't have experience doing this, so they're trying to learn as best as they can from all the other states that have great programs, and they've done a phenomenal, phenomenal job," Panh said.
Dragonfly Greenhouse was able to create a facility within five weeks in Moroni, Sanpete County, he said, through working with local officials, and will open its pharmacy in Salt Lake City on March 1 — though the company is prepared for a shortage of product. All of the product it grows will be sold at its own pharmacy, Panh said.
"Everybody's excited to be able to say, 'Wow, I can finally buy medicine legally to take care of me and my family. And that's hugely, hugely empowering. So March 1, you're going to see lines out the door of people waiting to finally buy their first medical cannabis that is legal, so it's a huge milestone for people that have been suffering their entire lives and operating in the shadows just to take care of their families," Panh said.
×
Photos
Related stories
Most recent Utah stories