GREAT SALT LAKE STATE PARK — Some people might go to the Great Salt Lake and see nothing.
But all that nothing sure filled up Brittany Kieger's camera.
"Yeah, I just can't get over the view," she said while taking another picture. "I see beauty. It's just so calm and peaceful out here."
Sharing that feeling with visitors is why Allison Thompson loves being a ranger at the state park here.
"It's so exciting to see their joy and their excitement to come and see my park, our park, the state's state park," said Thompson with a laugh. "I just love it out here and want to share it with everyone."
Lately, though, there's one thing she can't wait to show visitors.
Near the visitor's center are four salt mounds, or salt formations, that have never been documented on the Great Salt Lake.
"They are a unique geological formation," said Thompson.
Thompson first noticed the formations in October when they were small.
As they started to grow, she contacted state geologists to have a look at them.
"I was blown away. I was like, 'we have to come and take a look at this and document it before it goes away again,'" said Elliot Jagniecki, who is a geologist with the Utah Geological Survey. "This type of formation is rare on Earth."
Geologists with the Utah Geological Survey say these formations are typically only found in the Arctic, Antarctica, and Mars.
They're formed when sulfate rich water mixes with salt springs in specific chemical conditions and sub-freezing temperatures.
The result?
Mirabilite, which is what these mounds are officially called.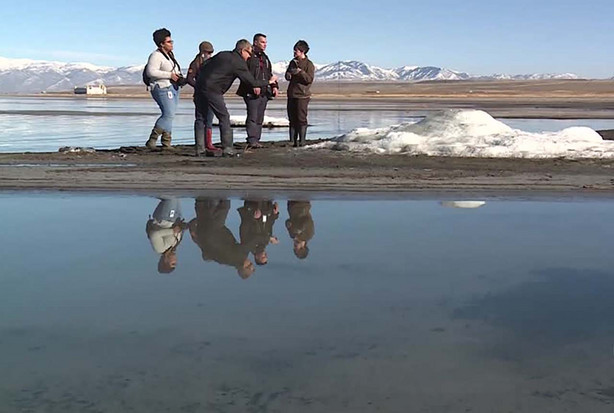 As the lake level rises, or another storm moves water into this spot, these rare crystal formations will fade away.
Meaning, if you've said before there's nothing to see at the Great Salt Lake, now would be a good time to come back.
"It was something to pass the time, but we got out here and now we don't want to leave," said Sydney Vinson, who was visiting the state park from Columbus, Ohio. "Now we want to stay out here forever."
State park rangers will be giving guided tours of the salt formations this coming weekend.
From 10am – 4pm on Saturday and Sunday, visitors can go with a ranger every half hour to visit them.
It's recommended to wear boots because the formations are a few feet out into the water.
×