SALT LAKE CITY — Temple Square is again glowing with Christmas spirit after the switch was flipped Friday night to activate the annual light display, a beloved tradition for Utahns to enjoy together.
This year, hundreds braved the cold and snow to gather in downtown Salt Lake City to take in the first night of the 2019 Christmas display surrounding the Salt Lake Temple of The Church of Jesus Christ of Latter-day Saints. Matt Brady of American Fork said his wife wanted to enjoy the experience as a family.
"(It's) my wife's birthday week and this is what she wanted to do with the family — was to be here when they turn on," he said. "It's the light of Christ that everyone needs in their life. And so the lights on Temple Square represent that."
Baker noted that his family has come to visit Temple Square during the holidays many times before, but this was their first time being there on the first night the lights were turned on.
"It's just as impressive every year. I remember, I grew up in Sandy, so I've grown up coming to Temple Square, so it's a tradition and a pretty good thing," he said.
The Temple Square light display began 1965 and has continued annually ever since. According to Visit Salt Lake, approximately one million LED lights are used to decorate the 35-acre square and are turned on nightly from the day after Thanksgiving to New Year's Day.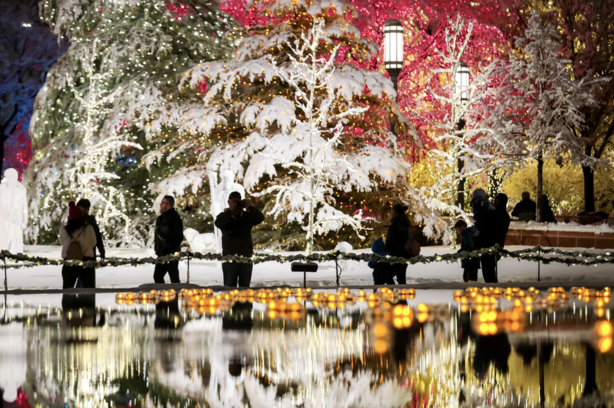 Sandy resident Angela Leopoldef was also taking in the initial holiday lighting event for the first time, though she has seen the lights on numerous other occasions. She described the first holiday lights as the renewal of the way people observe this special time of year.
"It's the beginning of something new. The beginning of the season, beginning of a special occasion, a special celebration, just everybody coming together," she explained. "There's a sense of unity somehow."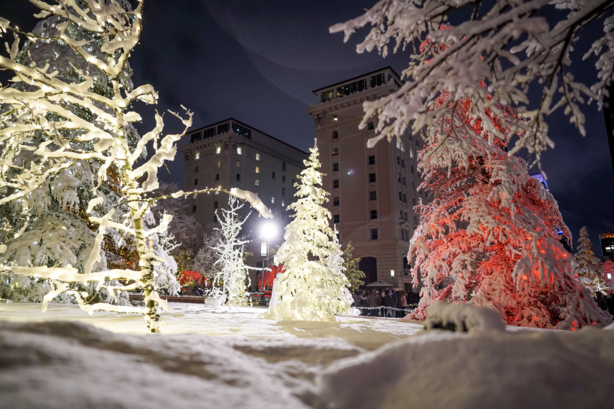 Having enjoyed the lights with family and friends, or sometimes by herself, Leopoldef said the experience always helps her connect more closely with her faith.
"Of course, (it's about) the birth of Jesus Christ and what it means in terms of my personal life. It's a good meaning (that) even when I'm by myself thinking that I'm not alone," she said. "The fact that he's alive and that no matter what the circumstances, I'm not alone and there's light, there's hope and there's direction."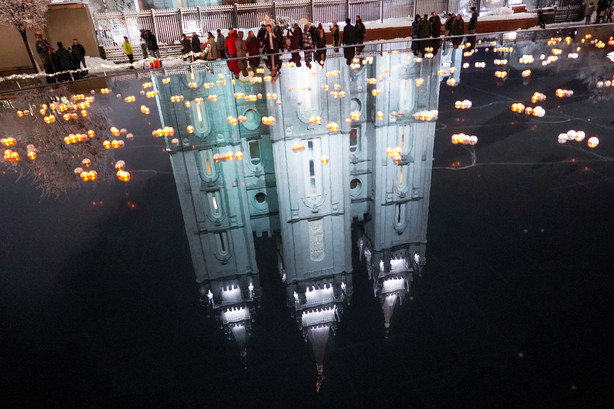 Mike Baker of West Jordan has come to visit Temple Square during the holiday for most of the past 15 years. He said enjoying the occasion with family reminds him of what the season means in his life and that of many others.
"It's just the peace and the love that people bring with them. It's just a nice, nice feeling," he said.
For Robert Dunkley of Mountain Green, being on the square with his family allows him to appreciate the good there is in life.
"I think it's a good way to start the season, kind of getting the Christmas spirit and enjoying Temple Square," he said. "The cool thing about this season is most people reach out in a way they don't normally reach out. They try to help people they don't normally try to help. It's just kind of a nice, fun thing."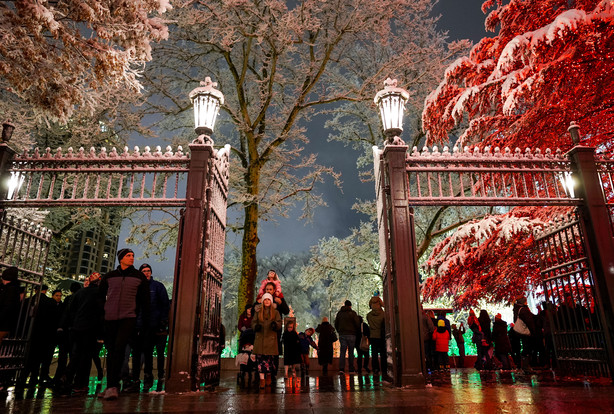 "I'm Christian, I believe in Christ and it's a good opportunity to reflect on what he did and his mission in life," Dunkley added. "It's a good opportunity to reach out to people that don't have as much or may need help."
Early this year, The Church of Jesus Christ of Latter-day Saints announced that Temple Square and the Salt Lake Temple will undergo renovations that are scheduled for completion in 2024. During the renovation, visitors will still be able to view a scaled down version of the Christmas lights display on the west side of the Temple Square complex.
×
Photos
Related Stories