SALT LAKE CITY — A day before the one-year anniversary of Lauren McCluskey's death, more than 100 students at the University of Utah staged a walkout during classes on Monday to protest a "lack of accountability" for campus safety.
A group of Utah students created an advocacy group, unsafeU, to highlight what they call a failure from school administrators "to take accountability for the faults leading to numerous horrendous tragedies," and held a rally during the walkout.
Event organizer Carlos Craig told KSL NewsRadio that while the school has made some changes in the wake of McCluskey's death, including spending $7 million on security, it is "not enough to feel like campus is substantially safer."
Other students at the rally said they still feel unsafe, unbelieved and vulnerable on campus.
"We deserve to feel safe, and the actions taken so far haven't been enough," U. sophomore Kristen Ponce told KSL TV.
Students who organized the protest also started a petition on change.org to demand more accountability from the school and says the SafeU resource program is "primarily a well-crafted public relations campaign."
The petition outlines many specific safety measures, including establishing a permanent student oversight board for campus safety, a student advisory board to facilitate reviews of the SafeU website and a "zero tolerance policy for any officers who repeatedly fail to take effective action."
It also calls for a SafeU certification program for police, faculty and students, more transparency in the reporting of sexual assaults on campus and more money for the University Police department.
Students @UUtah gather in Presidents Circle for protest of @unsafeU. They want more transparency, accountability and resources focused on safety on campus. Hear from students at five and six @KSL5TV#ksltvpic.twitter.com/ZkkhDTzGY6

— Jed Boal (@jedboal) October 21, 2019
"We're not trying to create a panic or say that the second you step onto the U.'s campus you're going to die," said Devon Cantwell, a U. graduate student and school senator. "But we wanted to make sure that students understand that that not every student on this campus feels safe right now."
McCluskey, 21, was killed Oct. 21, 2018 after her ex-boyfriend, Melvin Rowland, shot her near her campus dorm.
The year since her death has been one filled with an increased discussion on campus safety at the U. and elsewhere. It's also been rife with controversy and turmoil on- and off-campus as university officials mull how best to address safety concerns.
Lauren's parents, Matt and Jill McCluskey, sued the University of Utah for $56 million in June. The couple have openly and frequently criticized university administrators, law enforcement officials and safety personnel for their handling of Lauren's case.
They say university officials did not do enough to protect Lauren before she was murdered, even though she repeatedly asked for help in the weeks leading up to her death.
Last month, the university filed a request to dismiss the McCluskeys' lawsuit.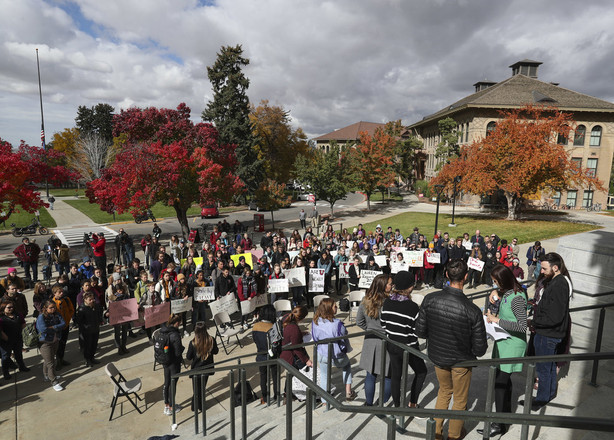 Shelby Gonzales, a friend of Lauren McCluskey, spoke at the rally and said that the school is not directly responsible for her friend's death, although they do need to acknowledge their failures.
"But they are responsible, and we are holding them accountable for the control and power they had to have a police department that followed through on investigative procedures," Gonzales said. "The university has been consistently failing women and men of this campus for years and it's culminating in the murder of someone really close to me."
Monday, the university released a joint statement from Dan Reed, senior vice president for Academic Affairs, and Lori McDonald, vice president for Student Affairs. The statement said university officials met with students Monday morning and agreed "to carefully review the students' suggestions" related to accountability, transparency and resources.
"We appreciate the students' willingness to discuss both their concerns and to provide a thoughtful analysis of safety-related actions they believe will be helpful on our campus," the statement said. "As we shared this morning, we want and welcome feedback from all students on what we can do to improve safety at the University of Utah."
Matt and I wanted to be at the @unsafeU protest, but we're mourning the anniversary of Lauren's murder at home. An entirely student-led protest has great impact. They are truly changing their campus, as well as the world. This movement is positively affecting campuses everywhere. https://t.co/tP6wRtHT9t

— Jill McCluskey (@jjmccluskey) October 21, 2019
#jill_tweet
Jill McCluskey said in a tweet that she and Matt wanted to be at the U. walkout, but were mourning the anniversary of Lauren's death at their home.
"An entirely student-led protest has great impact," Jill McCluskey said. "They are truly changing their campus, as well as the world. This movement is positively affecting campuses everywhere."
Contributing: Paul Nelson, KSL NewsRadio and Jed Boal, KSL TV
×
Photos
Related Links
Related Stories