This archived news story is available only for your personal, non-commercial use. Information in the story may be outdated or superseded by additional information. Reading or replaying the story in its archived form does not constitute a republication of the story.
SALT LAKE CITY — The FanX Salt Lake Comic Convention was back for its fall event last weekend, and cosplay was bigger than ever.
Cosplay, short for "costume play," was once considered an activity for geeks. Cosplayers would come to conventions in handmade costumes, celebrating their favorite comics and video games. Others would look at them, amused at the out-of-season Halloween parade. Now, cosplay is enjoyed by everyone.
There are still hardcore cosplayers who dazzle everyone with larger-than-life costumes that include intricate details they spend months putting together.
For example, Ryan Bielik is a master cosplayer who had been working on his cosplay of "Spider-Man: Far From Home" villain Mysterio long before the movie came out in theaters earlier this year.
Planning began when he saw the very first teaser trailer. Plans and construction of the costume kept changing and adapting as more trailers came out, and finally the movie.
His 170 hours of work is evidence of the passion he has for the art of cosplay, and it showed in the final product. His wife, Candace, cosplays as well and complimented his costume with her own version of the person behind Mysterio.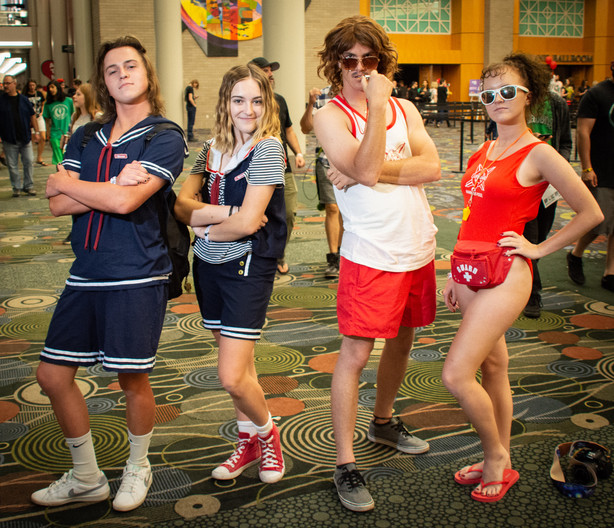 There were many other examples of cosplay at the FanX cosplay contest on Saturday night. Cosplayers, from beginners to experts, had the chance to perform on the main stage as hundreds of fans cheered them on.
As a sign of the times, those cosplayers were greatly outnumbered by the ones that came to FanX dressed up just for fun and the experience. Everywhere you looked, there were families all dressed up together, sometimes in matching cosplays.
A cosplayer named Evan made it a family affair with his wife and kids dressed up as characters from "Spider-Man: Into the Spider-Verse." Parts of their costumes were handmade, and it was obvious they had been practicing their poses.
Quite a few couples dressed up as their favorite Disney couples, like Beauty and the Beast or Jack and Sally from "A Nightmare Before Christmas."
Even Leatha Jenson, a 62-year-old grandmother, loves coming to the convention and dressing up in a different cosplay every day. Her Mary Poppins cosplay included a carpet bag and parrot handle umbrella.
Here are some photos from FanX 2019 that showcase the hard work these cosplayers put into their creations.
---
About the author: John Mabunga was born in Utah and grew up in New York City. He has a career in computers and loves photography and all things Disney. His goal is to visit every Disney Park worldwide. He loves spending time with his beautiful wife and five children. Follow him on Instagram @jmabunga for updates on his projects.
×
Photos
Related Stories